Trulia's quarterly Inventory and Price Watch report—evaluating the supply of starter, trade-up and premium homes on the market nationally and in the 100 largest U.S. metros—found that markets with the biggest gains in home values since 2012 are facing the tight supply of for-sale homes.
Buyers Face Tightest Inventory Levels Heading into 2017
Nationally, housing inventory hit its lowest level on record in the first three months of 2017. The number of homes on the market dropped for the eighth consecutive quarter, falling 5.1 percent over the past year. Across different housing segments, starter and trade-up home inventory fell 8.7 percent and 7.9 percent year-over-year nationally. Meanwhile, the stock of premium homes remained relatively unchanged since last year, having fallen just 1.7 percent.
"Recovering home values have proven to be a double-edge sword," says Trulia's Chief Economist Ralph McLaughlin. "While homeowners across the country are thrilled to regain equity in their homes, many have not been in a hurry to trade up. This has added to the inventory gridlock that ties up would-be starter-home inventory from ever coming on to the market, further constraining supply and decreasing affordability."
Affordability Becoming a Bigger Obstacle for Starter-Home Buyers
This persistent and disproportional drop in starter and trade-up home inventory continues to make homeownership less affordable – especially for first-time buyers. A typical starter-home buyer would need to dedicate 38.3 percent of his or her monthly income to buy a starter home – a 2.9-point increase from last year. Trade-up and premium homes, on the other hand, are still relatively affordable despite being more expensive.
"Saving up for a down payment is one of the biggest obstacles to homeownership for first-time buyers," says McLaughlin. "In markets plagued with tight inventory and decreasing affordability Millennials, who make up most of these first-time buyers, may find homeownership increasingly out of reach. However, there continues to be an uptick in new construction, which should help increase supply in some inventory-constrained markets."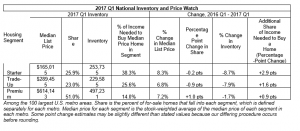 Home Value Recovery Could be Causing Inventory Crunch
A strong recovery may be partly to blame for the large drop in inventory some markets have experienced over the past five years. Housing markets that have had greater home value recovery since 2012 – including San Francisco, Seattle, Nashville, Tennessee and Colorado Springs, Colorado – have experienced larger decreases in inventory. In other words, not only are buyers in the hottest markets likely to be priced out, potential sellers may be locked in to their existing homes.

To read the full report click here.
About  the Author
Trulia® is a vibrant home shopping marketplace, focused on giving homebuyers, sellers, and renters the information they need to make better decisions. On mobile and the Web, Trulia provides house hunters with insights and unique information about properties, neighborhoods, and real estate agents. Additionally, Trulia offers data and information about schools, crimes, commute times, and the real estate market.
About the Trulia Inventory and Price Watch
The Trulia Inventory and Price Watch offers buyers and sellers deeper insight into the change in supply and affordability of homes over the past year, within three different segments of the market: starter homes, trade-up homes, and premium homes. Based on the for-sale homes listed on Trulia, this report calculates housing inventory within each segment nationally and in the 100 largest U.S. metros, from Jan. 1 to March 1, 2017. For the full report and methodology, see here.