As early as I can remember, every weekend my Dad took me and our German Shorthaired Pointer to visit our farm, about 25 miles east of our home in Moline, Illinois, and then he let our dog go crazy chasing, but never catching, all the critters. I listened and learned as he talked to the farmer about the crops, seed varieties and such, and the one topic all farmers talk about: the weather.
Thanks to my Dad, as an adult I have bought and sold farms in the Midwest and in Texas (crop farms, never livestock; I do not invest in anything that eats, flies, floats, or has wheels). One reason for that, among many, is to hedge against inflation. Few people know that in 2020 the Fed has created more dollars than ever before, and it is Economics 101 that too much money in circulation is the direct cause of inflation. Here is a chart of the growth in the money supply from 1984 to mid-2020. It screams "inflation ahead!"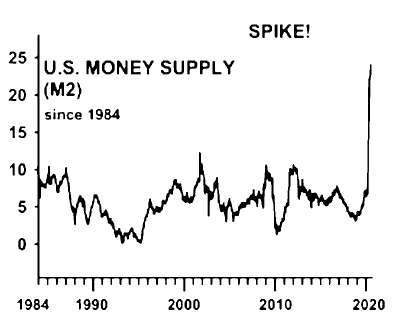 AdenForecast.com August, 2020
What this chart tells you is that if you keep your savings in dollars you will get your head handed to you on a platter. You must invest in inflation hedges, and no other investment offers the long-term protection against inflation with so many other advantages as does farmland. No investment has a perfect correlation with inflation, but farmland has a 70 percent correlation with the Consumer Price Index (CPI) and a 79.84 percent correlation with the Producer Price Index (PPI), the two main measures of inflation according to the TIAA Center for Farmland Research at the University of Illinois. That is the best correlation of any investment as far as I know. Agriculture is our most important industry, and when inflation increases the price of food, farmland becomes even more valuable. People always need to eat.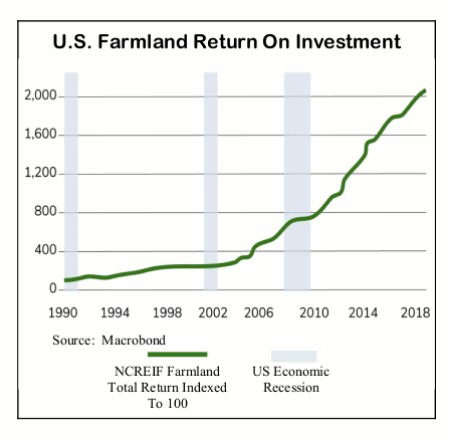 According to fool.com, "Over the last 50 years, the value of American farmland has risen by about 6.1 percent per year, with only five down years during that period. Add in the cash rent yields, and the return to investors has been even more impressive. Since 1991, farmland has produced a positive return every year, generating an average annual return of 11.5 percent, according to the USDA. To put that return into perspective, it has outperformed all other asset classes except the Dow Jones REIT Index during that time frame."
Farmland will diversify your portfolio because it has little-to-no correlation to the performance of other asset classes. Gold is a popular inflation hedge, and its single advantage over farmland is its liquidity. But gold is extremely volatile, and it does not produce income. Farmland is an inflation hedge that combines low volatility, income, and proven long-term appreciation. It has been called "gold with yield."
Unique among real estate investments, farmland never has a vacancy.
It produces reliable income year after year.
Unlike other real estate, there are several methods of increasing income.
Professionally managed farmland is a passive investment.
Farmland never needs maintenance (except for irrigated farms, also known as money pits).
Farmland cannot be trashed, burned down, vandalized, or stolen.
Property taxes are lower due to agricultural exemptions.
Landlords never get calls from their farmer tenants to fix or replace anything.
Be aware that because they have so many advantages, a farm may not produce the annual cash return (not counting appreciation) that other investments offer. Owning a farm is not a way to get rich quick. My farm manager Ed Kiefer, who was voted by his peers as the National Farm Manager Of The Year with Hertz Farm Management, cautions, "The agriculture economy has always been cyclical. Farmland is a long-term investment; in my opinion, 10 years at the minimum."
A farm is a large investment. However, it is relatively easy to get favorable financing through the Farm Credit system. An alternative is to do a sale-leaseback with the farmer/seller. Two less capital-intensive options are to buy fractional ownership through a farmland fund or a REIT (Real Estate Investment Trust). The two publicly traded farmland REITs are Farmland Partners (NYSE: FPI) and Gladstone Land Corporation (NASDAQ: LAND). Be aware that when you invest in a fund or a REIT you trade investing less money with giving up control of your investment.
If you buy a farm it is critical that you work with a professional who knows the market and has the agricultural background to evaluate farms for sale. Unless you are experienced in managing farmland, hire a professional. Aside from the farm itself, a good manager may be the best investment you have ever made.
Farmland gives you an asset you can walk on and enjoy owning, knowing that you have consistent passive income, the ability to maximize that income to take advantage of market conditions, appreciation that historically beats inflation better than other investments, low volatility, property tax exemptions, no vacancies, no maintenance, and no tenant problems. You have a renewable crop growing each year and the satisfaction of doing your part to feed the world. Plus, you always have a place to live far away from urban areas!
W. J. Mencarow is a real estate investor (including farmland) with over 35 years of experience. He offers a free e-course on real estate note investing at www.PaperSourceOnline.com