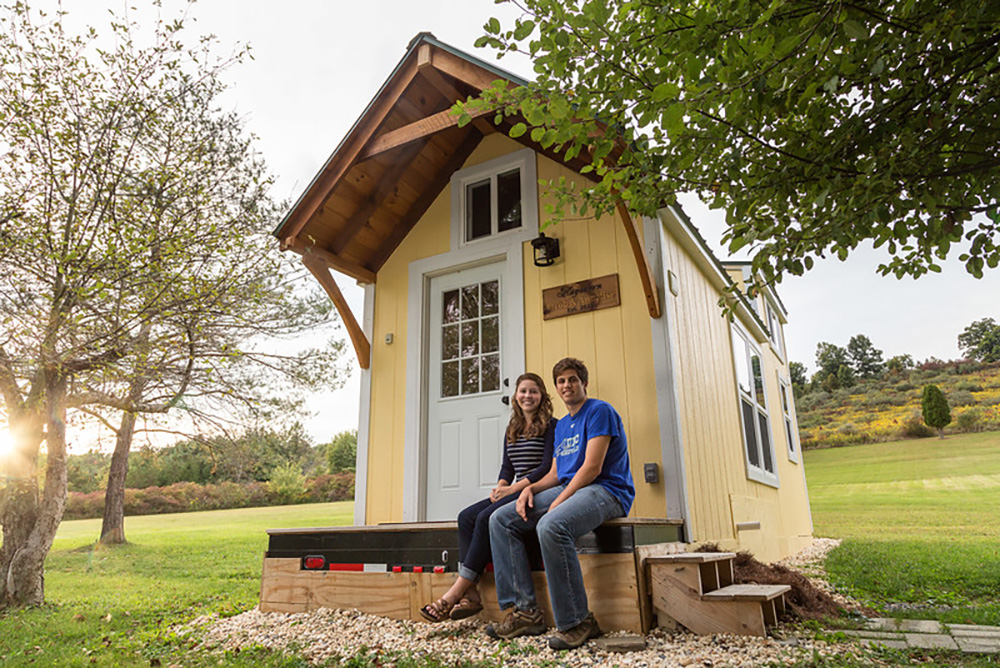 INVESTOR VOICES – Sponsored Content
Unlike stocks and bonds, real estate has proven to generate stable (and in many cases, significant) returns, which makes it an attractive investment and lucrative asset. This article weighs the pros and cons of each type of investment.
For account holders of self-directed IRAs, real estate is always a hot investment. In fact, it is the most popular asset class within self-directed retirement plans, which allow for a broad array of non-publicly traded assets. Adding to this is the newest real estate trend of tiny homes, which could be a game changer for many investors who are interested in including real estate in their portfolios.
Tiny homes generate big excitement
Tiny homes have been sweeping the nation as many people are looking to downsize, become debt-free by owning a small home, or expand their travel horizons with a mobile home. These compact dwellings range anywhere from 100 square feet to about 500 square feet, which makes them much less expensive to build (and own) and easy to move around.
2018 may prove to be a big year for tiny home investors. For one thing, tiny home advocates are pushing to have a "Tiny House Code" in the International Residential Code (IRC) that could be used as a model code for all tiny homes built in the USA. This could signal that the tiny home trend will shift from being considered a trend to being considered a lasting, viable housing option.
Second, the idea of tiny homes as a vacation option is being promoted by two young entrepreneurs, Pete Davis and Jon Staff. They saw the value of building and renting tiny cabins in secret locations as a business model and appeared on Season 8 of "Shark Tank" to seek venture capital for their company, Getaway. This tiny house startup provides respite for short-term renters seeking to get away from it all and totally disconnect from technology and their busy lives amid the beauty of nature – in miniature cabins. Just be sure to remember that if your IRA owns the property, you may not personally use it!
And let's not forget the television show "Tiny House Nation" on A&E that showcases custom-built mini houses and the people who desire that lifestyle.
Self-directed investment opportunities
These micro homes provide two great investment opportunities. Not only can you invest in the homes themselves as rental properties, which will yield returns, but you can also invest in land that many tiny home and mobile home users will rent as a location for their domicile. By having your self-directed IRA purchase tiny homes or land to use as investment property, you can use those assets to build your retirement income — with all the same tax advantages of typical retirement plans.
Among those who might consider making tiny homes a part of their self-directed retirement portfolio are real estate professionals, who are seeing the value of investing in what they know and understand, and are including various types of real estate among their assets.
Since self-directed investors make all their own investment decisions and conduct their own (thorough!) research about their desired investments, including real estate in a self-directed IRA can make good sense for those who already work in that field — or for people already investing in real estate outside of their existing IRA. These real estate assets include residential and commercial real estate (from vacation rental property and multifamily housing to warehouses and industrial space), farm land, raw land (where those tiny homes and mobile homes can reside), rehabs and … tiny homes. They represent a new way to diversify one's retirement portfolio while getting in on a popular trend in the real estate market.
To read more about including real estate in a self-directed IRA, you can download our free whitepaper here. You can also watch our helpful video that provides details about our real estate starter kits for new accounts.
If you have any questions about self-direction as a retirement wealth-building strategy, or how to include real estate within a self-directed IRA, contact Next Generation Trust Services at Info@NextGenerationTrust.com or 888-857-8058. Our helpful professionals will provide you with the answers and help you open your self-directed retirement plan.
About the Author
Jaime Raskulinecz, founder and CEO of Next Generation Trust Services, was inspired to start the company in 2004 due to her desire to make real estate investments within her retirement accounts but inability to find a company to help her make those transactions.
A longtime real estate investor, she has worked full-time in the real estate industry since 1994 and is a certified property manager (CPM), a New Jersey licensed real estate broker and an active member of many national and statewide real estate organizations. In addition to leading Next Generation Trust Services, she is CEO and a principal of Rainbow Property Management, a real estate management firm which has earned the Accredited Management Organization (AMO) credential from the Institute of Real Estate Management. A recognized expert in the field of real estate investing within self-directed retirement plans, Raskulinecz has been interviewed frequently by and has contributed articles to prominent real estate and investment publications.
She was recognized by Real Estate New Jersey as one of its 50 Women of Influence (2008, 2009); by the New Jersey Association of Women Business Owners (NJAWBO) as one of the 30 Most Successful New Jersey Women Business Owners (2008), and Business Woman of the Year (Essex chapter 2011, statewide 2012). Additionally, she was honored by NJBiz as one of New Jersey's Best 50 Women in Business (2009). She was a finalist for the Own it Ventures/NJ Monthly Leading Women Entrepreneurs and Business Owners award (2011, 2012) and the Women's Center for Entrepreneurship Corporation's Woman Business Owner of the Year (2013). Next Generation Trust Services was a finalist for the NJBiz 2013 Business of the Year (1-50 employees). In 2014, Raskulinecz joined the board of trustees of Green Hill, Inc., the nonprofit organization that owns and manages Green Hill Retirement Community in West Orange, New Jersey. She currently serves as vice chairperson of the board and is on the Green House Home Committee.
About Next Generation Trust Services
Next Generation Trust Services (NGTS), headquartered in Roseland, New Jersey, is a professional third-party administrator of self-directed retirement plans. NGTS provides education, administrative support and account maintenance to individuals interested in self-directing their retirement portfolios with a wide variety of investments that are not typically found in an IRA, such as real estate, precious metals, notes and mortgages, private placements, accounts receivables, limited partnerships, hedge funds and much more. Next Generation Trust Services serves clients nationwide via its website, www.NextGenerationTrust.com. For more information, call 973-533-1880, 888-857-8058 (toll free), or e-mail Info@NextGenerationTrust.com.