Shaik's simple plan to dominate multifamily investing isn't "rocket science."
Growing up in southern India, Madina Shaik was passionate about civil engineering and decided he wanted to be part of the building process. Today, he's a titan of multifamily investing, building and renovating thousands of units.
Of course, it wasn't a straight line from his childhood dream to becoming the CEO of Houston-based Makaan Investment Group.
Setting the Foundation
Shaik didn't become a civil engineer. Instead, he studied electronics. As a young man in the 1980s and '90s, he could see computing becoming the way of the future, whereas engineering was saturated. He received his bachelor's and master's degrees in India and immigrated to the United States for a job in technology.
Soon, he decided to work for himself, creating a technology consulting company in 1997. He worked alone for a few years until colleagues began reaching out, asking if he was hiring.
"That's how I built my company, actually," he said. "So, by the time I realized [it], I had around 200 people working for me."
Unfortunately, his company suffered a setback when the dot-com bubble burst in the early 2000s. He had to let go of his employees, primarily colleagues from India who had H-1B visas. As work dried up, Shaik didn't have projects to assign them. Reflecting on that, Shaik said he reinvented himself and his company.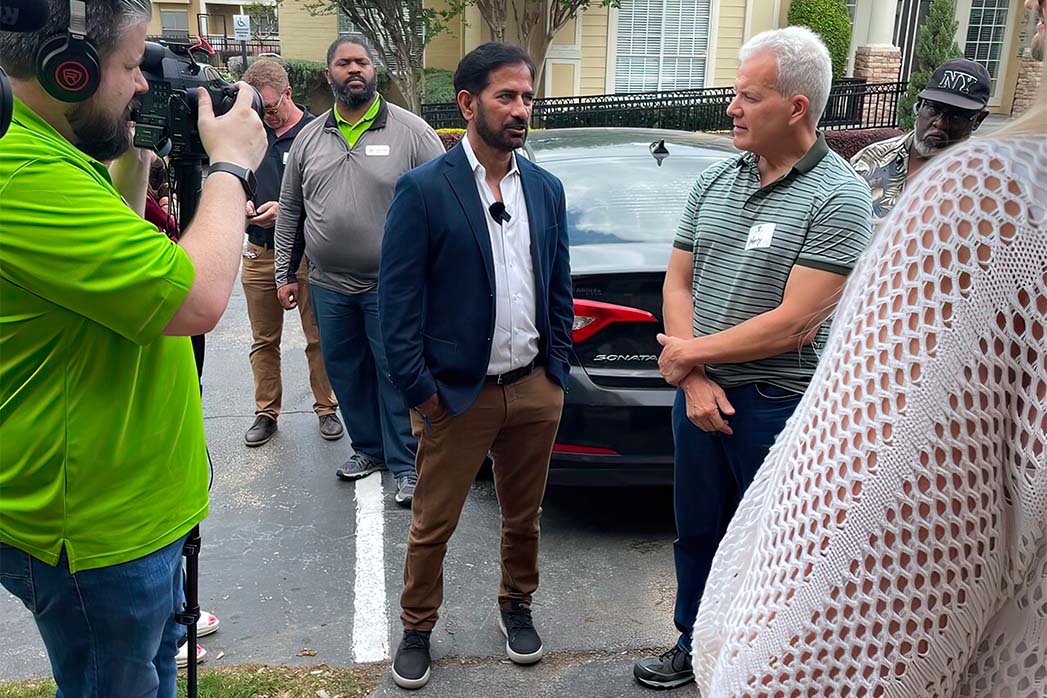 He shifted his focus to government contracting. Around the time Shaik became a U.S. citizen in 2004, he began consulting for the U.S. Army. Though he and his family had settled in Houston, he began rebuilding his company in Washington, D.C., to accommodate the government work, and traveled there weekly. By 2016, he decided to put the pedal to the metal and shift into growth mode. Now, his consulting company, CompQSoft, is a $100 million company with 500 employees and a full slate of senior leadership in D.C.
Diving into Real Estate
As Shaik's consulting business prospered, he began to think about diversifying with real estate investing. In 2008, he bought some single-family homes as rental properties. He asked a friend to manage them and to continue to find more properties for him to buy. Time passed and there were no further acquisitions. Still, he wanted to dive deeper into real estate.
"It was a to-do thing on my list, but I did not have time to do it," Shaik said. "But when COVID started, all my meetings got canceled. No travel to D.C. So, I had a lot of time on my hands, and I was just getting bored. So that's the time I kind of got into the real estate."
Not one to sit idly, Shaik began reading books about investing and talking to other real estate investors. He bought nearly 100 single-family homes to rent in 2020, but he quickly realized he couldn't scale up one house at a time.
"So, I said, OK, now I need to move into the real estate. I'm going to buy multifamily apartment complexes," he said.
He didn't start by dipping his toe—he jumped all the way in. Shaik started Makaan Investment Group and bought his first apartment complex in 2021. He made 12 acquisitions worth about $350 million in 12 months, totaling about 3,500 apartment units.
"That's my nature. I want everything done yesterday," he said.
During the past year, he put off further acquisitions to stabilize the complexes he owned, avoid high interest rates, build his team, and put systems in place to foster growth. Now, he's ready to charge full steam ahead.
"Now I can confidently say we are going to continue to grow in that space. Our goal was to target $1 billion this year," Shaik said.
Though interest rates have slowed down the market, he said, even if Makaan doesn't hit $1 billion this year, it will reach the goal in the near future.
"Renters' Nation"
The multifamily space makes a lot of sense to Shaik.
"Our country is becoming a renters' nation," he said. "There is a demand for multifamily. More and more people can't afford to buy a single-family home on their own, so they need a safe and clean place to live. That's what we're providing."
When buying apartment complexes, Shaik focuses on Class B, generally older buildings in good neighborhoods with some amenities that are in need of upgrades. One relatively easy improvement he's made at several complexes so far is the addition of a dog park, which he said is inexpensive but adds value for tenants.
Not all his projects are apartment renovations. He's also developing new projects that he sees a need for in the market. Shaik described one project as a build-to-rent gated community, featuring about 100 to 150 single-family homes around 1,600 square feet with two-car garages. He said these types of homes may be a better fit for families with children and pets than an apartment.
"That's the new trend right now," he said.
He's also shifted gears for some of his developments. Whereas he initially thought of building traditional apartments, Shaik said he's now planning assisted living facilities.
"It's a similar concept to multifamily, but it has a service component to it," he said—as well as different amenities.
The need for such living options increases as a wave of baby boomers hits retirement age. And not to be overlooked is the fact that the equity multiples are higher for investors, he said.
Team Building
Shaik has been able to plan big next steps after taking time over the past year to build his team. He likes to have all departments in-house rather than outsourced, so Makaan's team handles property management, construction, asset management, and fundraising.
"That way we have 100% control on our projects, and we can deliver what we promised to our limited partners," he said.
He's worked on creating processes and systems that will allow Makaan to scale in a big way. He's also a firm believer in finding the right person for the job, a lesson he learned from his consulting company. He said the notion early on that he was the only one who could do the work was limiting his growth.
"I figured out you do need to trust the smarter people to grow the pie," he said. "You still have more than what you had, and the other people also can eat."
Shaik's first hire for Makaan might seem unexpected: It wasn't a money manager, property manager, or general contractor. It was a chief marketing officer. He said he and CMO Tracey Tyler clicked right away. She understood the needs of his business and how to help him grow. She implemented a CRM, social media presence, and advertising placements to help find interested investors.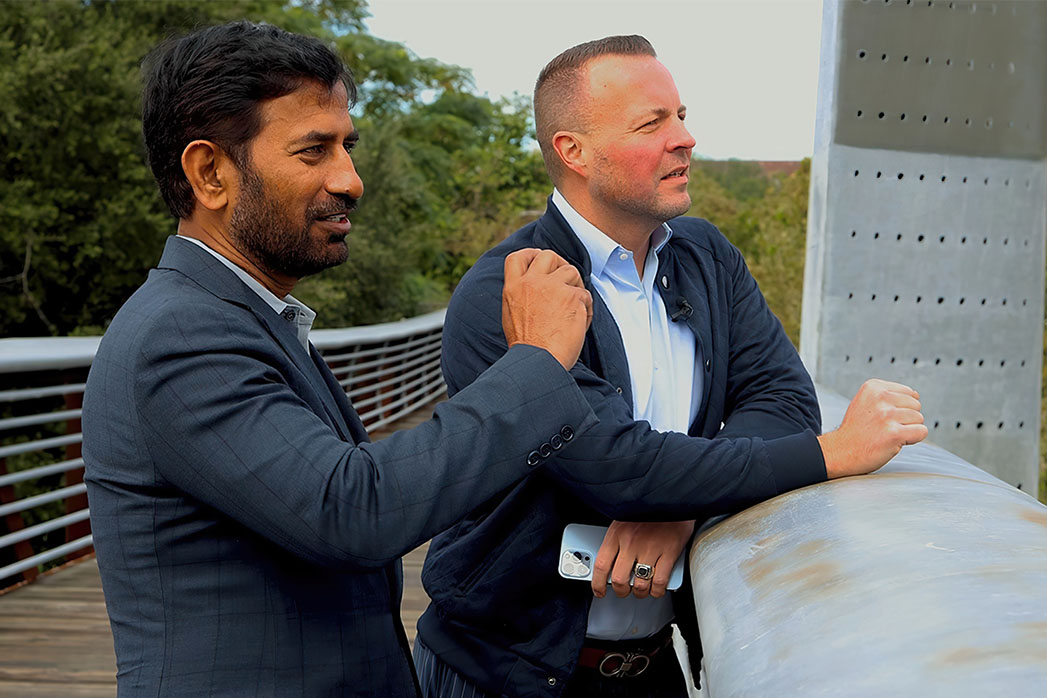 Tyler even helped Shaik expand his view of the company name he chose. A nod to his heritage, "makaan" (pronounced mah-KHAN) is a Hindi word that means "building" or "structure." Shaik thought it was fitting for a real estate company (and was easy enough to pronounce for English speakers). Tyler pointed out the name can refer to building wealth for investors as well.
Another unique marketing tactic Makaan employs is hosting monthly webinars to grow the potential investor base while educating them on the company and the investing process. Already, Shaik said, there are enough investors in the database that even if only 5% to 10% of them invest in a project, they can meet fundraising goals. Shaik likes his investors to take a webinar to get to know the team and understand how Makaan operates. For example, he said, they use a portal where investors can log in anytime to get updates. And if they don't find what they're looking for, they can text investor relations for a follow-up call with someone who can answer their questions. He said the webinar highlights what makes Makaan different: its processes, transparency, and access to team members.
Growth Mode
Shaik outlined some of his plans for growth that will help Makaan become the billion-dollar company he intends it to be. Currently, most of his properties are in the Houston and Dallas metro areas, with one in Memphis, Tennessee. He aims to expand to more landlord-friendly states, including the Carolinas, Florida, Georgia, and Arizona.
As the company grows, he's considering taking it public at some point in order to have greater access to equity for even bigger deals. Currently, Shaik invests 20% of his own money in each deal so fellow investors have confidence that he has skin in the game. Going public and making bigger plays could change the math on his personal investments, he said, but he will continue to invest in each deal.
No matter how the company changes, Shaik intends to stick to its fundamentals of providing excellent service to both tenants and investors.
"It's not rocket science. It's straightforward—having that customer service, the investor relations and property managers, having a good team, understanding and respecting the tenant, and providing the best service," he said. "That's what we're trying to do at the end of the day. That's our goal."