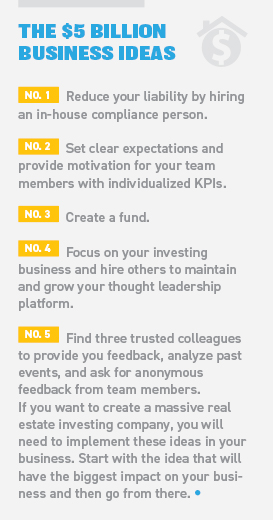 In late 2020, I achieved one of my original long-term apartment syndication goals: $1 billion under management. A large portion of that $1 billion (a little under $300,000,000) was added in 2020. At the same time, the podcast I created, Best Real Estate Investing Advice Ever, and the Best Ever brand in general, continues to thrive.
Both accomplishments were truly a team effort, and they required constantly evolving and employing new ideas to stay at the top of our game. Here are the five ideas we've implemented in our business in the past 18 months to continue to grow our syndication business and the Best Ever brand.
1. Protect yourself from the biggest liability you're currently not paying enough attention to.
For 99 percent of syndicators, the biggest liability is compliance. Sure, they work with attorneys to create their investment documents (emails, investment summaries, PPM, operating agreement, subscription agreement, etc.) and entities. They will also ask their attorneys questions as they arise. The liability is due to the questions that aren't asked, which puts them at risk.
Our solution: Hire an in-house compliance person. This is a legal expert who knows what questions to ask to cover your blindside.
2. Bring the best out of your team.
When you are starting a new company, it is usually just you, your business partner, and maybe a few other people, like virtual or executive assistants. Job duties aren't very defined since everyone is wearing a lot of hats.
Eventually, as you begin to grow, you bring on more team members and roles and responsibilities become more defined.
When it is just you and your business partner, compensation is usually tied directly to the number and size of deals completed. But once you bring on salaried employees, how each team member's performance impacts the success of the business begins to blur. Also, their compensation isn't directly tied to the number or size of deals. As a result, what motivates you and your business partner/s isn't the same thing that motivates your salaried employees (i.e., the number and size of deals).
Our solution: Create a single key performance indicator (KPI) for each team member. That way, they know exactly what is expected of them and are motivated to exceed that KPI to receive a bonus.
3. Enjoy better deal flow, deliver better and more stable returns, and create more sanity.
Most, if not all, syndicators start off raising money for individual deals. They usually have a list of passive investors who have previously invested in a deal or expressed interest in investing. Once a deal is identified, the opportunity is presented to this list. While the syndicators secure commitments, they work with their attorneys to create the deal documents and form the entities. After the deal is purchased, the search for a new deal begins.
There are a few drawbacks when it comes to scaling a business by raising money for one deal at a time. First, it limits your deal flow, because you are usually hyper-focused on a unique asset class in a single market. Second, it is riskier for passive investors, because their entire investment is used to fund a single opportunity. Lastly, there is more pressure on you, because of the race to raise all the money between contract and close.
Our solution: Create a fund instead of doing single asset purchases. Creating a fund will increase your deal flow because you can be more flexible with the types of assets you target. It generates better and less risky returns because funds are spread across multiple deals and markets and less capital sits idle. And it creates more sanity for you because the money is committed before a deal is identified.
4. Get better results on your thought leadership platform and in your commercial real estate business.
Something we focus on a lot at the Best Ever brand is the importance of a thought leadership platform. It is one of the best ways to build a reputation as an expert in your industry, which increases your credibility and ability to attract passive investors.
When you are first starting out as a syndicator, you are likely the main (or only) source of content. You are writing, editing, and posting the blogs. You are planning and hosting the meetups and conferences. You are scheduling guests, recording, editing, and posting the podcasts. You are the owner of one or more social media accounts. However, as your brand begins to grow, it can become a full-time endeavor. Eventually, you will get to the point where the time spent on maintaining and growing your brand is taking away from your focus on the real estate business. Either the brand suffers, or the business suffers.
Our solution: Transition your thought leadership platform to other people once it matures. This is more than just outsourcing editing. This means having people who create the content, as well as an editorial director to manage all the moving pieces. They will focus on growing your brand, so you can focus on growing your real estate investing business.
5. Overcome the success paradox.
Feedback from others is one of the best ways to improve and become a better real estate entrepreneur. However, the more successful you become in business, the less likely you will receive constructive criticism from your team members.
Our solution: Ask three people in your circle to provide you with honest feedback. Also, identify an event that occurred at least a month ago that didn't go according to plan and think about how you were responsible for it taking place. Lastly, create a Google Form and ask your team members to provide you with anonymous feedback.
---
Joe Fairless is the Co-founder of Ashcroft Capital which has over $1B in assets under management. Joe created the podcast, Best Real Estate Investing Advice Ever Show, which is the longest-running daily real estate podcast in the world and generates over 500,000 monthly downloads. He is also a proud Member of the Texas Tech Alumni Advisor Board for the College of Media and Communication, as well as being recognized as Outstanding Alumni at Texas Tech University, where he is a former Adjunct Professor. He is currently a Junior Achievement Board Member and Volunteer for the Cincinnati chapter and has been recognized by the Junior Achievement's Free Enterprise Society. Joe volunteers at Crossroads Hospice and was recognized as Multifamily Investor of the Year by Think Realty Magazine.
---