Like many real estate investors, the 2008 market crash caused Jorge Abreu to re-evaluate his career and his future. His next steps, however, were likely not the same as the path forward for others: He moved halfway across the country with his fiancée and a lifelong friend, renting a home in Dallas for the three of them that had an office where they could all work on tackling investing in this new market. That decision eventually led Abreu to his current role as co-founder and CEO of Elevate Commercial Investment Group.
Getting his start
Abreu discovered real estate investing while he was in college at Florida International University. He was studying engineering; he had chosen the major because math was easy for him, but he was quickly learning that he wasn't passionate about it. He wanted to do something else—but he didn't know what. He had witnessed business ownership in his family growing up, and starting his own company appealed to him. By studying successful people and entrepreneurs, Abreu noticed a pattern: Many of them either built or multiplied their wealth through real estate.
"I decided to start digging into how do I become a real estate investor," he said. "And the first thing I came across was single-family homes."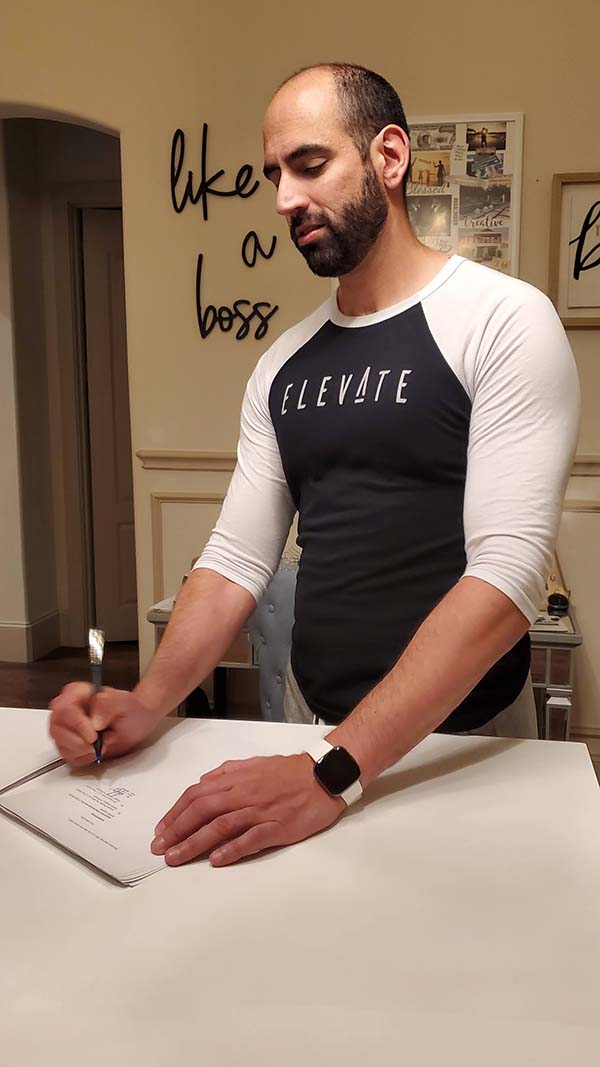 Still in school, Abreu started educating himself on how to invest in single-family properties. He got his real estate broker license to learn more about the industry. At the time, he didn't have much money to invest, so he got his start doing joint ventures. Working with an investor who had capital, he did the legwork and they split the profits. After a few deals, he had built up enough capital to continue on his own.
In a few short years, Abreu had seen enough success that he felt he could quit his day job, an engineering role he had taken after graduation. His enthusiasm for real estate investing had also interested his then-girlfriend, Tasha, who is now his wife, and his longtime friend Eric Bodiwala, now the COO and co-founder of Elevate. The three of them were working together, investing in South Florida properties, doing wholesale deals and fix-and-flips.
Then, in 2008, the market crashed, hitting South Florida particularly hard.
"I had to step back and analyze everything—like, do I need to go and try to get another engineering job? Or am I going to keep doing this?" he said. "I decided I wanted to keep being an investor. We had just started doing really well in it."
The prospects for continuing in South Florida, however, seemed dim, so Abreu and his cohorts looked at other markets where they had connections, including Dallas and Phoenix. After a visit to Dallas and talking to a friend who was investing there, they were sold.
"When we saw the business that our investor friend was doing and how he was still doing deals—and doing a lot—and then saw the nightlife and the social life, we were sold on Dallas," he said. "We packed our bags and started fresh in a new city."
They spent a few months networking and learning about the market. Soon, "we were right back at it," Abreu said. Instead of flipping homes, they began holding more property. That was also his first foray into multifamily, buying some fourplexes in addition to the single-family properties.
Like many investors, Abreu didn't love the day-to-day aspects of owning rentals.
"It wasn't enough units to hire a third-party property manager, and I wasn't a big fan of hunting people down for their rent and dealing with that kind of stuff," he said.
As the market improved, he was able to transition back into his preferred deals, fix-and-flips and some wholesale. But finding contractors was difficult, "and we got burned a couple of times," Abreu said. To help solve those problems and scale his investing, he started JNT Construction in 2010.
"My wife thought I was crazy," he said, "but I felt I could handle it."
As the market continued to heat up, Abreu's plan was working. He was able to scale the fix-and-flips. They even got more creative with the fixes, he said, adding square footage and sometimes second stories to homes. The construction company began working for other investors, too.
As Abreu's businesses grew, so did his family. He and Tasha had three children, now 5, 6 and 8 years old. Meanwhile, Tasha was working in the construction business, running the back office and accounting, while also helping with design decisions on the properties. They were getting stretched thin.
Abreu said he started focusing on how to work on his businesses rather than in them. He worked on building his teams and growing the companies. Laying that groundwork paid off. In 2019, Abreu received an offer to merge JNT with another construction company. That allowed Tasha to leave her role, "so she's been able to enjoy raising our children and spending more time with them," he said. He, in turn, has been able to focus on growing Elevate.
He sees lessons in what he's accomplished so far.
"I've had a lot of success in a little bit of time, and I think it's because of focus. I decided that this is what I wanted to do and really focused on it," he said. "I get a lot of different things thrown at me, even different sectors of real estate, and I try to stay focused and really build this out first."
For now, he said, Elevate will continue to specialize in multifamily deals, though he said that in the future he might be open to tackling projects in the commercial sector.
Sold on multifamily
Through his construction company, Abreu met a client who was a multifamily syndicator, buying large properties. The client opened his eyes to that aspect of multifamily syndications.
"I thought the investors buying these hundred-plus multifamily properties were just loaded with money—you know, they had millions and there was no way I could do that," he said. "But then I got introduced to how syndication works and the fact that you can raise the money from others and have them partner with you. I was very intrigued and started getting educated on how that works and how multifamily in general works.
"I was sold. I went all in on it."
Abreu quickly saw that he could scale his returns from one large multifamily property much more rapidly than he had done with his single-family properties over the past decade. When he started investing in multifamily, he initially kept his single-family business going. Again, he found himself being pulled in too many directions. He decided to focus solely on multifamily investing, and in 2018, he and Bodiwala started Elevate to do just that.
Today, Elevate owns more than 4,300 doors and is quickly closing in on its goal of 5,000 for this year. Next year, Abreu hopes to increase that to 10,000 doors. The company manages about $325 million in assets. He said they look for properties with more than 100 units—with 200-plus being their sweet spot—primarily in "landlord-friendly states that we can see the growth in population and the economy." Texas is Elevate's main market, and it also owns properties in Georgia, Oklahoma and South Dakota. The team is looking to expand to other markets, such as Florida and the Carolinas, he said.
"We're pretty open to finding the deal wherever it's at," he said.
Elevate started its business doing Class C value-add properties. Abreu said having the construction company in-house "gives us the confidence to go after some heavier lifts and hairier deals. We've been able to strike some really good purchase prices by doing that." It also leverages the construction company to build new multifamily properties, he said.
Last year, during the Covid-19 pandemic, Abreu said his team realized the value in diversifying to add some Class B and Class A properties to the mix. They continue to provide value-add to each property, but he said these don't require as much work as other projects they've taken on in the past.
"Now we do it all, and we found that our investors have the appetite for all of them," he said.
Building community
Elevate aims to add value not only for its investors but for its residents. It makes an extra effort to invest in the communities at its properties, and those community-building efforts make Elevate's properties stand out, Abreu said. For example, he said, at one property Elevate recently bought, renovations included fixing the pool, which had been out of commission for the past four or five years. The property management team hosted a grand re-opening pool party for residents. The goal is to have community events at least once each quarter, Abreu said, and the results have been encouraging: Most new residents to his properties come from referrals.
"That says a lot when you have residents that are living there and they like it so much that they are telling others to come and move there," he said.
The company's strong relationships and communication with residents was a boon last year during the Covid-19 crisis and the ensuing eviction moratorium, Abreu said. Elevate was able to create systems for rent relief and help residents understand what they needed to do in order to receive it. The proactive approach led to minimal disruption, he said.
"Income-wise and vacancy-wise, it really did not disrupt our business plans, but we did have to be flexible and learn quickly and adapt," he said.
Elevate took the same proactive communication approach with its investors during the turbulent time. Before the pandemic, Abreu said, the team would send updates to investors either monthly or quarterly, depending on the property. To keep them abreast of changes during the pandemic, Elevate shifted to weekly updates covering delinquencies, vacancies and additional information as the situation changed.
"You never want to keep anybody guessing," he said.
Though some distributions were temporarily put on hold to see how the situation would play out, Abreu said investors were supportive and understanding. He sees Elevate's communication with investors as one of its key differentiators. When he began investing passively, he saw a wide range of approaches to investor relations.
"Something I noticed was the lack of communication and the lack of transparency on some of these deals," he said. "So my goal really has been to make the investors feel more like they're part of the deal."
To do that, he said Elevate sends a packet to each investor for each property including a binder with the important information, such as property descriptions, distributions and taxes, plus "trinkets" that will make investors feel more a part of the process. Elevate also hosts property tours, which is rare in the industry, he said. Ongoing communications include photos and videos showing progress and community events. The goal is "really showing them how the deal is looking and what their investment has done for that property," he said.
Educating others
Abreu's desire to stand out and communicate manifests on Elevate's website in a substantial education section, which includes an e-book, a checklist for deal sponsors, and dozens of recommendations for reading, from multifamily investing to personal development and more.
"Multifamily investing—nobody teaches you that," he said. "Growing up, everybody kind of knows about your retirement funds and your 401(k)s and stocks. But nobody really teaches about the alternative investments."
Abreu has learned from research and experience about the benefits of real estate investing, particularly multifamily investing. Considering the returns and the tax benefits, "I think there's no competition" with traditional investments.
"If somebody's just looking to invest passively, and they're not looking to do real estate investing as a full-time job, I think they owe it to themselves and their families to really look into alternative investments—mainly, I think, multifamily," he said.
"There's just so many positives to it, and it really helps you get ahead. Most people have a 401(k) or something equivalent where, you know, you may end up with some retirement money, but it's not going to be anywhere near what you could get from investing in an alternative investment."
For those interested in real estate investing, Abreu said not everyone has to start out in single-family or small multifamily properties.
"That's a misconception," he said. "You can get educated and you can find a way to add value to other multifamily investors.
Big multifamily investing is definitely a team game, and there's a lot of partnerships that allow you to learn from others and get into deals sooner."
Sharing what he has learned comes naturally for Abreu, and he sees value in evangelizing for his industry.
"I'm a strong believer that the more free content and the more education you can give, it's going to come back to you," he said.
Creating a legacy
For Abreu, this line of work isn't about just tallying dollar signs in his bank account. He aims to build a legacy for his family.
The son of Cuban immigrants, he's a self-made success. His father died when he was three, and his mother worked hard to raise him and his sister on her own. When he started investing, he "didn't come from money, didn't have a lot of money." But he wants to write a different story for his children.
"Generational wealth is really what I'm going after. I'm not looking for quick money," he said. "It's all about building something that's going to last, that's going to be here when I'm gone, and my children can prosper from it as well."
Abreu said he exposes his children to his work and teaches them about what he's doing, but he doesn't try to push them into the field. If someday they decide to join the business or the industry, that will be their choice. For now, he's content to spend time with his kids, whether it's playing with them or watching them in their sports. (Though he said they can't beat him in basketball yet, he has a feeling it won't be long.)
In the meantime, he aims to continue growing Elevate. In the long term, he said he can see stepping back and letting someone else run the business, but for now, he wants to continue his work and "leave my stamp behind."