In their efforts to save money, some homeowners end up making far more costly DIY mistakes as they try to revamp their properties, a recent report found.
In a survey of 1,187 homeowners, Porch.com found a variety of expensive — and avoidable — mishaps that homeowners make as they attempt to increase the value of their homes with DIY projects. In addition
"For those considering home improvements, the DIY approach promises benefits both financial and personal," Porch.com wrote in its report. "Tackling a project yourself can yield serious savings, and successfully completed upgrades are a definite source of pride. Yet, these advantages depend on favorable outcomes: When DIY goes awry, simple projects can become time-consuming and costly."
Through its survey, Porch.com found that 33 percent of homeowners pursue DIY projects to save money, followed by 20 percent that say they enjoy the creation process. On average, the survey found that homeowners do four or five projects per year at an average annual cost of $1,700. Millennials tended to spend the most for DIY projects, dishing out $405 per project on average, the report found.
When looking at costly DIY snafus, flooring replacement reigns king, according to the survey.
"But for some especially intensive projects, the time penalty for mistakes was much greater," Proch.com wrote. "For flooring installation projects, for example, DIYers who erred took 27 hours, on average, to finish the job — more than twice as long as those who made no mistakes."
In addition to spending more time, Porch.com found that homeowners that made mistakes typically paid about $829 more to finish their flooring project. Exterior paint was the second most costly mishap, with an added mistake cost of $447, followed by replacing an electrical outlet at $445.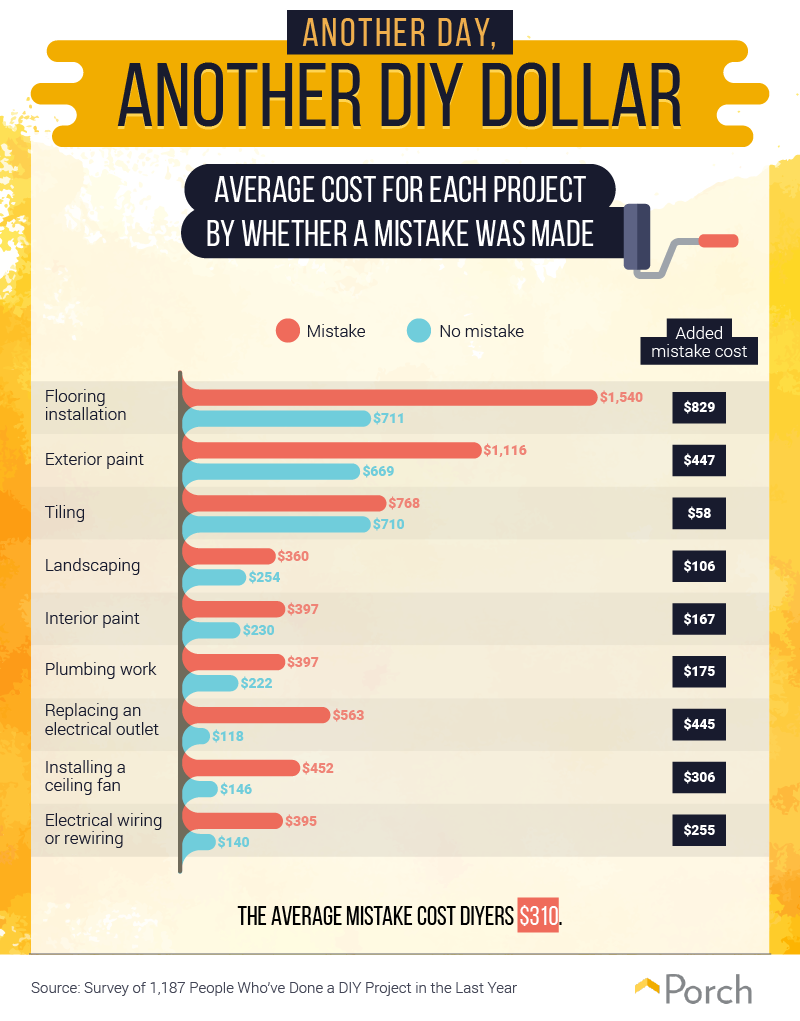 Check out more data from Porch.com's survey here.