Featured investor: Rick Melero, principal at HIS Capital Group
Located less than 20 minutes from Disneyland and less than 30 minutes from beautiful SoCal beaches, North Tustin is a desirable Orange County enclave offering the California lifestyle dreams are made of. For Rick Melero, principal of HIS Capital Group, this residential project was tailor-made for its market.
"The location of this home was in a highly sought-after area, with [plenty of] space separating it from neighbors and heavy traffic. The 3,167-square-foot home sits on a half-acre with plenty of room to entertain," said Melero. "We were drawn to this project because of the profit potential and the area itself."
Purchase Price: $850,000

Rehab Costs: $145,000

Timeline: 6 months

Sale Price: $1,220,000

Estimated Profit: $225,000
Open Floor Plan Property
When you picture the perfect Southern California home, you probably have visions of mid-century modern Palm Springs: single-story, sun-drenched, and an open floor plan for plenty of flow. In this North Tustin home, however, the outdated furnishings and fixtures were hiding the home's best features, making it look darker and more cramped than it should have (see image at left). "The transformation of this home was very fulfilling," said Melero, "because of the great, and unrealized, potential of the home itself."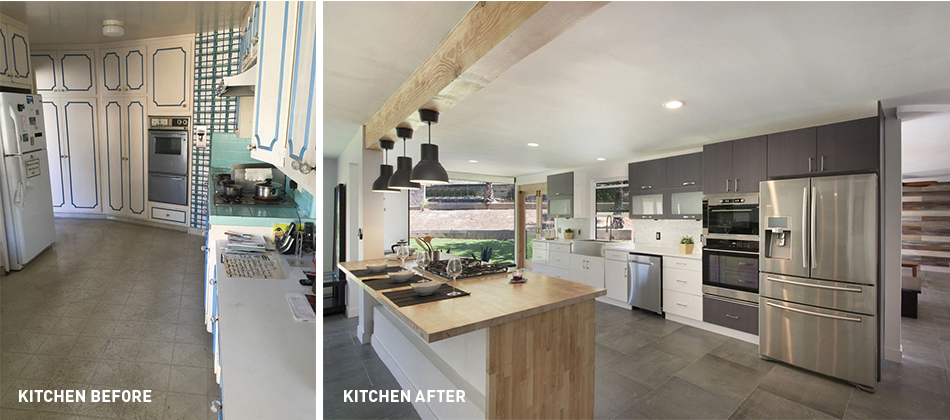 Wide Open Interiors
Many home descriptions talk about an "entertainer's floorplan," but the North Tustin home exemplifies this ideal. "This home is unique in its design and perfect for the entertaining family with lots of open space," said Melero. But open space can still look dark and cramped without the right lighting and access to the outdoors (see before images above), so the investor added modern lighting and chose paint colors, tiles, and other design elements to echo the colors of the outside setting, brighten the spaces, and bring natural materials into the interior. Many of the patterns and fixtures also hearken back to the mid-century modern design of the home itself, paying homage to its vintage style while looking fresh and contemporary. The renovation also included a new kitchen, new bathrooms, new windows, and new flooring.
Exterior Changes
"We did not have many issues with the exterior," said Melero. Landscaping, cleanup, and a fresh new paint job transformed the home. Melero chose a pale blue that would be a perfect echo of the endless blue skies above. The color, he said, gave the property a unique look while still being relatively neutral.
In addition, winding pathways – many of which alternate paved and gravel elements – now lead to a gorgeous outdoor gazebo area (see image on p. 12), which offers a shady spot for relaxing outdoors under the swaying palms. A meticulously manicured lawn and minimalist plantings along the fencing and near the house echo the spare, contemporary look of the home itself.

Staging was Crucial
Great design alone was not enough to tempt buyers, at least initially. "In this market we learned that in order to sell the property, we needed to stage the home," said Melero. "We tried for 90 days without any staging and interestingly, after we spoke to a local market expert, we staged the home and sold it within 30 days from making that adjustment."
Finally, when you're staging, don't forget the outdoors! especially in a location like Southern California where outdoor entertaining is a "must," outdoor staging helps buyers envision the ways they will eventually use the space.
Additional ROI: As Melero found out with this home, staging can make a difference in both days on market and return on investment. According to the National Association of Realtors (NAR)'s latest home staging survey, over 97 percent of buyer's agents say that staging has an effect on their client's view of the home and more than half of seller's agents estimate that staging increased the listing's sale price, sometimes by as much as 20 percent.
Bringing the Outdoors In
During the renovation, Melero's goal was effective integration of the sunny outdoor space with the now-brighter interior. "Our biggest design strategy was in making the kitchen and living space open to the backyard," said Melero. "We brought in custom made, wooden sliding doors to create a feeling of a home without walls; the large floor to ceiling windows provide plenty of natural light to brighten the modern design throughout the house."
The result is a wall of doors that fold in, creating a seamless transition between the indoors and out. This allows guests to move from the kitchen to the great room to the backyard as if moving through one space – truly ideal for social gatherings of all sizes.
This home went from dusty and tired to bright, light, and oh-so-glamorous. It's a great example of what can happen when a renovation focuses not just on the house itself, but on fully marrying the property to its setting.