Every day your rental property remains vacant, is potential income you're losing. Color plays a big role in getting prospective renters to notice your property. It can attract people to your home or drive them away. Whether you choose to paint yourself or hire a professional, the right exterior hue of your property is crucial in getting it rented. Use these tips, and you'll be pulling that "for rent" sign out of your yard in no time!
Think Realty's 5 Tips on Exterior Painting for Landlords
1. Keep it simple
Don't scare off a potential renter with jarring colors. Instead, appeal to the masses by choosing neutral colors like shades of beige, gray or cream. Limit too many bold accents, and stay clear of dramatically bright or dark hues. Playing with primary colors or picking two hues in various brightness shades is an easy way to make a simple palette look more complex. A simple palette, with a well-manicured lawn, is sure to drive prospect renters to your property!
2. Accentuate the unique and positive characteristics of your property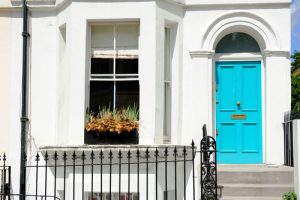 An easy way to give your rental a makeover is to emphasize the positives. Sell what your property has –don't focus on what it might be lacking. Does your property have lots of windows? Highlight them by accenting the window panes in a slightly different color than the rest of the main house. If you don't think your rental offers a unique appeal, paint the front door in a different shade than the rest of the house. An accent color for your door is a cheap, and easy fix to help your rental stand out amongst the competition. Every property is special, so paint your rental to sell its unique characteristics!
3. Plan around elements you can't change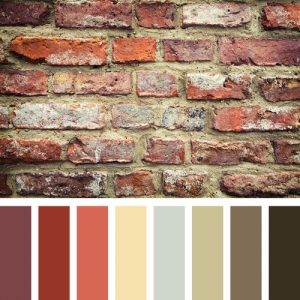 There are certain things you can't afford to fix or change as a landlord –even if you want to. Elements like concrete, brick or wood might have to remain in place for you to stay under budget. Let these elements and the exterior paint you choose work together, by picking hues that reinforce the structures already in place. For example, weathered whites go great on homes with terracotta roofing tiles. Another thing to keep in mind, the rest of the houses on the block. Make sure you pick colors that will harmonize with the rest of the houses in the neighborhood.
4. Use the natural surroundings as an influence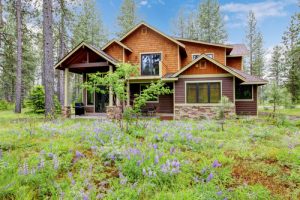 Your property's natural surroundings can, and should, impact your exterior color choice! Subtle, varying shades of beige, gray or cream are great colors that can help to highlight a colorful garden or sprawling lawn. This tip is especially important for beach or mountain homes. People rent these properties because of the natural elements. Pick exterior colors that help support the beauty of a mountain backdrop or beach front.
5. Highlight the historical context of the property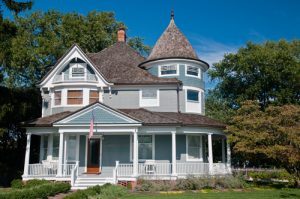 Staying true to the historical character of your rental is critical when choosing colors. If you are attempting to rent out a Victorian-style home, don't pick colors that appear too modern or trendy. Staying true to your home's history by picking timeless hues will get your property rented faster.
Remember: You want to create a place where people want to live. By following these five makeover tips, you will have potential tenants knocking on your door in no time!