At the height of the COVID-19 pandemic, most working adults were clocking in from home. Now, many of them are heading back to the office, but not without some concerns about health and safety. In fact, 50% of employees in the U.S. are worried about returning to work. The good news is that 71% of them are confident that their employers will create a safe environment.
The Advantages of Working in an Office vs. Remote Work
Virtual work has precipitated record levels of stress, burnout and even mental health issues. In one survey of over 2,000 employees, 63% responded that the cons of working from home outweighed the pros.
Companies that are aware of the toll have processes to mitigate the damage of long-term remote work. For instance, Citi bank is giving their workers "Zoom Free Fridays," to reduce the amount of video calls they have to log in for. As many industry leaders look to migrate their workers back to the office, it's important that they spin the mandate by emphasizing the value of an office environment.
Traditional office spaces set healthy boundaries between employees' professional and personal lives. In the chaos of the pandemic, many people set up their home offices temporarily, which means they are perched at coffee tables, counters or at a makeshift desk in a corner.
Unlike working remotely from a home office—with the endless stream of interruptions from kids, pets or spouses—working in an office building with other professionals provides a much-needed context for focus, not to mention social interaction.
Here are five ways that modern office spaces can be optimized to support health and wellness.
5 Office Space Initiatives that Center on Health and Wellness
No longer a place of blaring fluorescents and stuffy cubicles, modern workspaces have been enlarged, enlightened and enlivened. From architectural improvements in new builds to major renovations that improve Feng Shui, this was an emphasis for major employers even before the pandemic. Now, it's a bandwagon companies cannot afford to miss.
At Hartman REIT, we are taking extraordinary measures to prioritize the well-being of our clients, from advanced sanitization to whole building air purifiers.  Businesses that value their long-term employees should be making intentional improvements to their offices.
Here are the highest impact improvements to consider:
1.    NPBI HVAC
Needlepoint bipolar ionization (NPBI) for HVAC is a revolutionary way to get purified air through your entire office building. In fact, a core message throughout the COVID-19 pandemic was that UV light and ionization have been proven to reduce the spread of viruses (in clinical trials, specifically SARS and Influenza A). This adds a legitimate layer of protection for your staff and helps everyone breathe easier.
2.    Professional Cleaning
If an office building has been largely unoccupied, regular, professional cleaning may not have been a prioritized expenditure. When the whole team heads back into the office, it will be essential to step up cleaning processes and professional sanitizing services. This will improve the wellness of people who spend their days indoors, as well as reminding the staff that their health is valued.
3.    Modern Reconfigured Spaces: De-Densification
A lot of things have been reimagined this past year, and office spaces are getting a makeover. De-densified spaces are a huge perk for employees. A new, spread out setup can provide extended distance between desks and workspaces and allow some room to expand. While social distancing may not be necessary or enforced, providing some elbow room is better for people's health and headspace.
4.    Natural Light
The Vitamin D factor shouldn't be ignored. If your business is looking to lease a new office space, consider signing for one with more windows and better natural light. Proven in trials to reduce the risk of seasonal affective disorder, Vitamin D is a simple way to lighten the mood. Not relocating? The process of de-densifying or reconfiguring your office interior could put more people window-adjacent.
5.    Fitness Centers
Few employees are going to complain about losing their workout from home routine. Fitness centers on-site are ideal, but you can also think outside the box by providing stipends for fitness center memberships or fitness apps. Consider how to integrate the social value of the office environment in fitness or step count challenges and more. This gets everyone's heart pumping and keeps their heads in the game.
The Future of Work in Suburban Office Spaces
Society ebbs and flows out of metropolitan areas, and migration occurs both in and out of suburban areas. New trends are seeing fresh areas of growth outside of New York, Chicago or LA. The West, Midwest and South are becoming epicenters for commercial real estate investments from some of the big name corporations. For instance, leaderboard companies—such as Google, Facebook and Tesla—are setting up shop in the state of Texas. Their construction of modern office buildings is making it easier for employers to see a model for how to create wellness-oriented workspaces.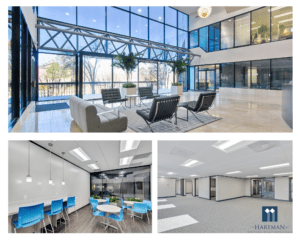 Hartman Income REIT's 1211 Katy Freeway office building features a newly renovated lobby, HVAC, NeedlePoint Bipolar Ionization (NPBI), and over $1 Million in common area updates
Turns out, commercial leasing in Texas is on the rise in general. Dallas, Houston, San Antonio and Austin are some of the fastest-growing cities in the U.S. and feature urban centers with drivable suburban neighborhoods.
Similar dynamics are occurring elsewhere in the U.S., but what businesses of all sizes have in common is this: they want employees to feel at home at work. And that starts with welcoming them back in a safe, secure environment where their health is priority number one.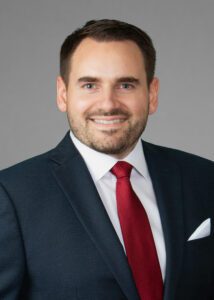 About the Author
Anthony Trollope, Director of Interactive Marketing at Hartman Income REIT