Grand Rapids, Michigan, has recently received an ambitious title: "A Grand Investment." The label, derived from an ongoing series of studies and articles commissioned and created by a local "destination marketing organization," certainly fits the local real estate market. In the past 18 months, the second-largest city in Michigan has made top-10 lists for being among the "best mid-size markets for homebuyers" (7th, WalletHub), having the "hottest ZIP code in America" (Realtor.com), and boasting the "#1 Market for Job Growth" (Headlight Data).
With all of these accolades rushing in, it is no surprise that Grand Rapids has received a great deal of investor interest in the past few years as well. In 2017, ATTOM Data Solutions reported Grand Rapids had experienced one of the biggest increases in home flipping rates in the country, and, perhaps partially in response to this, in 2018 many local real estate professionals and policy-makers have expressed concerns about declining home affordability in the area. The city has responded to this issue with a series of projects to create new affordable housing options that it hopes will help keep populations that otherwise might find themselves priced out of the metro area in place. For example, a project on the northwest side of the city is intended to provide housing for students who may someday be candidates for a local scholarship program intended to keep children in school through graduation. Families with children in the program will receive priority when the apartments are ready to be leased.
Exposing Opportunities in Grand Rapids
Any time a city receives a great deal of attention in the media for being a "hot" real estate market, it is easy to lose the basic facts in the "hoopla." Here, we break down a few of Grand Rapids' latest titles and the facts and rationale behind them:
"#1 Market for Job Growth"
Title courtesy of Headlight Data based on economic and workforce development
According to the Bureau of Labor Statistics, Grand Rapids' unemployment rate has been trending downward since hitting a peak of 17.1 percent in July 2010. In 2018, it has hovered around 4 percent. According to Yardi Matrix, the area has a stable employment base with top employment sectors manufacturing, trade, transportation & utilities, and education & health services each garnering between one-fifth and one-sixth of local market employment. Government and professional & business services also employ between 10 and 13 percent of the community. The presence of Spectrum Health, which is headquartered in the area, contributes to local job growth, and the company has invested nearly $1 billion into its Lemmen-Holton Cancer Pavilion for oncology specialists and services and the Helen Devos Children's Hospital. Along with multiple higher learning institutions in the area also dedicated to health, medicine, and health services, the area constantly attracts new health science-related business. Additionally, the city is a historic center for manufacturing and boasts thriving furniture, automotive, and aviation manufacturing businesses.
#7th-Best Mid-Size Market for Homebuyers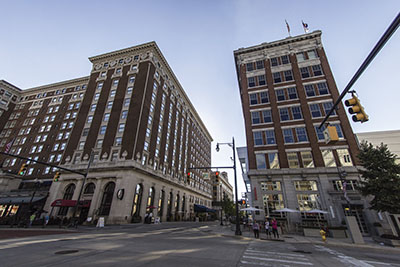 Title courtesy of WalletHub based on real estate market and affordability.
Around this same time WalletHub released its study on homebuyers, TheStreet.com released a similar study ranking cities as "best real estate markets for homeowners" in the United States. This report added on to the WalletHub study and evaluated market health, negative equity, listing prices, and median sales prices. Grand Rapids placed on this non-ranked list as well. Despite local housing affordability concerns, the area is still considered very affordable on a national scale with a median sales price of just over $156,000. The market appreciated more than 6 percent last year, but prices seem to be leveling out. This could be good news for households hoping to buy in the coming months. As far as investors' interests are concerned, the area is experiencing a significant rise in foreclosure starts according to ATTOM Data Solutions reports. This could indicate potential for moving into the market with longer-term strategies. At present, however, it is also important to remember that Grand Rapids homeowners remain in place for relatively short amounts of time, an average of 51 months according to Realtor.com and CoreLogic. Some analysts credit this turnover to strong appreciation in the market, while others say relocation and relatively high rates of new construction cause this fast turnover.
"Hottest ZIP Code in America"
Title courtesy of Realtor.com based on speed at which  homes sell in the area and median list price.
The "hottest ZIP code" rankings are based mainly on how quickly homes in that ZIP code move and, as such, as specific to the ZIP code in question. In this case, the magic number is 49508. However, Realtor.com analysts noted that all 10 markets on the list had some broader support for their heated markets, including affordability, high wages and employment, millennial earnings and homeownership, and credit ratings. Clearly, not all of that support can fit into a single neighborhood, so the surrounding area is likely also attractive for these reasons. Grand Rapids is a particular hotspot for millennial homeownership and has been for nearly three years. More than half of millennials living in Grand Rapids (57.3 percent) were homeowners in 2017.