Cash is king in a home sale — and cash buyers are often able to buy below market value — because cash represents speed, simplicity and certainty for the home seller. More to the point, sellers attach some monetary value to speed, simplicity and certainty in a home sales transaction (see sidebar on p. 32 for more details on this).
The opportunity to add value to the home sales process with a quick, clean and certain cash sale is the foundation for the nascent iBuyer business model.
"The number one thing is you're putting the control back in the seller's hand. Before Offerpad there wasn't much control they had or certainty over the process," said Cortney Read, director of communications and outreach at Offerpad. "We actually have customers that sell to us and buy Offerpad homes and they are able to do those transactions within a month."
The Evolution of iBuyers
In the beginning were traditional real estate investors, the early ancestors of iBuyers who have long leveraged the advantage that speed, simplicity and certainty give them when purchasing a home with cash. But it's clear that while iBuyers may share some of the same DNA as traditional real estate investors, they are a completely different species.
From the outset, iBuyers were poised to be different from traditional real estate players because of their roots in Silicon Valley. Those roots provide them access to the deep pockets of venture capital looking for a disruptive real estate model as well as access to the big data and technology talent that could deliver on that disruption.
First-to-market in 2014 was Opendoor, the epitome of Silicon Valley roots combined with an affinity for real estate investing. Prior to founding the company, CEO and Co-Founder Eric Wu founded geo-data analytics company Movity, which was acquired by Trulia. Wu also co-founded RentAdivsor.com, and his side hustle is a real estate fund that has invested in more than 100 multifamily units.
Others on the Opendoor leadership team come from brands that are virtually synonymous with Silicon Valley: Uber, Square, Groupon, Yelp and PayPal. That pedigree helped the company raise $1 billion in venture capital funding since 2015.
Not far behind Opendoor was Offerpad, which began buying homes directly from homeowners via cash offers in 2015. Offerpad's lineage is more heavily steeped in the real estate world: one of its co-founders was a realtor prior to founding the company; its other co-founder previously founded Invitation Homes, a company that purchased tens of thousands of homes in the wake of the Great Recession, often buying with cash at the foreclosure auction. Still, Offerpad's cachet with the venture capital crowd has helped it raise $410 million in funding since 2017.
The influx of venture capital has allowed these first-to-market iBuyers to ramp up quickly in terms of number of transactions. An ATTOM analysis of public record data shows Opendoor purchased just 14 homes in 2014, then 471 in 2015, 1,529 in 2016, 3,626 in 2017 and 9,578 in 2018. Offerpad started with 13 purchases in 2015, jumped to 559 in 2016, then 2,022 in 2017 and purchased 3,110 in 2018.
Knock was another early entrant leveraging the speed/simplicity/certainty value-add of an all-cash purchase. The ATTOM analysis shows entities associated with Knock purchased 357 properties between 2016 and 2018. Knock has a different spin on the model, purchasing a new home — with cash — for a prospective home seller before moving that home seller out of his or her current home and then selling that current home.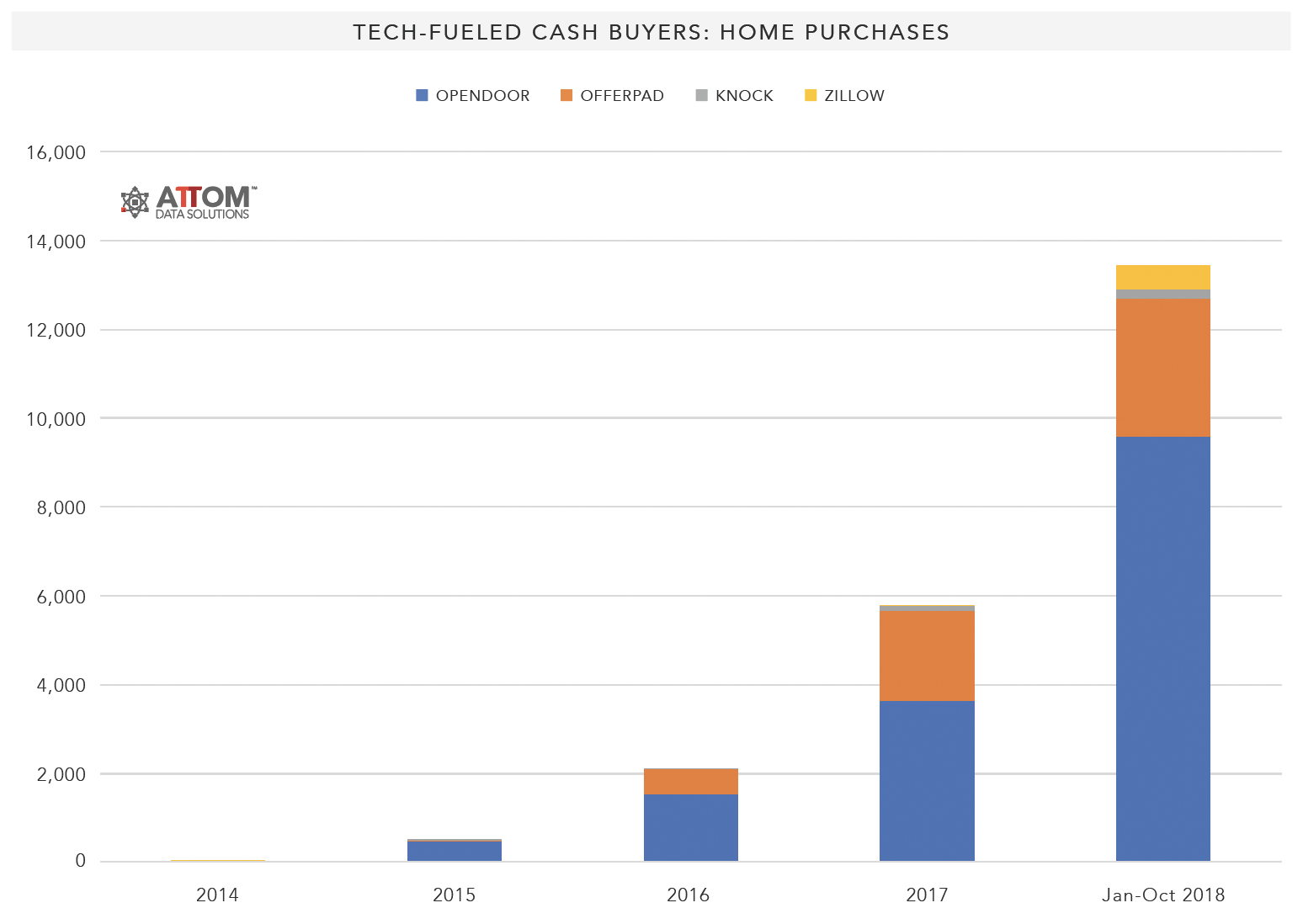 "We don't consider Knock to be an iBuyer, as their 'instant offer' to buy your old house only addresses one side of the transaction, which is simply not enough to transform real estate," said Sean Black, co-founder and CEO. "We believe certainty, convenience and cost-effectiveness are needed to provide home buyers and sellers with a better experience. iBuyers do not solve for cost because they are flipping homes for profit; 71 percent of home sellers are buying their next home at the same time, and iBuyers leave them with no solution for buying and take a chunk out of their equity."
Keep in mind, the aforementioned numbers are just purchases. In theory, these entities are subsequently reselling every property that they purchase, typically within just a few months. The ATTOM analysis shows that Opendoor, Offerpad and Knock combined sold 16,574 homes between 2014 and 2018.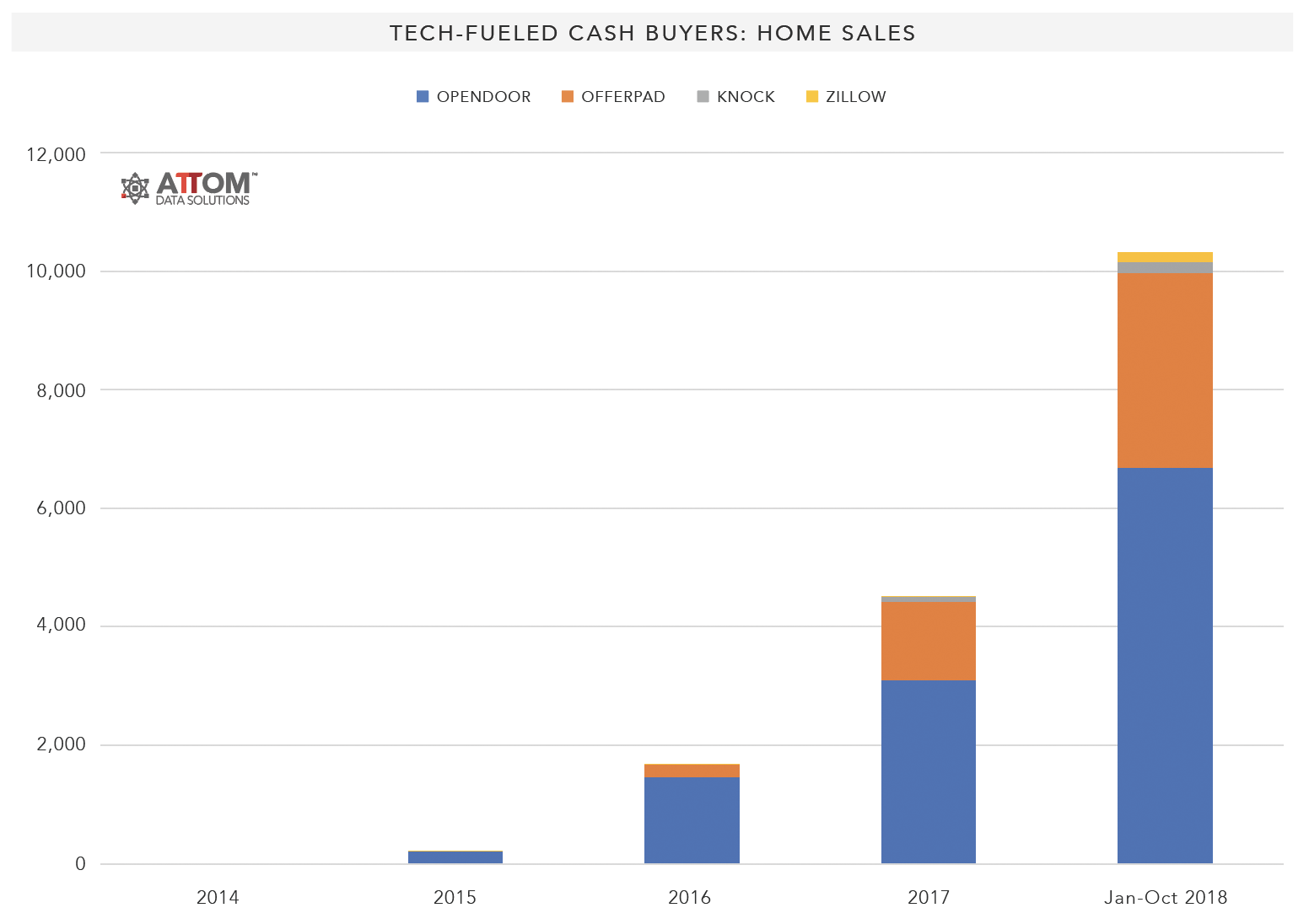 The rapid growth of these early entrants caught the attention of more mainstream players like Zillow and Redfin — who at one point not too many years ago were themselves at the bleeding edge of technology and real estate. Both companies have jumped into the iBuyer space, although they still have much ground to gain on the early entrants. ATTOM data shows entities associated with Zillow purchased just two homes in 2017, and 549 in 2018, while entities associated with Redfin have purchased 145 properties in three Southern California markets in the last two years.

As the nascent iBuyer industry quickly matures, even more established real estate players are joining the fray. The legacy real estate brokerages of Keller Williams and Coldwell Banker both made announcements about their involvement in iBuying programs in September 2018. Keller Williams said it has been testing the iBuyer concept in an undisclosed market for more than a year, while Coldwell Banker announced the launch of its own iBuyer program in Atlanta and Dallas, expanding to Tampa.
The iBuyer Difference
The emerging iBuyer businesses differ from traditional cash buyers not only in the volume of purchases — enabled by the influx of institutional capital — but also in the types of properties they are buying. The traditional cash buyer targeted distressed properties with deferred maintenance and other distressed markets in an effort to deepen the purchase discount and pad the eventual profits when the home was resold.
That traditional home flipper model works when operating with lower volumes — the ATTOM Data Solutions Q3 2018 Home Flipping Report shows home flippers averaged 1.21 completed flips during the quarter. But at a much larger scale —  Opendoor purchased more than 2,700 homes in the third quarter and sold close to 1,800 — the iBuyers aren't banking on the deep discounts that come with the combination of a cash purchase and a distressed property. When done at large enough scale and velocity, the added value that comes with the speed, simplicity and certainty of a cash sale creates sufficient margin on its own — without the distressed element added in. At least that is the theory.
ATTOM data on homes flipped — sold for the second time in the last 12 months — in the third quarter of 2018 demonstrates how the iBuyer business model is fundamentally different from the traditional home flipping business.
ATTOM compared the most prolific seller entities associated with Opendoor and Offerpad to the overall home flipping market in the third quarter and found that the iBuyer entities are transacting on newer and larger homes that are much less likely to be distressed than the overall market. Additionally, the two iBuyers operated on substantially thinner gross margins — sale price minus the original purchase price — than traditional flippers but resold homes more than twice as fast as traditional flippers.
---
The conventional wisdom that cash is king is well-supported in property data
A look at public record home sales data from the nationwide ATTOM Data Warehouse demonstrates the power of a cash purchase. The data shows more than 2.2 million single-family homes and condos were sold to buyers using financing through the third quarter of this year. The median sales price on these financed purchases was $259,375 — 101 percent of the median estimated market value of those same properties at the time of sale.
There were more than 828,000 homes sold to cash buyers through the first three quarters of 2018 with a median sale price of $178,000 — 88 percent of the median estimated market value of those same homes at the time of sale. The estimated market value is based on an automated valuation model (AVM) from ATTOM.  
A look at proprietary home sales data from the nationwide ATTOM Data Warehouse demonstrates the power of a cash purchase. The data shows more than 2.2 million single-family homes and condos were sold to buyers using financing through the third quarter of this year. The median sales price on these financed purchases was $259,375 — 101 percent of the median estimated market value of those same properties at the time of sale.
The cash discount is part of the calculus figured into the Knock business model, according to co-founder and CEO Sean Black.
"With Knock's Home Trade-in program, we buy our customers' new home on their behalf, making their offer more competitive and getting them a 3 to 5 percent discount," he said. "This is before helping them sell their old house on the open market for the best possible price. This ensures they get the most value out of their equity on both sides of the transaction, and enables Knock to deliver them with a convenient, certain experience throughout the process."