Many cities throughout the country are experiencing tremendous rent growth, and the Tampa, Florida, market is no exception. Local statistics puts market rent growth for this area at more than 20% during the last year as supply continues to be sparce. With such a high demand, investors can continue to push for higher values for well-equipped properties. These well-designed properties will appeal to a wide variety of tenants relocating locally as well as those coming from other areas.
John F. Kennedy's quote that "a rising tide lifts all boats" rings true until it doesn't. Owners and operators should consider strategic investments that showcase the uniqueness of their properties in the marketplace rather than sit idle and raise rents without making improvements simply because they can.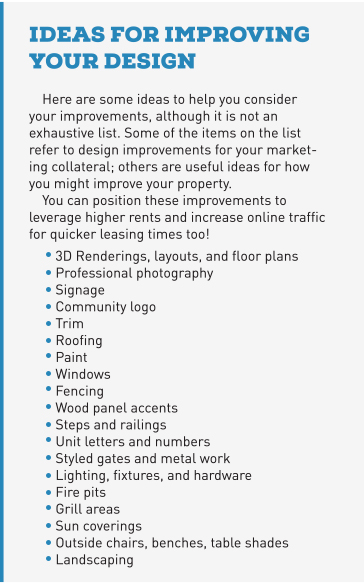 We are seeing landlords who push rents without making repairs or improvements, which is fine. But why use this meager approach instead of considering the premium you could achieve by investing in them a bit with some fresh design? For starters, when the market starts to shift in the other direction, surely a superior product would likely weather a storm better.
We've learned that owners who understand the value of investing in good design fair far better than their competitors. They enjoy low vacancies, low turnover times, and above-average market rents.
One strategy that has worked well is to partner with local designers, construction teams, and architects to think through different property improvements. These changes can boost the net operating income and simultaneously increase the property's value. Don't overlook making outside improvements as well. They key is to understand the needs and desires of the tenants who live in your properties. That should be step one!
The accompanying sidebar offers some ideas for areas where you can make improvements.
I'll leave you with this: Understand your tenants' demographics and psychographics to implement the right strategy. Remember that buildings don't pay rent—tenants do. Create value and find ways to stand out to ensure you're maximizing your property's value and the tenant's environment, while offering a respectable property for the community.
---
Jeremy Kloter, is a Marine Corps veteran turned broker who was raised in the Tampa Bay area. Kloter is the founder of Out Fast Property Management, a Tampa Bay property management company that manages residential properties and apartment complexes. His other business ventures include being co-founder in a real estate investment fund (506B, Reg D), a real estate brokerage, and a property management company.
---