As a real estate investor, I am always in search of homes to renovate with potential for added profit! As a designer, I am also always in search of investment homes with great repurposing potential. These types of homes are often just the projects that offer greater opportunity for more profit! Looking for homes with materials that can be repurposed such as brick, corrugated metal, or old wood can translate to more profit and an even more beautifully finished project.
In the case of this home in Historic Gold Country California, saving and repurposing its 100-year-old hand-milled antique wood helped to bring in a bigger profit in the end. By repurposing its priceless wood in a creative way, not only did it save money, but it added to the house's already intriguing story and, after all, doesn't every home buyer like owning a house with a great story behind it?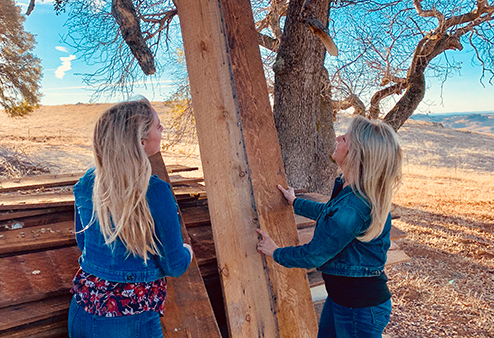 During the demo of this 100-year-old home, we came across some interesting wood when we opened up the ceiling in the kitchen to make it vaulted. The planks were wide, the grain was tight. and the wood was nearly impossible to cut through! We knew this wood was special! It had a warm honey color to it yet was a bit dry looking. I knew with a little elbow grease that putting a natural clear oil on it would bring life back into this wood. The only question I asked myself was, "How can I repurpose it and reuse it in this home?"
I also figured there had to be a story behind this wood. I was sure if I did a little investigating, I would uncover a story that would only add to the list I was already accumulating to share with potential buyers! I spoke with some of the long-time neighbors to see what I could learn regarding this home. It turned out that the home was built by the gentleman who built and owned the local Amador Wood Mill in our county. The trees had been cut down in the local mountains and brought down to his mill.
Around 100 years ago in the mountains of Historic Gold California, the trees that were being cut and milled were Old-Growth trees. These trees came from vast virgin forests out of the Sierra Nevada Mountain range. This wood is termite- and mildew-resistant, extra strong, and not something you can buy today. The rings are tight in these trees, which makes the wood just that much harder. What is left of these Old-Growth trees that are still standing today are protected across the world and are no longer allowed to be cut down. Then I knew for sure that this wood absolutely must be saved and highlighted in the renovation of this home!
Because we had ample amount of this wood and because this home was located in Historic Gold Country, a part of California where the "Old West" is still very much alive, I felt taking this wood and using it in a "Board and Batten application" would suit not only the design of the home well but would also highlight the feel of the area. However, when repurposing this wood using this application, I had to strategically intertwine a balance of new into this old look I was creating.

Not only was this wood truly historic, but the honey color gave it an old, outdated feel as well. I had to be careful when picking sinks, faucet finishes, vanities, flooring, lighting, and mirrors. The look I was creating was going to have to give potential buyers the feel of new mixed in with a touch of the past. So, I decided to install a glossy black vanity to give the bathroom a sleek modern feel with a bit of sophistication. The gold finishes give it a feeling of being in style for today's buyers. While the brick flooring brings the design back to the feel of the Old West. The light fixtures and faucet designs both say old and new all in the same picture by taking an old design, which just happens to be on trend today!
Repurposing can be a very tricky game to play when it comes to renovating homes for an investment profit since the goal of investment renovating is often to restore the home into the feel and state of being new again. Incorporating old materials back into something new, you run the risk of only making your renovation look dated and old once again. Yes, creating a new feel by repurposing old materials is risky, but by saving money on materials you would have otherwise purchased, and creating a unique, new design with perhaps a great story behind it, you might just end up with an even greater profit than you had ever expected!