North Carolina sports fans had to be flipping out after their University of North Carolina Tar Heels won the N.C.A.A. men's basketball championship during this year's March Madness. This is the team's sixth national championship, and with this win they became only the fourth team in N.C.A.A. history to come back and win the national title just a year after losing the championship game.
Flipping out is fine for the crazed fans of the Tar Heels, NASCAR, the Charlotte Hornets, Carolina Panthers or any other local sports team. People love to see their favorite team win.
But for real estate investors, it's not so great when looking for a good margin on the purchase side in order for an investment property to pencil out.
Flipping — as an investment strategy — may indeed be out in North Carolina for the most part due to the lack of properties and increased competition around the state. Especially considering that increasing population numbers are directly affecting the supply and demand equation and therefore ramping up the level of competition for properties on the market.
Bidding wars are back in vogue in just about every major market around the state, particularly at the low end of the pricing spectrum — the investor's sweet spot — while higher-priced properties tend to sit on the market longer and with much less competition.
We only have a two-months' inventory at the investor's sweet spot," says Realtor® Rob Loschiavo, who lives and works in the Raleigh-Durham metro area. "If they're looking to flip a property and going with the standard 70 percent equation (70 percent of market value minus repairs) you can't get a property for that. We also have first-time homebuyers. Different groups shopping for the same spots."
That is not to say that flipping properties is a total no-go in North Carolina.
According to data released by ATTOM Data Solutions, flips accounted for 4.7 percent of all home sales statewide during 2016, up 3.3 percent from 2015, but down 5.8 percent from 2011. Seventy percent of all flips in the state were purchased with cash, at a median purchase price of $100,000, a 30.6 percent discount, and sold for a median $152,500, a 52.5 percent gross return
on investment.
"The people who have the advantage here are the ones that have rehab teams in their back pockets or can do the repairs themselves," Loschiavo said.
Population Growth Puts Pressure on Housing Stock
The way the state's population is growing, chances are that competition for existing and new housing stock is only going to intensify over time.

Among the states, North Carolina ranks ninth in total population with more than 10.1 million residents. Between the 2010 census and 2016 estimates by the U.S. Census Bureau the state's population has grown by 6.41 percent, making it the 13th fastest growing state in the country.

According to a February 2016 report from the University of North Carolina Chapel Hill's Carolina Population Center, the state's population is projected to jump another 20 percent by 2035 to more than 12 million people.
"We are a state where there's been a migration," said Dr. Michael Walden, the William Neal Reynolds Distinguished Professor at North Carolina State University (NCSU).

"We are seeing people move here from the Northeast and the Midwest. Plus there's been a redistribution of the population over time. We have 100 counties, one-third of which have lost population. Now we're a majority urban state with increasing population and increasing density."
The Carolina Population Center study also projects that 68 percent of all new growth in the state through 2035 will be equally divided between its two biggest metros — the Research Triangle of Raleigh-Durham and Charlotte. Another 10 percent will go to the Triad metro area which includes Greensboro, High Point and Winston-Salem.
The report also notes that in the next 20 years, half of the state's new residents will be age 65 or older. And while Baby Boomers represent the largest adult generation in the state, by the end of 2017 it is expected that Millennial adults will outnumber Boomers.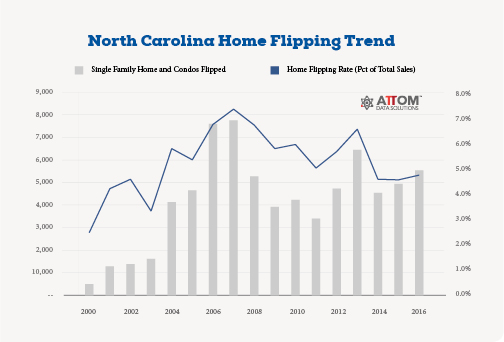 The Economic Realty
In its April 2017 issue of "Snapshot," the Federal Reserve Bank of Richmond reported that "economic activity in North Carolina generally picked up…with an increase in payroll employment, improvements in household conditions, and positive housing market reports."
"Over the last two years job growth in North Carolina has been running higher than the nation," said Dr. Walden from NCSU. "We have the same issue as the nation – jobs are being created at the high end (professional jobs requiring college degrees), and at the low end (particularly leisure and hospitality); with the slowest growth in the middle (manufacturing)."
During the fourth quarter of 2016, the FRB of Richmond reports that real personal income rose statewide both on a quarterly and annual basis. Unemployment continued its downward trend to 4.9 percent in March 2017, according to the Bureau of Labor Statistics.
For March 2017, existing home sales in the state totaled 13,505 units, a 21 percent increase over March 2016 and 56 percent above the number of units sold the previous month. Home prices rose 6 percent over the same time period a year ago to $201,172, according to sales data released by the North Carolina Association of REALTORS.
The total number of distressed home sales statewide declined 20 percent between the first quarter of 2016 and first quarter 2017, according to ATTOM Data Solutions.
Commenting in his press release for the April 2017 NCSU Index of North Carolina Economic Indicators, Dr. Walden noted that "the trend in the Index this year suggests a gradual increase in the state's economic growth in coming months. With the housing market continuing to tighten — especially in metropolitan areas — new residential construction will increase its role in leading economic growth."
While Charlotte and Raleigh-Durham make up about 75 percent of the state's employment growth, the Triad metro area is growing the fastest on a percentage basis, according to Jay Colvin, regional director for Metrostudy in Raleigh-Durham, Charlotte and the Triad. Colvin said with such low inventory his firm does see a fair amount of investor activity even on the new home side, although he estimates that investors represent no more than 10 percent of the business.
"We're underbuilt. What's missing here is the lower price point. The entry level market is undersupplied," Colvin said.
The FRB Richmond's April report noted 4,898 new residential permits were issued statewide in February, up 13.8 percent from the month before and a 27.3 percent increase over February 2016, with the most permits issued in the Charlotte metro area. Statewide housing starts were also up substantially in February, totaling 70,500, up 16.2 percent from the previous month and up 35.3 percent from a year ago.
To Flip or Not to Flip
Loschiavo said it's hard enough to find properties at full price, let alone flip them.
"What I have heard is the safer place for investors to be right now is in rentals," he said. "Buy it and hold it and get a reasonable rate of return.
Let the property ride. The appreciation rates here aren't very exciting. You're really looking to hold that property for cash flow and have the renter pay the mortgage. Compared to a bank account that gives you nothing, it's not terrible."
For veteran real estate investor Larry Goins, North Carolina is not a growth market in the same way as Las Vegas, Denver, Phoenix or California.
"Typically in the Carolinas — like in a lot of the heartland — you're not buying for appreciation. The way most investors look at the Carolinas is buy it, put some sweat equity into it, and rent it out," said Goins who lives in South Carolina but has worked both Carolinas for many years.
That's not to say there are no areas in the state that attract investors for their appreciating values. The Raleigh-Durham and Asheville areas are examples he points to in that regard. Still, as he explained it, a lot of times those investors aren't local.
Local investors are looking to buy at a discount because the home needs repairs. They put some sweat equity into it to fix it up, and then hold onto the property and rent it out — maybe eventually flipping it in a few years.
Goins focuses his attention on buying HUD properties directly from the MLS. His strategy these days, as he puts it, is to "go deep or go wide."
"Going deep means to dig deeper in
that market to find deals in the area," he said. "You may have to use multiple ways to find deals. If more people are buying from HUD and off the MLS, I'm going to have to use bird dogs, bandit signs and run my own ads."
"Going wide means I continue to make offers on every HUD house in North and South Carolina every day and some MLS homes too," he countinued. "I'm just making offers based on my formula and what I think I can pay for a property. I'm getting them accepted in the smaller towns, and not getting them accepted in the bigger areas because of the competition."
When he does land a deal these days, Goins either wholesales the property out to another investor, does a lease option deal or sells it using seller financing.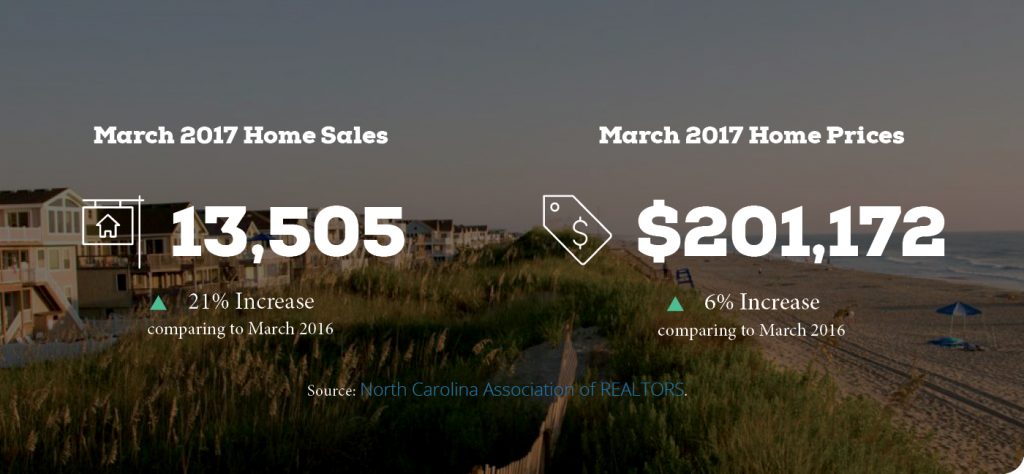 Crazy in Charlotte
Being in a seller's market, Realtor Tijuana Smith with Coldwell Banker in Charlotte prepares her buyer clients for dealing with the pressure of having a bidding war on every property.
"It's crazy right now. Under $100,000 it's definitely a war zone," Smith said. "Selling is automatic. Buyers are competing with investors. At one point the market was working in investors' favor because they were coming in with cash. Now there's so many offers, and the offers are going over asking price, so investors have to up their price."
Smith tells her buyer clients they may need to bid on around four properties before actually getting an accepted offer –- especially if the buyer is looking below $200,000. So whether they are traditional home buyers or investors, she advises her clients to consider looking at surrounding areas.
"Sometimes they have to look at houses for less than what they've been approved for so they can overbid. It's not as bad on the outskirts. Most people are okay with a 20- to 30-minute commute."
Smith also noted that there is quite a bit of new construction going on in Charlotte -– particularly condos, apartments, some retail, and a lot of mixed use.
The median sales price in the Charlotte metro area for the first quarter of 2017 was $181,500, an 8 percent increase from the same quarter last year, but still below the $191,500 median price at the market's peak in the third quarter of 2016, according to ATTOM Data Solutions. Also, the percentage of FHA sales, cash sales and sales to institutional investors all declined during the quarter.
Total distressed sales in the market were down 22 percent compared to the same quarter last year.
Flips accounted for 5.1 percent off all total home sales in Charlotte in 2016.
For March 2017, the NCAR reported 3,965 units sold in Charlotte, a 22 percent increase over March 2016. Average home cost for the month was $271,351, a 10 percent annual increase.
Rapidly Rising in Raleigh-Durham
Similar to the Charlotte metro, the Raleigh-Durham housing market "is going pretty crazy right now," according to Brian Peters, a broker with Fonville Morisey Realty's Stonehenge office in Raleigh.
Peters said that any home priced under $300,000 that is in good condition gets multiple offers and doesn't stay on the market long. So it is tough for first time homebuyers to find anything in the starter home price range given the level of competition out there.
"With first timers, a lot of them would like to have something at a lower price point," he said. "They're not going to find a detached home for under $200,000 unless it's in bad shape and needs a lot of work.
"You also have a lot of investors coming in and even those are competitive to rehab properties, plus land prices have gone up. It makes having a buyer a real challenge," Peters said. "It's much easier if you're looking at something for $400,000 and up."
With room to build and land prices rising, Peters said it's impossible for builders to come in and put up a project at the $200,000 price point.
With limited space he is seeing a lot of older neighborhoods with homes being torn down and two to three houses being built on the same lot.
"Definitely a large amount of business has been investors. For a long time when the market was switching you were able to buy properties and flip them. It's so competitive now that it's changed the dynamics of what you can buy," he said, adding that just a couple of years ago an investor could buy at $200,000 and fix up and sell for $300,000. Now that same property is much more expensive out of the gate.
"Now you buy, manage the property for a certain time, then down the road come back and fix them up and sell them. You've rented them out and managed them and you've created your own inventory for later."
According to ATTOM Data Solutions, the median sales price in Raleigh rose 11 percent for the first quarter of 2017 to $232,000 compared to the same quarter a year earlier. In Durham, the median sales price was up 3 percent year-over-year to $190,000.Flips accounted for 5 percent of all home sales in Durham-Chapel Hill in 2016 and 4.4 percent of all home sales during the year in Raleigh.
For the first quarter of 2017, total distressed sales were down 17 percent in the Durham-Chapel Hill metro area and down 28 percent in the Raleigh metro area compared to a year ago.
A total of 3,353 units were sold in the Triangle area (including new homes), a 21 percent increase for March 2017 compared to the same month last year. Average sales cost was $276,912, a 7 percent annual increase, reported the NCAR.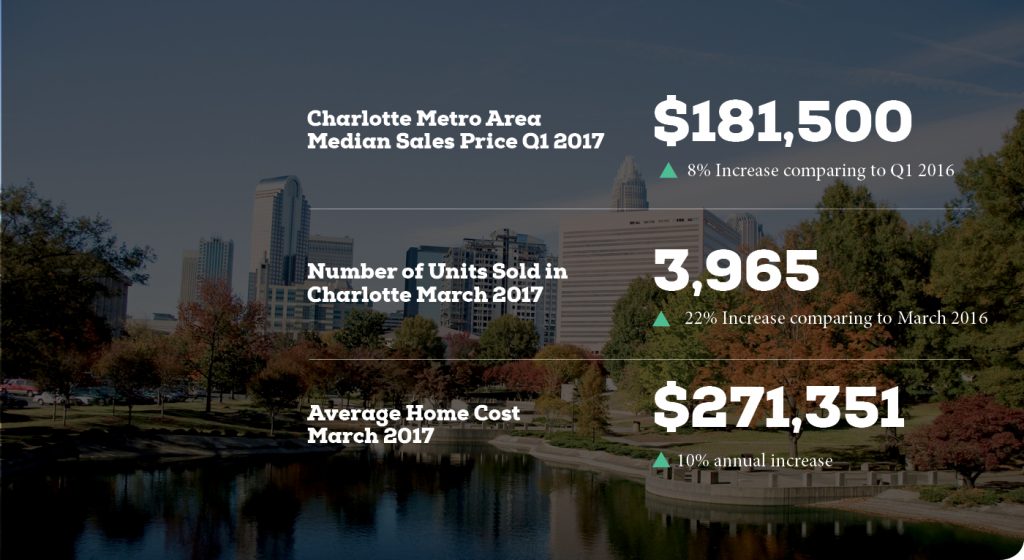 Trying in the Triad
Comprised of the Greensboro-High Point and Winston-Salem metro areas combined, the Triad is the third largest population center in the state.
NCAR reported the sale of 1,742 units in the Triad during March 2017, up 16 percent from March 2016. The average home cost during the month was $180,516, an 11 percent annual increase.
For the first quarter of 2017, ATTOM Data Solutions reported that housing affordability is still better than historic norms in all areas of the Triad. Flipped properties accounted for 5.2 percent of total home sales in Greensboro-High Point for 2016, and 5.7 percent of all sales in Winston-Salem.
For the first quarter of 2017, FHA sales in Greensboro-High Point were down 18 percent, and cash sales were down 4 percent while sales to institutional investors rose 10 percent for the period.
In Winston-Salem, FHA sales were down 8 percent, cash sales were up 5 percent, and sales to institutional investors were down 22 percent.
"The economy in Greensboro-High Point has struggled," said Dr. Walden. "There's some development going on in downtown Greensboro and a large hospital for Wake Forest University [in Winston-Salem]. Greensboro also has a large FedEx distribution center. That area is challenged. Much more than the other two major metro areas."
Artsy in Ashville
In addition to being the home of the famous Biltmore Estate, Asheville is a tourist destination, a foodie town with a number of chefs who have been nominated for the James Beard award, microbreweries, and an artist colony. Its vibe, much like San Francisco of the 1990s, includes well-known musicians playing on the streets.

"It's like the heart of San Francisco plopped down in the Appalachias. It's extremely artsy. We have four distinct but mild seasons which is a big draw. We have low real estate taxes, and it's a super cool town. It's very diverse," said Lyn McFarland, broker/owner of Asheville Bulldog Realty.

Much like the Realtors in other parts of the state, McFarland says the competition for homes these days
is tough.

But unlike the unsustainable appreciation of the early decade of the century, appreciation is much more moderate now, around 4 to 6 percent.

"Our inventory is very low. Good properties go very quickly and frequently with multiple offers," McFarland said. "That said, our average price point is still well below the major markets people are coming from."
Although a popular area for investors, there are not a lot of deals to be had in the Asheville market now.
"I'm seeing a lot more buy and fix and live in for a couple years and then sell," he said. "Some investors I've worked with are moving to South Carolina. There's some great markets there."
The NCAR reported 361 homes were sold in Asheville during March 2017, down 4 percent from a year ago while the average home cost rose 7 percent in Asheville to $311,645 during the same period.
Given the present reality and projections for future in-migration to the state, along with population shifts within North Carolina, experts across the state expect demand for housing will continue to increase on both the rental and ownership sides.
Investors can capitalize on that demand if prepared to shift their way of thinking and investment strategies under current market conditions. One such shift may be moving further away from the most competitive urban areas to find the best deals.