Realistically, for most housing providers and homeowners, designer trends seem out of reach, but what if you could achieve the designer look and leave money in the bank?
The key to staying within budget does not start at the store, it starts with the vision. Creating a mood board is the best way to achieve the goal. Using Pinterest or houzz.com or even a simple notebook, find photos of the perfect space, without concern for cost, style, or location. What does the client love or what would make a potential buyer want to purchase this house? Generally, there is a common thread. Follow that thread to create the space that, first and foremost, is functional and then most reflects the inspiration and goal. I do this with every house I flip and with every client I work with.
The most inexpensive way to get a new look is with paint. Staying with soft, warm neutral tones will give a high-end look. Painted in shades of warm whites, like Sherwin-Williams Swiss Coffee or Bistro, soft grays, such as Repose Gray or Silver Strand and Greige tones like Agreeable Gray, the home allows for a change of accessories without having to repaint. These colors are easy to live in as well.

If the kitchen cabinets and bathroom vanities are in good shape, a fresh coat of paint in a new color will go a long way. Changing out the hardware will too. Look at the big box stores to get that designer look without the price. Searching online can often offer better pricing too. The two bar pulls below are almost identical. The difference is the price. The one on the left is $5.74 at the big box store and the one on the right is $11 on a designer site. Many pulls and knobs come in multipacks. Originally intended for builders, this is a great way to save money when you have a lot of pulls to replace.

Tile is another way to create an upscale and stylish change. Backsplash, shower, and floor tiles can bring a fresh and contemporary look. The tile on the left is from a designer site and costs 10.50 a sq ft. The tile on the right is $.99 a sq ft. from the big box store. If you cannot afford porcelain, use ceramic tile. If you cannot afford marble, get a marble look in ceramic, porcelain, or quartz. Many builder-grade materials are stylish and affordable.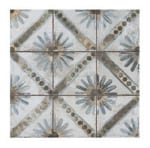 Here's another great way to save on tile. Go with larger cuts. It will save on cost of tile and the cost of installation. I recently installed larger-sized (12×24) tile in the master bathroom of a modern farmhouse remodel. Tile cost was $1.49 sq ft. Install was $10 sq. ft. vs. $12 sq. ft. for the 4 x 4 pieces that would have had to be individually placed to create the pattern. That was a $200 savings!
This tile to the right is available at a designer site for $9.59 sq. ft. but is in nine separate pieces so install will be higher.
There are great savings to be had in other areas of your home. Kitchen cabinets that are ready to install, with soft-close drawers and a lazy susan in the corner cabinet are available in white and gray, or wood, as well as the new popular blues and greens. They come in many different door styles, from shaker to flat panel as well as raised panel. They are factory painted, which saves on hiring a painter, which can be very costly.
Light fixtures are another place to save and still achieve that high end, high style look.

Look at these two chandeliers. The one on the left is $319.00 and the one on the right is $175.00. You can hardly tell the difference, but your bank account will notice!
There is no reason to sacrifice style because of budget. Great looks can be found in all price points. Working with a professional can help with both budgetary concerns and achieving "the look" for less. For you DIY-ers out there, a little time and effort can bring the same results.
About the Designer: Marla Roberds founded her real estate career and business, Kissing Tree Properties, in 2017, as an investor doing restoration and remodeling.  She advises homeowners on their remodels and has flipped many projects of her own.