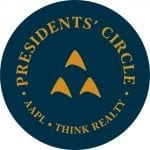 The phrase "what doesn't kill you makes you stronger" applies, literally, to Presidents' Circle member, real estate investor, and mortgage lender Aaron Chapman. Chapman's journey thus far has been one of perseverance, adaptation, and down-right hard work.
A son of a miner, Chapman has worn many hats before becoming one of the top licensed loan originators in the nation. His parents co-owned a cattle ranch where Chapman worked during his high school years; then, he gained experience as a welder on oil fields in Wyoming, operated heavy equipment, and eventually returned to working with his dad in mines in northern New Mexico. 
"That was awesome. It was one of the best jobs I ever had," he said. The opportunity was brief, however, as the job shut down and the lesser-experienced Chapman was let go. By that time, though, he had built an impressive resumé, which can often be a downfall.
"Overqualified. I heard that word a lot," Chapman said, recalling his time searching for work. "I even interviewed for a $10.00 per hour truck driver position and was shot down. I shed tears. I felt at an all-time low. My wife was having health issues at the time, the gas light shone empty, and we needed diapers for our son. I drove away broken."

When his debit card was declined at the gas station, he scrounged the parking lot for enough change to buy two gallons of gas and used a coupon for free diapers. It was then that chance intervened. A former co-worker was in that same store and invited Chapman to dinner to discuss an opportunity in the mortgage industry. Chapman was hesitant but knew he was good with customers from his experience at the heavy equipment company, so he took that chance. In 1997, he started as a telemarketer and worked double jobs for the first year, sleeping only four hours a night.   
"It was a lot of hell, but I stuck with it. I thought about going back to running heavy equipment because it was easier. But I didn't want to go backwards," he said.
A lot of prayer, meditation, and three years later, Chapman was offered a position where, after a lot of work, he ended up running the company's first satellite branch and building a team of a dozen people.
"We were bringing in enormous numbers," he said. "And, I got cocky."
Then the crash came — 2008.
"My biggest personal downfall (being too cocky) came at the same time of the market crash," Chapman recalled. But it was a different crash that affected him the most.   
On August 8, 2008, Chapman was in a motorcycle accident that forced him to start over, personally and professionally. He lost his memory and was wheelchair-bound. A lack of memory makes it hard to do business, so he adapted. He carried a notepad wherever he went and got good at details. A loss of leg function makes marathon running and mountain climbing, things he had done before the accident, nearly impossible — Nearly. 
"When you adapt to a problem, it's not a problem anymore. I didn't stop working to improve my condition, and I got my memory back. I worked hard and eventually got my body back too."
When he regained enough strength, Chapman was able to climb mountains again. But this time, for a different purpose. He joined the Pinal County Sheriff's Office rescue unit, saving people in life-threatening situations in the Superstition Mountains in Arizona.
"I wanted to use what was available to me to help others," he said.
The accident happened on 8/8/08; yet eight remains Chapman's lucky number.
"Eight was always my lucky number, but it evolved to mean more than luck. I believe my life would have been further devastated had I not had that accident. I was given a divine gift of accelerated education that literally kicked me off the wrong path and threw me down, violently, on a new path. It helped me learn to deal with choices." Chapman said. 
This reverent real estate investor and lender continued building his career in the mortgage and finance industry. Now, he originates more than 700 loans each year and while he has experienced many challenges in his life — and in the market — the challenge of influencing people to change their consumer mindset to a business mindset is what excites him the most. And yet, what inspires Chapman — working with people — is the very thing that concerns him.
"Humans are the apex predator. This industry is riddled with people who prey on others, who put others at risk. And, that is what concerns me about this industry," he said. 
Chapman owns properties in five states, investing in buy-and-hold, rental and commercial properties as well as land and syndications. He offers this advice for newer investors:
"Understand what you want your result to be and work backwards to achieve it. Find a good team to work with, analyze every decision with precision, and never think there's not more to do."