Anita Corsini is an Atlanta, Georgia-based real estate investor and stars in the HGTV real estate hit, Flip or Flop: Atlanta, with her husband, Ken. The Corsinis have been investing in real estate since 2003 and presently focus on flipping and new construction. Hear their keynote presentation from the Think Realty Conference & Expo in Atlanta here.
As real estate investors and flippers, in particular, our daily goal is to turn a property with great potential into a property with great attraction to the widest audience of buyers possible. My husband, Ken, and I have flipped a ton of houses in our past, but we never realized just how "neutral" our houses were until we started reading the comments after we began flipping on television.
Yes, that's right: I read the snarky comments and I see the critiques. I don't mind them, however, because there is method to the neutral madness. You just cannot necessarily see it, in its entirety, on a 30-minute reality house-flipping show.
What's the method? I'll tell you:
First, a hard truth: That goal of making a house attractive to the widest audience possible is truly a guessing game. If I could invent a Magic 8-Ball that I could shake and shake until the little block would rise and tell me exactly what the buyer for a specific home would want, I would. How fun would that be?
"Magic 8-Ball, would this buyer like blue cabinets? Green cabinets? Brick tile? Contemporary flooring?" Then, shake, shake, shake, and boom, the perfect design plan would appear in that little window. Wouldn't that be nice? And what a fun show to watch!
Since I don't have an 8-Ball, though, I rely on the architecture of the neighborhood and popular design trends to help guide the design plans for these homes. I will admit, it is not an easy task for me. I am someone who loves color and pattern, and an industrial, "boho" vibe in homes.
I love color, mixing styles and patterns, and taking a "no holds barred" approach to design, but I am very aware that the majority of the home-buying population is not with me. There is almost always a higher return on investment when a home is designed well, but for investors, designing well includes designing thoughtfully and not quite as creatively as you might prefer. For me, designing well means things are thought through, cohesive, and current. Think of it as preparing a beautiful slate for the artist to then come in and paint with their Picasso. When a buyer can walk in and see their taste would fit well in what you have created, your property sells much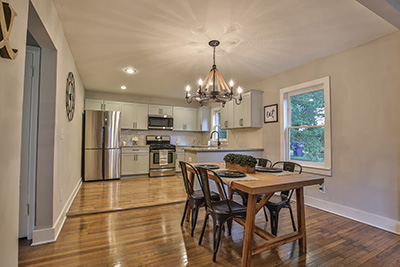 faster and often for a higher price than it would otherwise have done, and, let's face it, time is money in this game.
So how can you design well (and using those all-important neutrals) while still standing out from the crowd? Here are three of my best tips:
Tip #1: Think of neutral walls as a backdrop to your theme.
Neutral colors, be they greys, beiges, greiges (grey plus beige), whites, or off-whites, provide a welcoming, soft feel. This is a big sell and sets the stage for some "wow moments" that are likely to appeal to your buyers in a big way.
What Works:
Invert the long-time "go-to" color scheme of white trim and grey paint on the walls. Use a darker trim and a lighter color on the walls to make a big statement.
"Wow" Factor:
Paint the doors a different color than the trim. Charcoal shades work really well and will up the design game in any home.
Tip #2: Exterior colors are okay if you're careful.
When it comes to the exterior colors, I have pretty strong opinions. These opinions often differ from those of someone else, whose name I won't mention but who is my co-host on the show and super-tall, dark, and handsome (hint: his picture appears to the right). I like to use color on homes to make them stand out, whereas my counterpart is an always-neutral exterior kind of guy. I like a blue house or a green house here or there if the neighborhood is right.
What Works:
Use color on the exterior of the house if the neighborhood has a mix of architecture. If the entire neighborhood is just one or two colors, that is not the right neighborhood for exterior color.
"Wow" Factor:
If you must use grey or white on the exterior of a home, remember that the front door can still be a showstopper! Front doors (for outside pops of color, like the one to the left) and kitchen islands (for inside ones) are both easily changed if the homeowner doesn't like them, so they are ideal places to make a splash.
Get more tips from  Ken and Anita Corsini in the article: 5 Things Ken & Anita Corsini Think Every Investor Should Know
Tip #3: Don't be afraid to play with texture and trim.
Texture provides variety without a lot of commitment to color or a specific style, so you can still appeal to a broad buyer base. Adding texture and trim is also not very expensive. You can always tile a wall, create a wainscoting or beadboard, or add a brick texture.
What Works:
Tile a wall, create a wainscoting or beadboard, or add a brick texture.
"Wow" Factor:
If you want to go with wallpaper, which can be lovely, go with a textured paper instead of a floral or a pattern. I have even used vinyl papers to give a wallpaper look without wallpaper commitment.