Take a deep breath.

Because the 2019 Pantone Color of the Year is taking you underwater to the lively, eye-catching color of coral.
To be more specific, the Pantone's 2019 selection is dubbed "Living Coral." Its "vibrant yet mellow" hues sophisticatedly celebrate "warmth and nourishment to provide comfort and buoyancy in our continually shifting environment," Pantone wrote in its announcement.
"In reaction to the onslaught of digital technology and social media increasingly embedding into daily life, we are seeking authentic and immersive experiences that enable connection and intimacy," Pantone added.  "Sociable and spirited, the engaging nature of PANTONE 16-1546 Living Coral welcomes and encourages lighthearted activity. Symbolizing our innate need for optimism and joyful pursuits, Living Coral embodies our desire for playful expression."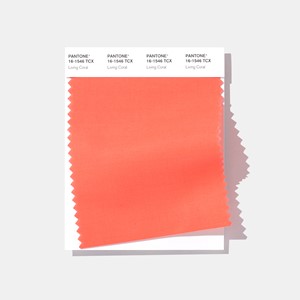 The Pantone Color Institute is the business unit within Pantone that highlights top seasonal runway colors, forecasts color trends, and advises companies on color for product and brand identity. For the last 20 years, Pantone's Color of the Year has influenced product development and design in such industries as fashion, home furnishings, and industrial design, as well as product, packaging, and graphic design.
Living Coral emits familiar, and energizing aspects of color found in nature, Pantone said. The effervescent color mesmerizes the mind and lay at the center of Pantone's chromatic ecosystem, the company said.
"Color is an equalizing lens through which we experience our natural and digital realities and this is particularly true for Living Coral," said Leatrice Eiseman, executive director of the Pantone Color Institute. "With consumers craving human interaction and social connection, the humanizing and heartening qualities displayed by the convivial Pantone Living Coral hit a responsive chord."
It's a remarkably rigorous process to be dubbed the Pantone Color of the Year. Pantone's color experts scour the globe to identify trends in the entertainment industry, film, art, fashion and design.
"Influences may also stem from new technologies, materials, textures, and effects that impact color, relevant social media platforms and even upcoming sporting events that capture worldwide attention," Pantone says.