Despite political wrangling, healthcare will be a growing portion of the U.S. economy as Americans get sicker and older and as science spits out new drugs and treatment options. A growing local healthcare industry not only provides jobs directly, but also through the many associated business services it needs in order to function.
Job Creation
Healthcare and business services both include some high-paying jobs such as doctor, lawyers, and financial advisors, as well as some relatively lower-paying ones, such as the janitorial staff positions involved in maintaining these facilities. Mainly though they produce a lot of jobs in the middle, and jobs for younger people who tend to be renters.
Top 10 Markets List
This Top 10 list shows markets where healthcare and business services already provide a large portion of local jobs and where healthcare jobs have been increasing at a good clip. In these markets, investments in rental properties should have a long run because housing construction hasn't kept pace with demand. In Silver Spring, Denver and Boston, apartment buildings or single-family homes converted to multiple units are the best option; while in the others single-family homes can be rented out directly.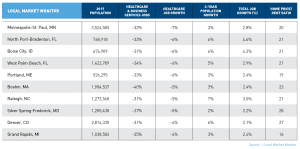 ---
Enjoyed this Think Realty Magazine article? Don't miss the next issue! Sign up for your FREE Think Realty membership to receive access to membership only content, benefits, and stay up to date on our upcoming events.