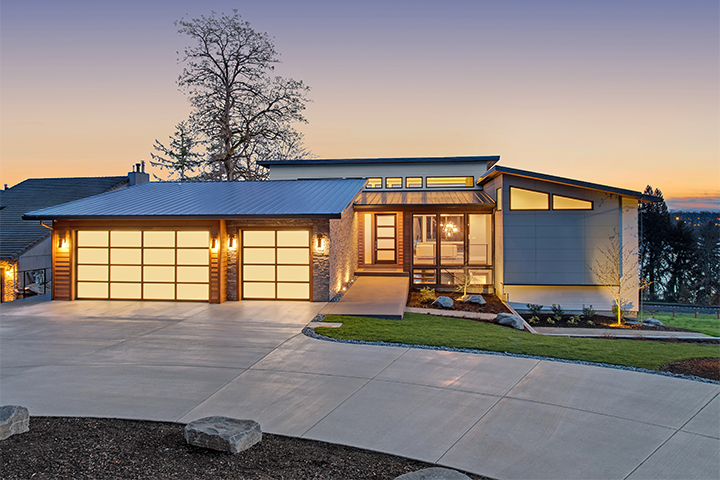 Understanding the upgrades that excite millennial homebuyers and renters will help real estate investors attract this generation as customers.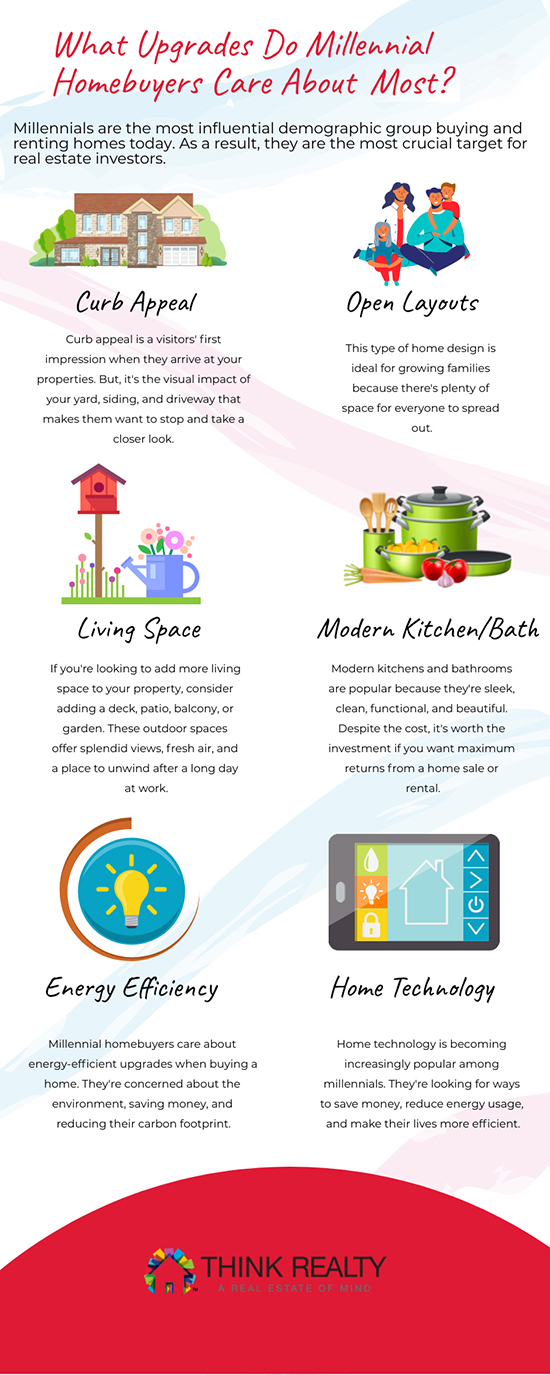 Millennials are the most influential demographic group buying and renting homes today. As such, they are the most crucial target for real estate investors. But to attract millennials, real estate investors must understand the unique needs and preferences of this generation of buyers.
Here are the top upgrades millennials care about when purchasing or renting a home or apartment.
Curb Appeal
Millennial homebuyers care a lot about curb appeal. They're looking for well-maintained and clean homes with fresh paint and landscaping.
Curb appeal is a visitors' first impression when they arrive at your properties. The visual impact of your yard, siding, and driveway makes prospective buyers or renters stop and take a closer look. The converse is also true: A property that looks uninviting can drive prospects away. So, investing some time in improving the look of your property can go a long way.
Start by removing weeds, trimming trees and bushes, and adding fresh flowers. Use a power washer to clean off dirt and grime. Finally, apply a layer of mulch to keep everything looking neat.
Paint is another great way to improve the appearance of your properties. It's inexpensive, and it makes your house look better than ever. Finding a painter is easy; most painting contractors find new business using online directories. Sign up for these directories to get quotes quickly from multiple contractors. In many cases, you can find a painter on the same day.
Painters can also help you select an attractive color scheme. Generally, they will choose a neutral color scheme to help keep your properties looking fresh and clean. Consider giving your property a pop of color by painting your front door a vibrant color like orange, red, or green.
Open Layouts
Homebuyers love open layouts.
A recent study of 3,247 homebuyers showed that:
85% want an open arrangement between the kitchen and dining room.
79% want an open arrangement between the family room and kitchen.
70% want an open arrangement between the dining and family room.
This type of home design is ideal for growing families because there's plenty of space for everyone to spread out.
In addition, since the entire house is open, parents can easily supervise children playing throughout the home.
Here are a few ways to achieve an open layout:
Use large windows and doors to let light flood the home's interior.
Add skylights to bring natural light inside.
Install sliding glass doors to connect indoor and outdoor areas.
Remove walls between rooms.
More Living Space
If you want to add more living space to your property, consider adding a deck, patio, balcony, or garden. These outdoor spaces offer splendid views, fresh air, and a place to unwind after a long day at work. They also create additional living space when combined with indoor rooms.
You may want to consider adding a sunroom. Sunrooms are great additions to any house because they allow you to enjoy the outdoors while you're still indoors. They're perfect for families of all sizes.
Sunrooms offer several benefits. They're great for entertaining guests, relaxing, reading, watching TV, and enjoying the outdoors. They also offer respite for those who have allergies, asthma, or other respiratory problems.
Families with children and pets enjoy the added space. More living space means more room to relax with family, entertain guests, and live life to its fullest.
Modern Kitchens and Bathrooms
Modern kitchens and bathrooms are trending right now. They are popular because they're sleek, clean, functional, and beautiful. Upgrading kitchens and bathrooms is worth the investment if you want maximum returns from a home sale or rental.
Millennial homebuyers are looking for features like side-by-side sinks, central islands, walk-in pantries, quality countertops, premium vanities, and other amenities.
Don't skimp on labor costs. Hire professional contractors who specialize in kitchen and bathroom remodeling. Millennials are good at spotting design flaws and have concerns about inferior craftsmanship. Professionals will be able to complete your project faster and at a higher level of quality.
Energy Efficiency
Millennial homebuyers care about energy-efficient upgrades. They're concerned about the environment, saving money, and reducing their carbon footprint.
They also want homes built to last, with quality materials and craftsmanship. So, when they purchase a home, they expect the builder to use quality materials and install energy-efficient features.
Builders should install solar panels, rainwater tanks, and tankless water heaters to attract millennial buyers. These upgrades save homeowners money and reduce the number of greenhouse gasses emitted into the atmosphere. Millennials are also looking for ENERGY STAR-certified windows and appliances as well as lighting that is more energy-efficient.
If you're looking to sell a house to this generation, these tips will help you get maximum return on your properties and rentals. Your prospective buyers will appreciate the efforts you've made to improve the property's energy efficiency and feel better knowing they're helping the planet.
Smart Home Technology
Home technology is becoming increasingly popular among millennials because they are looking for ways to save money, reduce energy usage, and make their lives more efficient.
They're also interested in having access to information anytime, anywhere, and on any device, including innovative technology that allows them to remotely monitor and control their homes.
Home technology includes everything from thermostats to lighting systems to security cameras, doorbells, garage doors, and smoke detectors.
Some notable examples of this technology include:
The Nest Thermostat, which learns your schedule and automatically adjusts the home's temperature based on when you're away or asleep. You can set the thermostat to turn off during certain times of day, such as before bedtime, and it will learn your habits.
The Ring Video Doorbell, which lets you see, hear, and speak to visitors through your smartphone or tablet when they approach your front door. You can also get alerts if someone rings the bell while you're away. Ring Video Doorbell works with Amazon Alexa and Google Assistant, and it connects wirelessly to your existing Wi-Fi network.
SimpliSafe, which is an innovative security system that lets you monitor your properties remotely using your smartphone or tablet. With built-in cameras and motion sensors, it can detect intruders and send alerts directly to your phone. You can also control the system through your mobile device, allowing you to arm/disarm the alarm, check camera views, and more.
Millennials love innovative technology and are willing to pay 20% more for houses that include them, compared to other generations.
Millennials have high expectations for their homes. Real estate investors need to work hard to create homes that meet the needs of this generation. Real estate investor who do will be rewarded with a great return on their investments.
---
Jamie Cohen is a content manager for Houzz. Passionate about design, Cohen has been spending time remodeling their family's first home for fun. Cohen also enjoys taking trips to dog parks with his two Boston terriers.
---