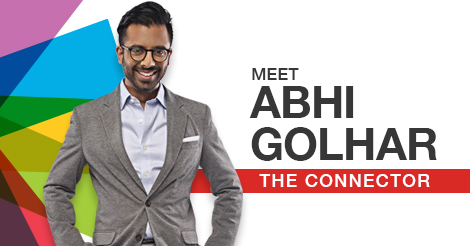 Think Realty is highlighting our dynamic lineup of Think Realty Resident Experts: real estate pros who've experienced the ups and downs of the REI industry. Whether you're buying your first property or expanding your established portfolio, you can rely on our Think Realty Resident Experts to give you the insight you need to make the most informed decisions. 
Meet Abhi Golhar, Think Realty Resident Expert, host of Real Estate Deal Talk, single- and multi-family real estate investor, real estate developer, private lender, managing partner at Summit & Crowne.
Experience:
Managing partner at Summit & Crowne private equity firm since 2008, new construction, single- and multi-family real estate, development, lending, communications and networking, podcasting, video, real estate promotions.
Background Check:
When Abhi Golhar graduated from the University of Michigan with dual degrees in engineering and electrical engineering, he knew that he was always going to be more about education than money. "The crucial key in anything, including real estate investing, is getting your mindset right," he explained. "Every investor is different. Everybody has a different fingerprint and everybody has a different mindset about success, real estate, and life. Understand who you are and what you're about, and you'll have the success you seek." For Golhar, that success turned out to lie in his passion for education, which made him ideal for the Think Realty Resident Expert program because it heavily emphasizes the importance of affordable, accessible education in the real estate investing space. Gol – har has hosted his radio show and podcast, "Real Estate Deal Talk," with that philosophy in mind for years. "I built RE Deal Talk to provide good information about markets and strategies that you can execute today, and the best part is that it's free," he said. "There are so many good sources of information out there. Spend a little time online and get in touch with a mentor to guide you.Then, invest some of the money you saved in real estate and take control of your finances and your future!" For Golhar, whose niche in the Think Realty program will focus on wholesaling, that passion for accessibility and education makes his initial Think Realty Resident Expert Series particularly appropriate. Wholesaling is the process of getting properties under contract and then selling that contract to another buyer and charge a fee, and it is often the "entry point" for new investors because it requires little or even no investment capital in order to get started. Golhar is an avid, adept networker, something crucial for new investors hoping to get started in the business. "No matter what else you are doing, you always are creating your network," he advised. "That is as key to planning for the future and planning for market corrections (which are great times for real estate investors) as is saving some of the capital that you generate wholesaling so that when the market does change, you have the contacts and the wherewithal to take advantage of that shift."
Abhi Golhar on "The Wholesaling Mindset":
"Step number one to getting started in real estate is simple: understand yourself. Your eventual success in real estate depends on that. Here's an example: Do you like watching 'Lost' or do you like watching 'Wheel of Fortune' on television? Your answer indicates which one of two totally different mindsets applies to you. "If you like 'Wheel of Fortune', you like the time-tested models. You know what is going to happen, and while there may be a few complications, you know you're generally going to get a good show and be pleased at the end of it. Wholesaling is great for this type of mindset because at the end of the day, it's a 'numbers play' and if you keep your emotions out of it and have good advice and a solid set of contracts on your side, you may have a few complications but usually things are going to go basically according to a predetermined plan. "On the other hand, if you like 'Lost', you may be a little bit more aggressive and spontaneous, which is right up my alley! Wholesaling can put you in a position where you have the capital to indulge that mindset and get involved in bigger projects and more diverse types of investing relatively quickly. Understanding this about yourself will help keep you focused on your goals in real estate as you get started. "This is why I'm so passionate about wholesaling: it is a really good way to learn the real estate investing business. It offers a good number of exit strategies. It is a great way to have significantly lower financial risk than a lot of other strategies like flipping, renting, turnkey investing, and commercial investing. You don't have to take on debt, and most importantly, as markets change it continues to offer a really wonderful, accessible way for you to enter real estate investing, get your mindset right, learn the vocabulary, and build the capital necessary to move into other aspects of the business if you wish to do so."
You can meet Abhi Golhar in person during the Think Realty Conference & Expo – Atlanta on October 14th-15th at The Westin Buckhead Atlanta. Get your tickets here. 
This article was originally published in the July/August issue of Think Realty Magazine.