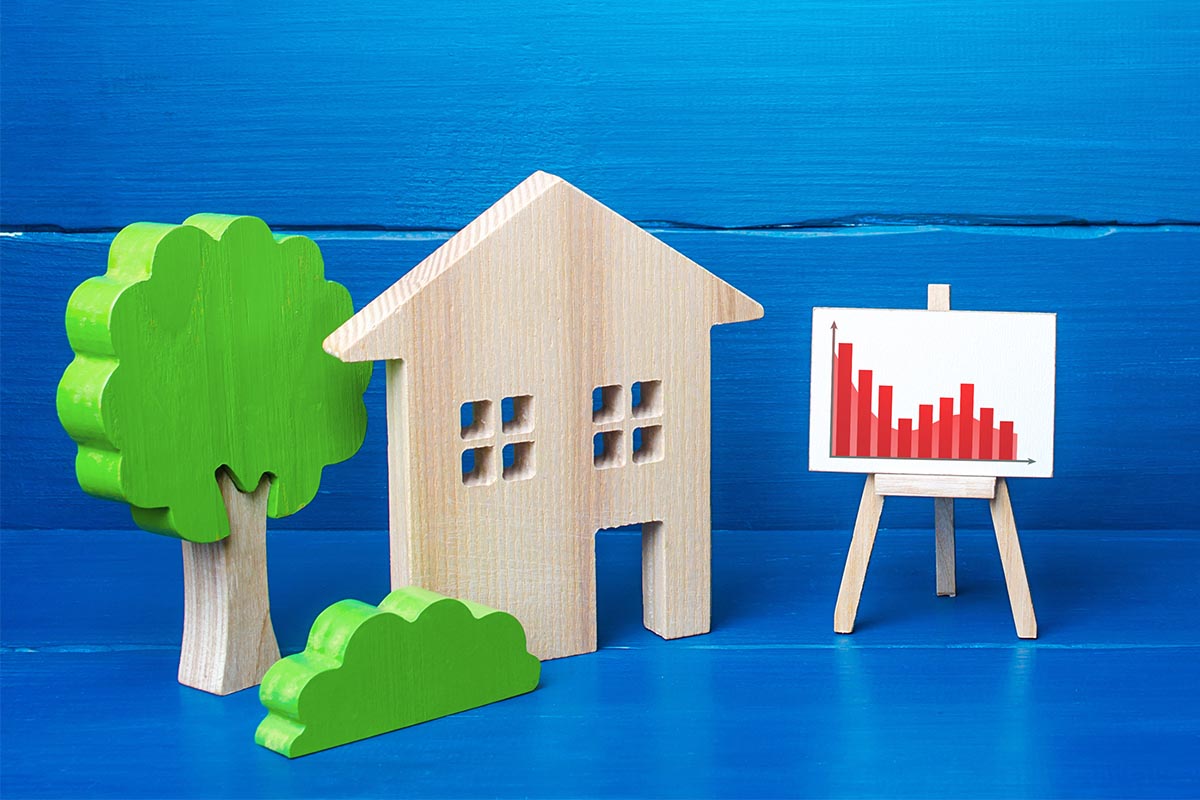 There will be buying opportunities in 2023, but educate yourself about the potential risks of buying when the housing market is down.
With a recession looming and home prices predicted to fall in many local markets, 2023 could represent a prime buying opportunity for real estate investors, assuming those investors account for the potential perils of buying during a housing market downturn.
"I'm still buying heavy, but it's harder to find the properties. You just have to search more. But there is a lot of money to be made," said one California-based real estate investor who partners with local real estate investors across the country to buy bank-owned (REO) properties at auction. "When you're looking at (auction) reserve and you're looking at what current market value is, the margins have shrunk tremendously."
Pressure on Prices
The California-based investor said he expects markets with some of the biggest runups during the pandemic to be most at risk for a home price correction in 2023.
"I think Boise will get walloped. I think Maricopa County (Phoenix) will get walloped. I think Florida will get walloped," he said. "Central and southern Florida are just overpriced.
"The values that the banks are coming up with aren't real. They aren't today's values. Today versus a few weeks ago is night and day," he continued, referring to the REO auction reserve, which represents the minimum amount banks are willing to sell a property for. "In 90 days or so it could be a lot better if banks come to their senses on pricing."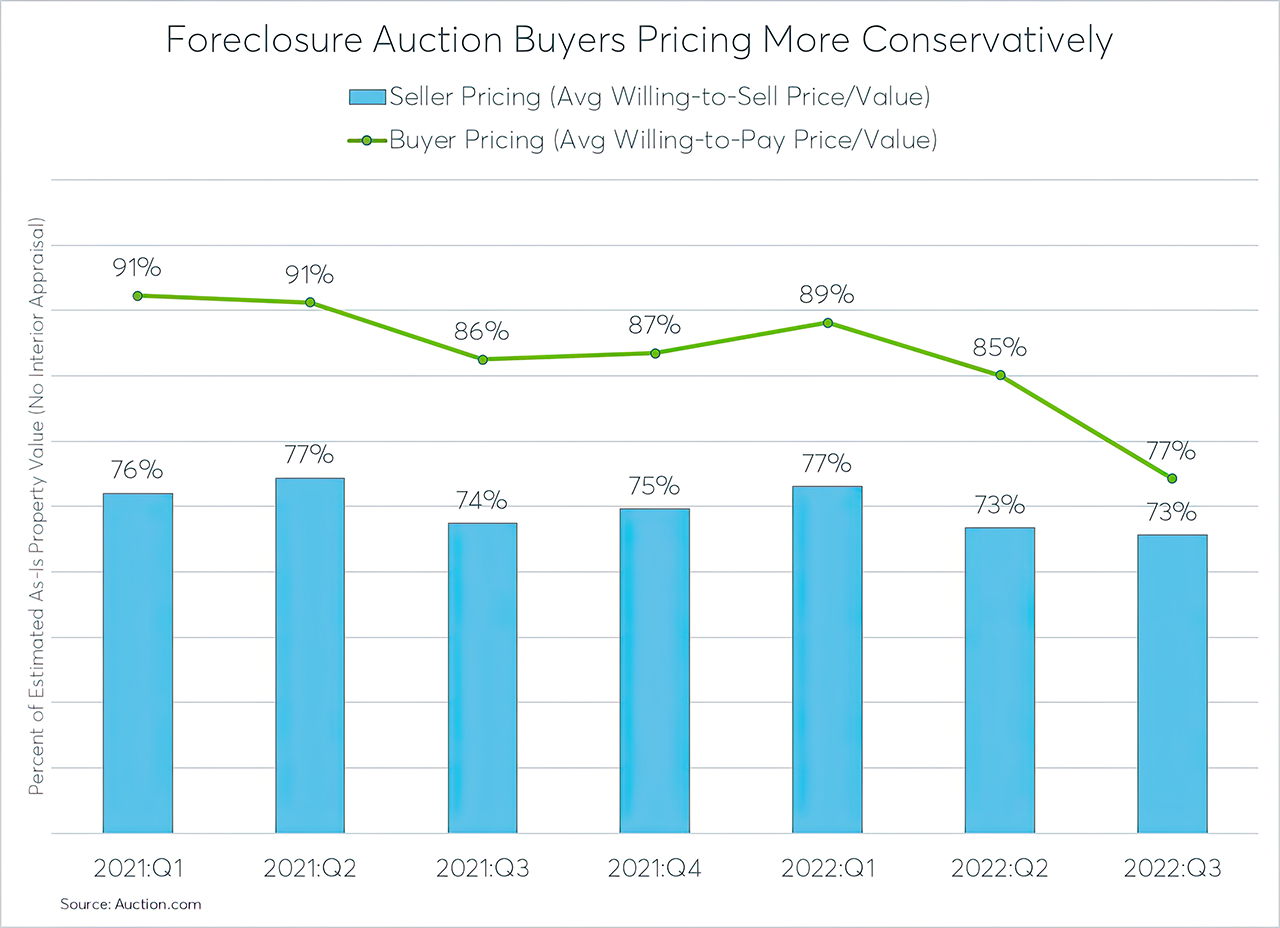 Proprietary data from Auction.com shows distressed property sellers have begun to adjust pricing lower, albeit at a much slower pace than many buyers. The credit bid, also known as reserve, was 73% of estimated "as-is" property value on average for properties brought to foreclosure auction in the third quarter of 2022, down from 74% in the third quarter of 2021.
Although sellers lowered pricing by just one percentage point over the last year, buyers purchasing on the Auction.com platform lowered their pricing by nearly 10 percentage points during the same period.
Increasing Inventory
Meanwhile, the inventory of properties available at foreclosure auction plateaued in the third quarter after increasing to a new pandemic high in the second quarter, according to Auction.com data. In both quarters, foreclosure auction volume was at 50% of the pre-pandemic level in third-quarter 2019.
But a backlog of pandemic‑deferred distress, along with a slowing housing market, will likely translate into a continuation of gradually rising foreclosure auction volume in 2023. Early evidence of that likely 2023 increase shows up in 2022 foreclosure start data from ATTOM Data solutions. Nationwide, more than 67,000 properties started the foreclosure process in third-quarter 2022, up 167% from the moratorium-suppressed levels of third-quarter 2022. That marked the third consecutive quarter with a triple-digit year-over-year increase in foreclosure starts, coinciding with the expiration of the foreclosure moratorium in late 2022.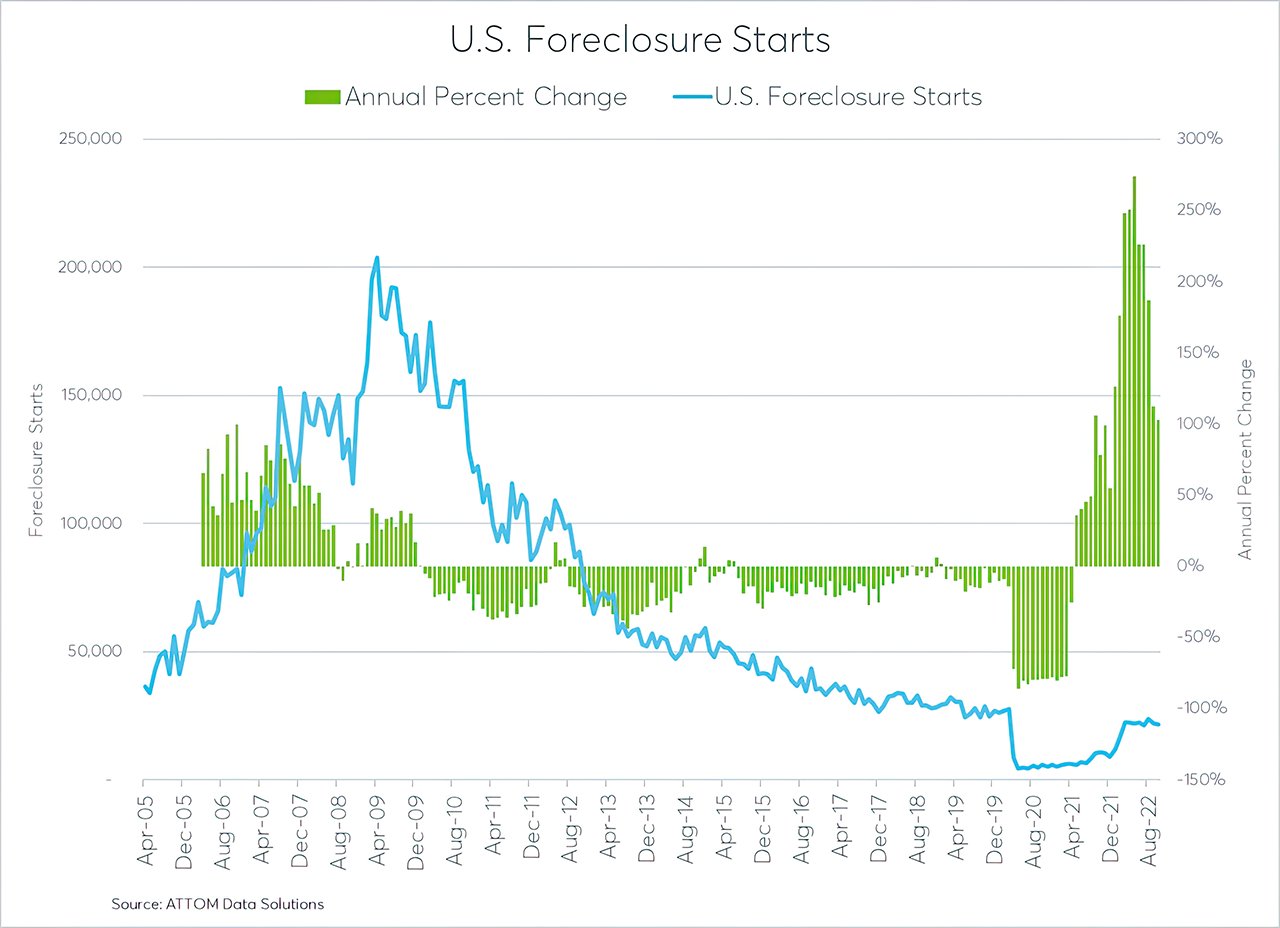 Opportunity and Risk
A combination of rising foreclosure inventory and more favorable foreclosure pricing could translate into prime buying opportunities for real estate investors in 2023. But that opportunity comes with a flip side of risk, given that investors will be reselling and renting back into the same downshifting market that provided them with better acquisition opportunities.
"I don't see any rise in prices in the next couple of years. I see prices continuing to decline with this current environment," said Lee Kearney, a Florida-based real estate investor who has invested through multiple down real estate cycles.
More housing market analysts and economists are starting to agree with Kearney's outlook. In their October 2022 housing forecasts, both Fannie Mae and the Mortgage Bankers Association (MBA) called for annual home price appreciation to turn negative at the national level in 2023. Both entities were still calling for U.S. home prices to increase in 2023 just one month earlier, in their September 2022 forecasts.
Zillow's home value forecast in September 2022 was still predicting home values to increase nationally over the next 12 months, but it calls for home values to fall over that period in 30% of local markets (271 of 896 markets). Markets where Zillow expects home values to decrease between September 2022 and September 2023 include New York, Los Angeles, Chicago, Washington, D.C., and Boston.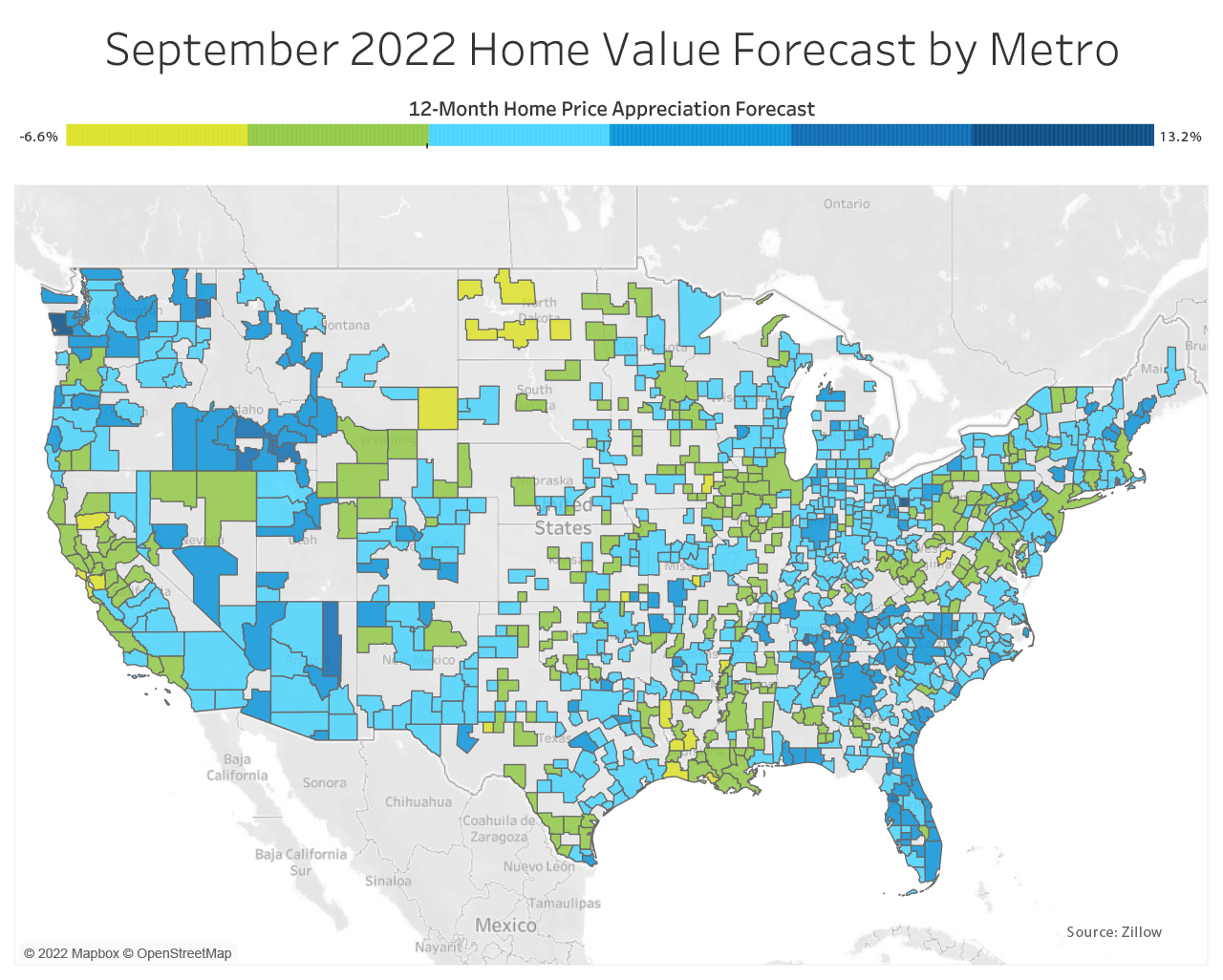 Zillow's forecast is calling for home values to increase during the next year in Kearney's hometown of Tampa, but Kearney is already seeing clear signs of a market downturn.
"The $500,000 house is now $450,000 or less. It's an interest rate calculation that affects the payment, which is directly affecting affordability and driving down prices," he said, noting the downturn has been especially quick and dramatic in "cookie-cutter neighborhoods where the iBuyers pulled out."
Falling-Price Flipping
In this unpredictable and unstable market, Kearney is not relying on external forecasts or even his own gut to guide his buying and selling decisions. He's taking what the market gives him and quickly moving on to the next deal.
"The most dangerous thing we can do right now is what we think or feel," said Kearney, whose primary strategy in this market is to buy, renovate, and resell to owner-occupants and also wholesale to other investors. "Move your property. Listen to the market. Sell the property today at today's market price."
For Kearney, that means maintaining an inventory in a narrow range of between 15 and 20 properties at any given time.
"As a seller, if something is sitting out there a couple of weeks and it's not selling, the price is too high," he said. "If it's not moving, change the pricing so it does move. These are market-based decisions."
Kearney is also mitigating the risk from falling home values by being highly selective in his acquisitions.
"We try to buy properties at a price where it doesn't matter what the market does," he said, describing most of his deals as "unique" situations. "We're problem-solving. That's how we're able to find value."
Lack of Liquidity
A different type of risk exists for investors looking to bulk up their rental property portfolio during the emerging market downturn. Atlanta-area investor Tony Tritt experienced that risk firsthand during the 2008 downturn.
"The mistake we made … when the crash came, we didn't have a bunch of cash in the bank, so we had to pass on a bunch of $25,000 housing," said Tritt. He added that he was advised by an older, veteran investor at the time to liquidate some of his existing rental inventory, so he'd be able to purchase deeply discounted properties during the downturn.
"We didn't listen to him," Tritt admitted. "We bought a lot, but if we had sold all our houses like the gentleman told us, we would have bought a lot more."
---
Daren Blomquist is vice president of market economics at Auction.com. In this role, Blomquist analyzes and forecasts complex macro and microeconomic data trends within the marketplace and industry to provide value to both buyers and sellers using the Auction.com platform.