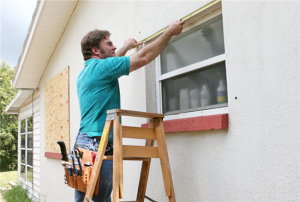 Here are a number of renovation suggestions designed to help ensure that a prospective tenant will choose your rental.
Here are a number of renovation suggestions designed to help ensure that a prospective tenant will choose your rental.
When dealing with rental-property ownership, two of the biggest variables are dealing with vacancies and the length of time it takes you or your property manager to re-rent the property.
Marketing goes beyond having an effective website that attracts inquiries to delivering a property that a prospective tenant immediately can imagine as his or her new, sparkling fresh home. The property must substantially match the prospective tenant's expectation created by the rental ad.
One owner renovated more than 40 rental homes using the same color interior paint — that way, he always had the right color on hand for touch-ups. That's the kind of tip the pros learn to ensure their renovation dollars are well spent. Four renovation and design experts share their best ideas so that you too can rehab wisely.
Our Four Renovation and Design Experts:
Pablo Solomon is an artist and designer based near Austin, Texas. He honed his design sense early, helping his dad and other relatives renovate houses. Solomon recommends starting with an honest assessment of the level of the rental property. An upscale neighborhood requires upscale renovations, while a modest area needs durable materials. At either end of the spectrum, make it functional, safe and up to local code.
Jamie Gold is a National Kitchen & Bath Association-certified, independent kitchen and bath designer, Certified Aging in Place specialist and author of "New Kitchen Ideas that Work." Gold, based in San Diego, has worked with rental clients through the years to design affordable spaces that are high on looks yet low on maintenance.
Rachel Adelson, the author of "Staying Power: Age-Proof Your Home for Comfort, Safety and Style," is a science writer specializing in health and aging. Adelson, who lives near Toronto, encourages landlords to consider features such as grab bars and rocker switches to provide both ease of use and attractive design elements for all ages.
Grace Keister, contact marketing specialist for First Team Real Estate in Southern California, points out that
renovating is more cost-effective than remodeling. So, Keister advocates cost-effective and focused improvements such as painting. Whether it's a touch-up of neutrals or a whole new color palette, a fresh coat of paint makes a home look new again. She likes blacks and grays for an urban look or browns and tans with a pop of blue for a traditional palate.
1. Create Curb Appeal
If the outside of your property doesn't make a good first impression, potential renters may drive on past. Start by assessing the condition of the exterior paint. Either fix a few flakes or repaint the entire property if the paint is in poor condition or an outdated color. Choose colors and exterior details that match the period of the house.
Repair bad siding and crooked shutters. Fix any cracks in the driveway or walkway and welcome renters to the house with a new entry door.
Landscaping needs to strike the right balance between attractive and low maintenance. Keep in mind whether gardening is the tenant's or your responsibility.
A well-manicured front yard will also add value to your home. Get help creating your design by hiring a landscape architect to assess what already exists and offer suggestions on how to spruce things up. There's often no fee for their help if you buy at least a few items. Drought-tolerant plants and easy-to-care-for perennials are good options.
Keep in mind that landscaping is more than greenery: it includes lighting, fences, rock features, paths, ponds and more. Remember the backyard, too. Clean it up along with the deck or patio.
2. Improve the Layout in Your Renovations
In real estate, dark and cramped are no good. So let there be light, by knocking down walls and opening up the floor plan in renovations. Open floor plans usually involve combining the kitchen, dining and living areas into one big space, bringing in more natural light and creating the illusion of a larger living area without actually adding square footage.
If the budget won't allow for taking down walls, even widening doorways six to 12 inches will make a noticeable difference.
Adding rooms is also a big value booster. If it's an older house with small bedrooms, master bedrooms and bathrooms are good additions that will increase the value of the home. Half baths can be created out of small closets or under eaves.
Keep your design in the same period as the rest of the house. Additional bathrooms usually provide a good return on your renovations investment.
How much more in rent will the market allow for renovations such as an additional bedroom, bath or study? Only your calculator can tell you whether it makes sense to go beyond cosmetic improvements to tearing down walls or adding rooms.
3. Modernize the Kitchen with Renovations
Remodeling a family room is very different from taking on the challenge of a kitchen. A kitchen needs to function well and be safe, so consider hiring a specialized designer to figure out logistics and appropriate materials. John Tesh, a HomeVestors franchisee in Greensboro, N.C., shared these rehab examples with us.
Replace damaged countertops with repairable Corian or durable quartz. The pros don't recommend granite because it is higher maintenance, requires sealant and is more prone to staining. For a lower-budget rental, postform laminate tops (which come with formed edges and backsplash) can be found in stock at home centers such as Home Depot or Lowe's for much less. Provide adequate counter space and traffic flow.
One major institutional buy-to-rent investment fund has already standardized an $800 quartz kitchen countertop in all of its rentals just because it looks better, implies luxury and outlasts laminates, which often do not even make it to the end of the lease term.
If the appliances are in good working order, clean and not visibly damaged, there's no reason to change them. Appliance paint can hide dings. Replace worn-out and outdated appliances. If they are old, they may be costing more money to operate than you expect.
New technological advances with dishwashers, disposals and refrigerators can save money and be worth the investment. For example, purchasing a dishwasher with low-energy consumption, delay timer and economy cycle or half-load button will result in saving water and money.
If your renovations budget only allows for quick and easy fixes, stick to painting and replacing old cabinet fronts and fixtures. Choosing a more saturated color such as coffee instead of cream is an easy way to give the kitchen a more luxurious, designer-styled look. Changing cosmetic elements like new cabinet hardware, a sparkling faucet or updated light fixtures can create a more luxurious look too, potentially commanding a higher premium.
Of course, the most important thing is to keep the kitchen looking spotless when renters tour the property. Nothing looks worse than a dirty kitchen — except a dirty bathroom.
4. Update the Bathrooms
Modernize the bathroom to make it look sleek and clean. If the toilet appears old and dirty, replace it. Make sure cabinets and fixtures are in good shape. If the shower curtain isn't spotless or the glass shower doors aren't in perfect condition, replace them.
Modernize the bathroom in your rental renovation with stone, tile or other natural material.
Bathroom cabinets can take a beating through the years. Try budget-friendly re-facing, which maintains the structure of the cabinets while replacing the doors and drawers. That can give the vanity a fresh, modern look for a fraction of the cost of all-new cabinetry.
Transform bathrooms by installing new floors. Porcelain, ceramic or natural stone add the most value for the dollar. Make sure the flooring is water resistant — so no carpet, wood or linoleum that water can damage.
Traditional ceramic tile floors are great for baths because they can handle water. To keep costs down, consider simple tile designs instead of inlays or complex mosaics. Not only do simple designs take less time to install, but you'll spend less too.
Renters pay attention to details like the showerhead. A rain showerhead can add a spa feel for less money than you might think (about $100). Install a stylish sink — it can be fun and can add a little luxury. A shiny chrome faucet can also add value to the bathroom without breaking the bank. Install an integrated sink with no edges or hangovers from the countertop to the sink.
Updating or adding bathrooms, especially master baths, will add considerable value to the property and make it easier to rent. On the higher end, renters love a master suite bath with double sinks, spacious showers and plenty of square footage.

5. Fix the Floors
Clean, new carpet can make all the difference in getting your property rented quickly.
Nothing ages a property more than stained, smelly or out-of-date carpet. Many apartment complexes clean or replace carpet regularly, so renters in a house are likely to have the same expectation.
While the pros agree on clean carpet, they differ on the best types of other flooring material for rentals. Some property owners prefer carpet rather than wood floors because it looks nice and cozy and carpet is about a third of the price per square foot of wood. However, others prefer floor covering options such as laminate, vinyl or salvaged wood, which hold up well, are easy to install and can be cheaper in the long run.
Replace cracked, peeling vinyl flooring with rectified porcelain tile. This type of tile has its edges mechanically finished, allowing for tighter grout joint spacing.
This keeps grout staining down and minimizes the appearance of tenant-caused chips. Product and installation costs vary by region. To make any flooring choice wear well, consider the type of renter and the quality level of the property for your renovations.
6. Consider Universal Design in Your Renovations
Is your kitchen accessible to people with disabilities? Can older people use the kitchen? Use universal design techniques in the remodel so the space is accessible and usable by all people, regardless of age, size or physical ability.
Making a property more accessible can pay off in the long run. See if it's possible to make living spaces more open and to widen any doorways, including the front, or to install pocket doors to allow openings of at least 36 inches. Other universal design features include installing grab (or balance) bars for help going in and out of the tub and near the toilet. Also, install secure handrails on both sides of a stairwell if possible, for steps both inside and outside of the house.
Flooring is important for universal design and renovations; make transitions between floor types as smooth as possible. People dealing with arthritis appreciate joint-friendly features such as single-lever, ADA-compliant faucets and comfort-height toilets. If you're replacing appliances, try to buy stoves with controls in the front instead of the back.
When it comes to lighting, even, overhead lighting without a lot of glare or shadows is helpful for older vision. Rocker-style light switches — an inexpensive update — are easier to use. Also, add adequate outdoor lighting to enhance safety. Motion-sensitive lighting can give prospective tenants a greater sense of security.
Landlords who are renting smaller one-level homes can make that property desirable to older people who have sold their family homes and are downsizing. Universal design features put into your renovations can give the home a market edge to attract responsible former homeowners who are likely to be in good financial shape.
None of these features will deter younger renters. They are increasingly attractive components of modern, forward-thinking home design.
7. Manage Your Maintenance and Renovations
Instead of thinking of maintenance as something that happens after the renovations, realize that it's an integral part of your design and material choices.
For example, when deciding whether or not to replace appliances, remember that older ones are often harder to fix and find parts for. So new, energy-efficient appliances are often worth the up-front cost.
While planning your renovations, keep in mind whether the agreement calls for you or the tenant to make repairs. As a landlord, you can learn how to fix things yourself to maximize profits. Labor costs vary by market but are often expensive, so it will really pay to buy the tools you need and learn to make common repairs yourself.
Of course, some renovations must be done by professionals and require inspections and permits. But most things you can do yourself and save money.
Develop a list of honest and reliable repair people. And stockpile common supplies for your rental such as faucets, hoses and paint when they go on sale.
About the Author
Teresa Bitler is an award-winning writer whose work has appeared in Sunset and Valley Guide magazines. She is the author of Great Escapes Arizona as well as four Arizona-related iPhone travel apps and is currently working on her second guidebook, Backroads & Byways of Indian Country.