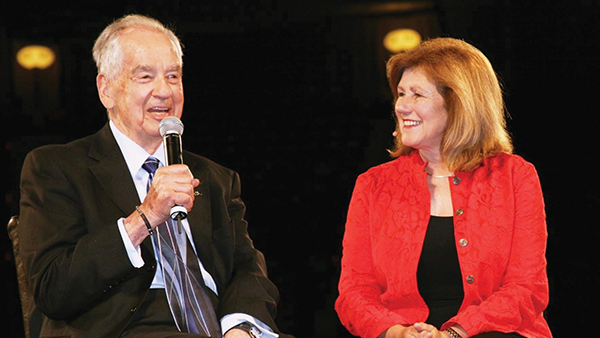 Julie Ziglar Norman's Take on Personal Success
Julie Ziglar Norman worked closely with her father, Zig Ziglar, for many years in addition to serving as the Vice President for Business Development at Ziglar, Inc., and founding Ziglar Women . Each month, she shares insight from her unique perspective on successful, inspirational living with Think Realty Magazine readers.
It is always good to consider our daily actions. Are they taking us where we truly want to be? The following steps to personal success will help all of us know if we are actively making a difference in our lives.
STEP 1: When your eyes open in the morning, thank God for the opportunity of a new day. If you're tempted to gripe about the tasks that lie ahead, remember that every day is a good day when you consider the alternative.
STEP 2: Accept responsibility for your attitude. Decide in advance that nobody and no circumstance has the power to make you have a negative attitude.
STEP 3: Make your drive time an opportunity for advancement. Listen to personal, professional, or spiritual growth material. Actively put the positives into your mind.
STEP 4: Commit to being an encourager of others. Tell at least one person a day something good and positive you noticed about them; the quality of their work, their service, their good attitude, or why you appreciate them.
STEP 5: Do a quick check-up-from-the-neck-up. Are you approaching everything with the best possible attitude? Eventually, you'll instantly recognize when your "thinkin' is stinkin'" and you can turn it around.
STEP 6: Commit to being healthy and be disciplined. Don't make the first exception to the plan you've made to become as physically healthy as possible. It is simple: move and eat well. Remember my father Zig Ziglar's quote, "It is character that gets us out of bed, commitment that moves us into action, and discipline that enables us to follow through."
STEP 7: Spend time with at least one person every day who has the qualities you want more of in your life, even if the only place you can find that person is in a biography.
STEP 8: Take actions that show your family they are your treasure. Protect family time by putting it in your schedule. Lay your phone aside. Tell them you love them, hug them, leave them notes of encouragement, or do a task that is typically done by someone else. Sometimes just making sure you don't add to a family member's workload by being inconsiderate is a step in the right direction. 
STEP 9: Grow spiritually. When you grow spiritually your faith is deepened, fear of the future disappears and your confidence that God has everything handled will pour over into every area of your life.
STEP 10: Every night, ask yourself how you did in regard to these steps. Then, in a special journal, write down three things you are grateful for that happened that day. Even on your worst day you can still appreciate the air you breathe. A grateful heart attracts grateful, caring, kind, and giving people. It is impossible to have a bad attitude when you're thinking about what you are grateful for. Express gratitude for what you have and chances increase that eventually you will have more to express gratitude for.