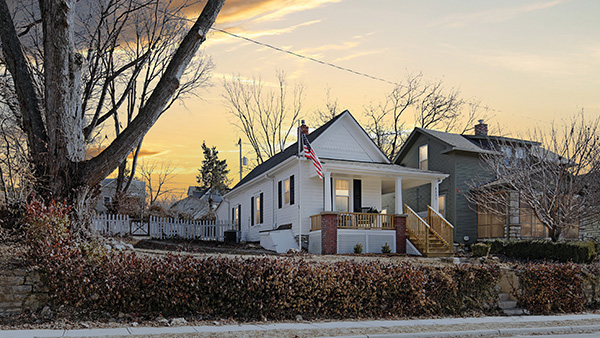 850 square feet never looked so spacious and modern.
Investor's Notes:

Location: West Plaza area of Kansas City, Missouri

Purchase Price: $80,000

Rehab & Carrying Costs: $35,000

Market Value: est. $175,000

Strategy: Cash-out refi with a 30-year note, added to his rental portfolio
When Kyle Blake, owner at Kyle Blake Homes and a Berkshire Hathaway agent, first saw the little green house in the West Plaza area of Kansas City, Missouri, it was love at first sight. Not everyone could have seen past the exterior, which boasted peeling green paint, a worn porch, and a seriously outdated kitchen, but Blake immediately saw so much more.
"The second I saw it, I loved the curb appeal and the cute, charming farmhouse potential," Blake recalled. "I could envision changing to exterior white paint, adding black shutters, and putting on a brand-new front porch. Modern farmhouse has always been my favorite style because it seems timeless and classic."
Blake noted that the HGTV Show "Fixer Upper" hasn't hurt the farmhouse style's appeal, either. "I always loved it though, well before they were on the air!" he laughed.
Blake knew he would have to completely replace the porch, which held plenty of potential for outdoor-living lovers. "It is a quaint house, only about 800 square feet, so I had to play into the cute factor and add as much charm as possible," he said. In his rental listing, he describes the front porch as "perfect for sipping your morning coffee."
"The house is in a fantastic area with values going up tremendously the last few years. Great walkability to all kinds of fun places make it a perfect place to live, which is why I decided to keep it as a rental property," he added. The property is just a few blocks from dining and entertainment options as well as within walking distance to the University of Kansas Medical Center (KU Med).
Although Blake did not add windows to the property, his upgrades to the interior make the entire home seem brighter and airier. He removed large, built-in shelves and cupboards immediately inside the front door, installed brand-new hardwoods, and brought the bright white of the exterior indoors with shiplap walls. The result is a modern take on a classic style that offers "tons of natural light," he noted.
Blake did not alter the layout of the mudroom and adjacent bedroom, but his decision to dramatically adjust the way the rooms are used, including moving the laundry facilities to a different location in the home entirely, created far more usable space than the previous owner had accessed. In the "after" photo, the mudroom, which opens onto a brick patio, offers plenty of room for residents to sit down and remove outerwear or enjoy the view out the window on cold days.
Blake decided to enlarge the bathroom and moved the washer and dryer to their own specialized nook in the same area. The result, in conjunction with the classic white tile, dark floors and vanity, and new, wider door with frosted glass panes, is a relatively small bathroom that feels luxurious.
The living room, adjacent to the one bath, now without the built-in bookshelves and with new, multicolored hardwood flooring and simple, modern lighting, is warm, well-lit, and inviting.
Probably the most dramatic transformation in the property was the kitchen. Blake removed the central divider, moved the sink and appliances so they lined up (along with plenty of custom wood counterspace) along one wall, put in a classic white tile backsplash, and installed a modern farmhouse sink with gold fixtures and all new appliances. Floating shelves add to the open feel while gray cupboards under the counter offer plenty of storage space.
The bedrooms have huge walk-in closets and, like the rest of the house, are designed to maximize space and light. Blake brought out contrasts using the unusual design technique of combining dark wood doorframes with the white walls and made a bold decision to install glass panels in the custom closet doors.
Invisible but Important: The home comes with Google Fiber Fast internet, a must for today's renters in this trendy area.
Looking Back: Delegating Work Would Have Helped
"If I had it to do over again, I would have subbed out more work to my subcontractors," Blake said. "I bought this house in the late fall [when I] was going into my slow season of real estate during the holidays, so I was hungry for a project. I did most of the work myself at this house, which hurt my realtor business because I was not out hustling to find leads for the coming Spring months. If I could do it again, I would have subbed out way more work and payed more than $35,000 for the rehab. Lesson learned!"
The Walkability Factor:
According to WalkScore.com, walkability affects health (average residents in walkable neighborhoods weigh about 10 pounds less than those in sprawling neighborhoods), financial stability (1 walk score point may be worth more than $3,000 of value for a property), and community (walkability is associated with higher levels of arts organizations, creativity, and civic engagement).
Blake's property, with its close proximity to neighborhood parks, dining and entertainment options, and even local employers like KU Med, is located in the perfect spot for residents who value walkability. However, he noted, the property does have two-car off-street parking, so you don't have to give up your wheels.