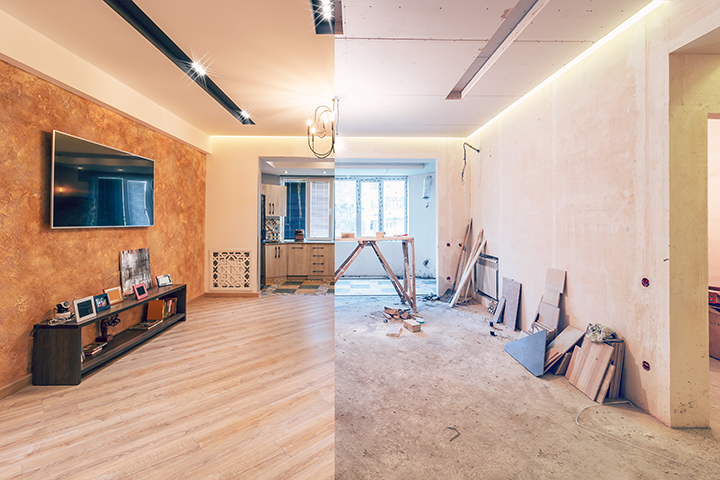 Distressed property investors delivered an estimated 140,000 renovated homes to owner-occupant buyers during the pandemic.
When he quit his day job March 1, 2020, to start investing in real estate full time, Will Wenzel counted on two things to support his strategy of buying and renovating distressed properties in the Connecticut communities where he grew up: a combination of aging suburban housing stock and millennial migration out of cities.
"We realized we were at the beginning of a great suburbanization where the millennial generation is moving to the suburbs," said Wenzel, who partnered with a longtime friend who is a general contractor and designer. "We realized that when the pandemic hit, that was going to accelerate it."
Wenzel and his partner focus on acquiring distressed properties needing renovation and redesign that will align with the expectations and tastes of modern millennial buyers. The homes may have a missing bathroom, low ceilings, or a funky layout.
"We do like distressed assets because we love to do the work correctly and update the units …
We are amenable to doing the work," he said. "You have the housing stock sitting on the market, and it's kind of obsolete in terms of being useful to the next generation. … The work has to be done. We're just doing the work."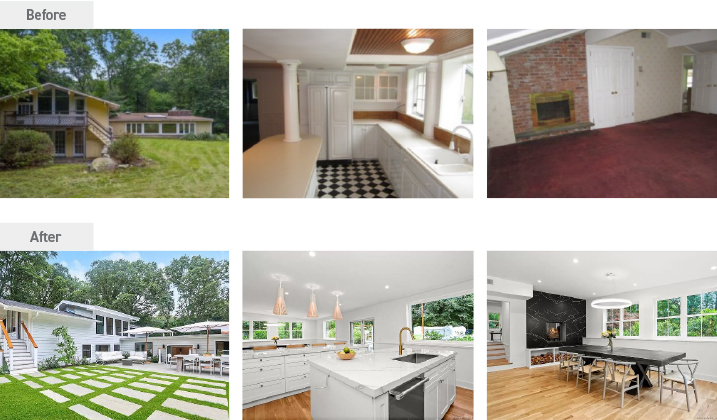 Renovating a Relic
Case in point was a Weston, Connecticut, property that Wenzel and his partner purchased via an online bank-owned (REO) auction on Auction.com in October 2020.
"After we won the property was when we first saw it (inside). We just really noticed that this was a relic of the past. This was created for a bygone area," said Wenzel, noting that while the home had good bones and sat on a nice-sized lot, it lacked the open concept layout that most modern buyers want. Instead of a work-from-home office, it had a banquet hall. "We thought this was going to be a great canvas to build on. There was a lot of work to keep us busy."
Wenzel and his partner hired an architect to draw up plans and worked with the town to get those plans approved.
"That part was really fun. What should we do with the driveway? Where should the master bedroom go?" Wenzel said. "What I find most rewarding about this process is creating the future. With these homes and this process, you're able to take what this current generation will want and give it to them."
With the design plans drawn up and approved, Wenzel and his partner embarked on a more challenging phase of the process: the actual construction work, made more painful by supply chain disruptions and inflation.
"It was a lot of hard work," Wenzel said, noting that some items ordered almost on Day One after the purchase weren't delivered until days before the property was listed for sale 10 months later in August 2021. "We spent a month working with suppliers trying to track down garage doors."
The substantial renovation added 1,500 square feet to the home and allowed it to be listed with a year built of 2021, even though the pre-renovated property was built in 1965.
"It's modern, it's exceptional, it's got all the features that people want," Wenzel said. "We're really proud of our work. We do seek a profit, yes, but we don't do that at the expense of doing shoddy work."
The home sold to an owner‑occupant buyer, and Wenzel suspects the buyer is one of the many millennials looking to move out of New York City.
"They're saying I don't want to live in the one-bedroom, one-bath apartment that's 600 square feet with a one-year-old," he said.
Renovating En Masse
Wenzel is not alone when it comes to renovating and redesigning distressed properties and selling those properties to millennials and others who want to become homeowners.
An estimated 140,000 renovated properties purchased at foreclosure auction or bank-owned auction were resold to owner-occupant buyers between January 2020 and December 2021, according to an analysis of foreclosure and bank-owned (REO) auction sales data from Auction.com along with public record data from ATTOM Data Solutions.
The Auction.com data was extrapolated using the public record data to arrive at the total market estimate of 140,000 resales to owner-occupants. That total market estimate is likely conservative given that some resales occurring in the second half of 2021 have not yet been captured by public record data.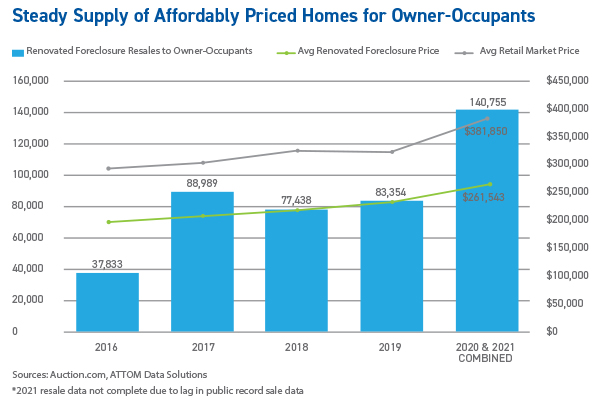 The analysis found that an estimated 41,000 of the renovated foreclosures resales to owner-occupant buyers were in low-income neighborhoods—defined by the Federal Housing Finance Agency (FHFA) as census tracts where the median family income is at or below 80% of the surrounding metro area's median family income.
Renovating Responsibly
Investor Sue McCormick resold two renovated foreclosures to owner-occupants in 2021 in her hometown of Dayton, Ohio. Both were in low-income census tracts.
"I grew up in an area that was a predominantly Black, working-class suburb of Dayton," McCormick said. "Some of the areas where I grew up have taken a big hit. … There are some areas that have been hard-hit by things like drugs and crime. Some of those areas I'm investing in, and they're starting to turn again so that's exciting to see."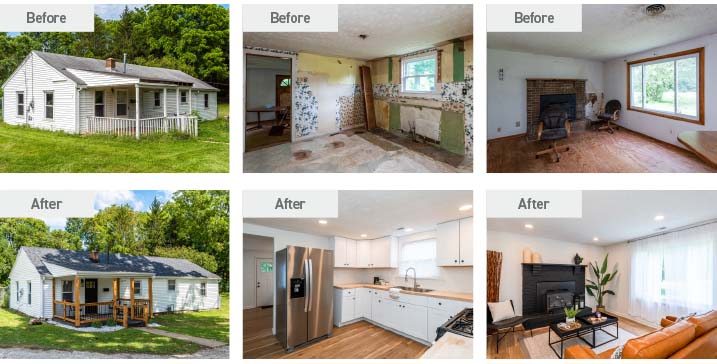 Most of the renovated foreclosure resales came from local community developers like McCormick and Wenzel who sell a handful of renovated foreclosures a year in communities they care about.
"We care about the details because this company is a family-run company and it's not a cash grab," said McCormick's daughter, Alexis Gaines, who has been helping her mother renovate and redesign distressed homes. "We really want to enrich these neighborhoods, and we really want to create people's new forever homes. "
Gaines managed the redesign and renovation of a Dayton-area home that McCormick purchased on Auction.com via foreclosure auction in January 2020. The property was resold to an owner-occupant buyer in October 2021 following extensive renovations that included a new roof, new subfloors and floors, a completely redone kitchen and bathroom, and the addition of a third bedroom.
"When we walked into this space, the land really lends itself to looking like a farmhouse, so we went with that," said Gaines, describing her approach to the redesign. "And the layout I think really assists in that. So, when we were thinking about flooring, lighting, staging, we always kind of stay on the same path of what the house is telling us to do."
---
Daren Blomquist is vice president of market economics at Auction.com. In this role, Blomquist analyzes and forecasts complex macro and microeconomic data trends within the marketplace and industry to provide value to both buyers and sellers using the Auction.com platform.
---