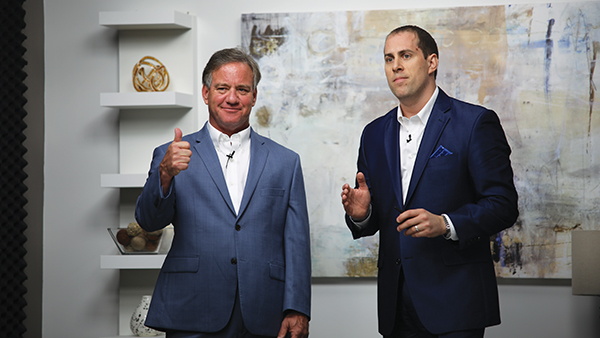 Taking their show on the road, this mobile-home-investing duo is sharing what works.
Think Realty Resident Experts and Presidents' Circle members Max Keller and Glenn Stromberg haven't always been a team. But while former teacher (Keller) and former business employee (Stromberg) each discovered real estate investing at different times in their lives, they both saw an opportunity and took a chance. Years later, their paths crossed and again opportunity presented itself. Now, partners with MobileVestEd, Texas residents Keller and Stromberg are excited to educate and coach over 10,000 new and existing mobile home investors.
Born for Business
At his first job out of college (he earned a bachelor's degree in business from Western Illinois University), Stromberg said he had been promoted three times but still wasn't making any money. He saw an ad in a newspaper that claimed one could make six figures selling mobile homes, so, he answered the ad. That was 1982. Soon after Stromberg started his real estate career, he quickly became a top sales manager for a mobile home dealership. Then, he started a Clayton Homes franchise, which he eventually sold to Berkshire Hathaway.
"I always say my claim to fame is that I was a partner with Warren Buffett. Even though I've never met him!" Stromberg joked.
Over his nearly four decades in the mobile home industry, Stromberg has developed mobile home subdivisions, owned a mobile home park, owned and operated mobile home sales centers, and bought, sold, and leased single-family homes.
In 2006, Stromberg saw the market was shifting, so he shifted as well. He began rehabbing and selling mobile homes on half-acre to two-acre tracts, so the properties became not personal property but real property. He was flipping three per month at $30,000 each when the market crashed in 2008.
"By necessity, I had to learn property management and how to lease a property. But the crash ended up being the greatest thing that ever happened for my business," Stromberg said.
He went from doing three deals a month to upwards of 15 per month.
"I never thought I'd have another partner, but when I got to know Max, I found that our core values aligned. Max is an unbelievably gifted guy and a natural-born teacher. This coaching program is my chance to give back," Stromberg said.
An Educator at Heart
Keller earned his BBA in finance from the University of Texas in Austin and his MA in teaching from Louisiana College. When he was teaching in inner city schools, he had a friend who entered the rental business. Naturally, the teacher in him was curious to learn more about real estate, first through his friend's experiences, and then from other mentors. It wasn't long after he closed his first deal that he knew real estate investing would take over his teaching career.
Keller began his real estate career with single-family residential properties, wholesaling, completing fix and flip rehabs, and acquiring rentals. After completing over 100 deals in multiple states, he looked for a way to more easily scale his real estate business and found mobile homes. When Keller met Stromberg at a mastermind, Stromberg told Keller to send him his throw-away leads, which caused Keller to research Stromberg's strategy and learn more about mobile homes. Eventually, the two joined forces. And, just like their preferred niche of REI, their partnership is working.
"Glenn is an incredibly gifted owner and operator, but I've spent half my career in education and half in real estate with the perspective of a single-family investor, so I am more apt to teach. Most educational platforms don't have an investing company that runs alongside it. We're doing it every day; we're not just teaching theory," Keller said.
Keller said mobile home investing is great for those wanting to transition from another area of real estate, but it's also a great way for beginners to get started.
"Mobile homes are simple. I was beyond frustrated as a single-family investor, and had I started in mobile homes, I'd be way ahead of where I am. Regardless of market cycles, what will never change is the demand for affordable housing," Keller said.
In five states and growing, Keller and Stromberg enjoy the faster results and effort-to-return ratio of this niche of REI. And they plan to keep on moving.