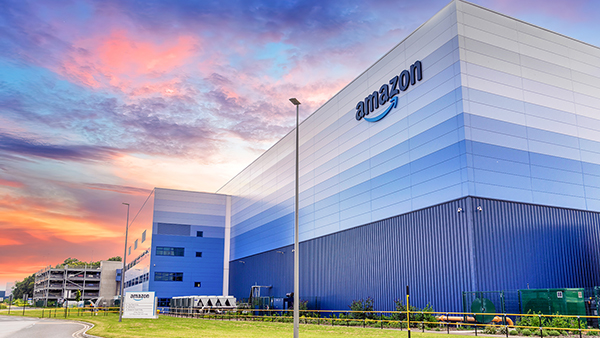 Economic downturns, like the one caused by the pandemic, have ripple effects that are felt at every level of the economy—and the real estate market was no exception to this rule. The effects of work-from-home mandates and reduced consumer spending were felt in commercial real estate, though some asset classes fared better than others.
Notably, industrial real estate didn't see the same slowdown as other areas of commercial real estate. In this case, the primary cause was the demand for warehousing, cold storage and flex space, which was generated by e-commerce—a trend that was already picking up steam prior to the pandemic and was then propelled into the limelight by COVID-19. Now, with factory activity gradually picking up and even higher demand for global shipping, supply chain logistics are more important than ever in the global economy, and industrial space—especially in port markets—is an essential link.
With that in mind, below are some highlights from the industrial real estate market this year, as well as a look at the Q4 industrial pipeline.
Three 3MSF Warehouses Developed for Amazon in 1st Half of 2021
Online shopping truly entered the mainstream during the pandemic, as quarantines and stay-at-home orders meant that consumers became accustomed to having their orders delivered to their homes or picked up curbside. Consequently, online retail giants such as Amazon saw spikes in demand, and brick-and-mortar retailers also had to adapt to online shopping, which required additional sorting and fulfillment centers.
The result has been a boon of massive industrial properties that are being developed with e-commerce in mind, as evidenced by a CommercialSearch study analyzing the largest industrial properties completed in the first half of 2021: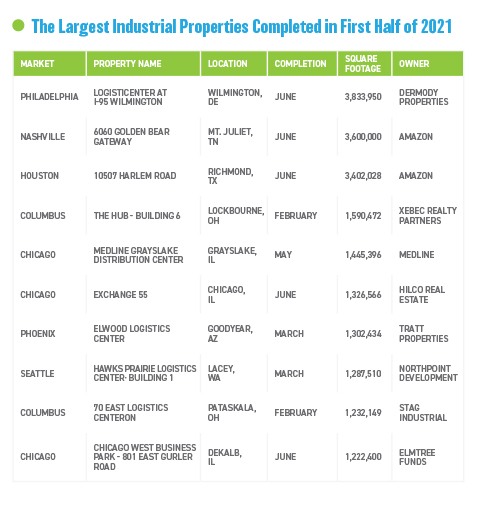 The study found that the three largest completions were all developed for e-commerce and tech giant Amazon—while also being significantly larger than the next-biggest new properties. Specifically, the largest industrial completion in the first half of the year—Amazon's LogistiCenter in Wilmington, DE, developed by Dermody Properties—spans more than 3.8 million square feet and was built on a 142-acre lot that formerly housed an auto assembly plant.
The next two completions are equally impressive in scale: A 3.6-million-square-foot fulfillment center in Nashville, TN, as well as another warehouse spanning 3.4 million square feet in Richmond, TX. Amazon's push for more industrial space comes in the context of a consistently growing number of orders from online shoppers everywhere in the U.S., but also to ease the supply lines of the company's operations amid global logistical backlogs.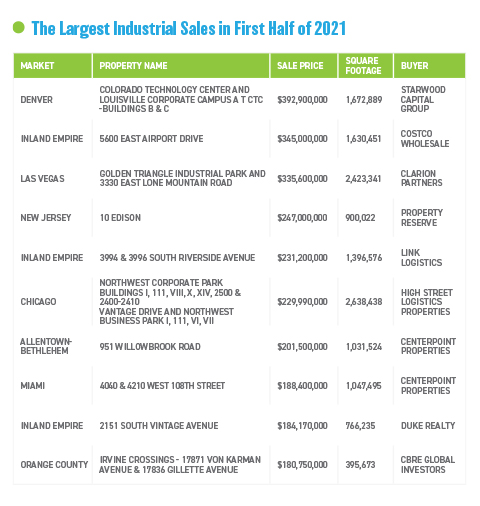 The same study found that, of largest industrial transactions from the first half of 2021, three deals cost the properties' new owners than $300 million each. The largest transaction—the sale of the Colorado Technology Center in Denver—cost private investment firm Starwood Capital Group $392 million in one of the largest industrial real estate deals in the state's history.
Meanwhile, in Inland Empire, a distribution center leased to Costco sold for $345 million in May this year after being purchased for $215 million by CenterPoint in March 2020, highlighting growing investor interest in prime industrial real estate. Other notable transactions also took place in competitive industrial markets such as New Jersey and Las Vegas for $335 million and $247 million, respectively.
National Average Industrial Rent Up 3.8% Y-o-Y, Concentrated in Coastal Markets
CommercialEdge's September national industrial report found another defining feature of the industrial real estate market this year: A growing focus on port markets.
While the global container shipping market experienced explosive growth in 2020, this year surpassed previous records as far as the number of containers processed, which led to rolling delays between different points in the supply chain. And, as a result of port congestion—which has even forced the ports of Los Angeles and Long Beach to extend their gate hours—industrial real estate in port markets saw the largest increases in average asking rents. Consequently, the national average rent increased 3.8 percent—although price hikes were even more significant in some high-volume markets.
Specifically, prices in Inland Empire were up by 6.6 percent year-over-year (Y-o-Y) as demand for industrial space increased in the market, which also functions as a major corridor for goods passing through the port of Los Angeles. Meanwhile, prices in the Los Angeles industrial market itself also grew by a comparable margin of 6.5 percent. Up next in price growth were New Jersey with 6.2 percent and Seattle with 5.7 percent. However, Orange County, CA, boasted the highest average rent in August at $11.42 per square foot, almost double the national average of $6.35 per square foot.
At the same time, high-demand commercial real estate markets in the Southeast saw considerable price hikes: Nashville, Atlanta and Memphis witnessed increases of 5.4, 4.5 and 3.7 percent, respectively. Conversely, industrial real estate in the Midwest was on the opposite end with Detroit prices contracting by 1.8 percent. Cincinnati saw the largest price growth in the Midwest with 3 percent.
Vacancies Stay Low in Transportation Hubs, 500MSF of Industrial Stock Under Construction
Vacancy rates were also pushed down by growing demand in high-volume transportation hubs, with Inland Empire boasting the lowest vacancy rate—a mere 1.2 percent in August. Neighboring Los Angeles and Orange County, CA saw vacancies rest at 3.2 percent and 3.5 percent, respectively, while the figure was 3.6 percent in New Jersey.
Not to be outdone, some inland hubs also had vacancy figures below the national average of 5.9 percent, including Columbus, OH, at 2.5 percent and Indianapolis at 2.7 percent. However, despite having similar vacancy and absorption rates to coastal markets, many industrial and transportation hubs did not see large rent increases, thanks to a new supply of industrial properties. Specifically, Columbus rents increased by only 1 percent during the last 12 months, while that figure was 2.3 percent in Indianapolis.
Currently, more than 500 million square feet of industrial space is under construction nationwide—amounting to 3.2 percent of the current stock—while another 509 million square feet is in the planning stages. It's worth noting that these figures are historically high for an industrial real estate market that's hard-pressed for more supply. Simultaneously, the record amounts of stock in the pipeline may not fill the demand gap, as it's more skewed toward inland markets with more developable space than dense coastal markets, where new industrial space is scarcer.
For instance, Dallas-Fort Worth has the most industrial stock under construction at 34.1 million square feet—4.2 percent of the market's total. Phoenix is next with 25.5 million, which represents 9.6 percent of current industrial stock. To the west, Inland Empire has 22 million square feet of industrial stock in the pipeline—3.8 percent of its current inventory—although that may still not be enough to compensate for the constant demand. Nearby, Los Angeles and Orange County, Calif., have industrial space in the pipeline that's only equivalent to 1.2 percent of their current stock, which may translate into further spikes in average rent costs.
Tesla & Amazon Poised to Deliver Q4 2021's Largest Industrial Properties
Several high-profile industrial properties are scheduled to be completed in the final quarter of 2021: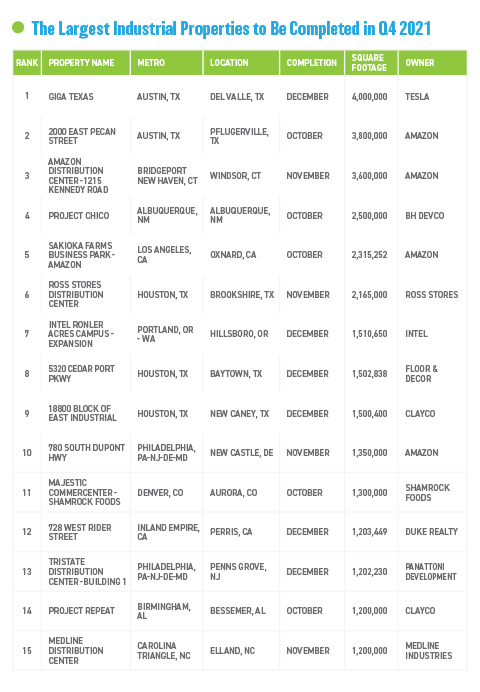 The 15 largest industrial properties scheduled for a Q4 completion illustrate the same trend in the industrial market as the largest completions in the first half of the year: Most of these properties are owner-occupied or single tenant, being purpose-built with online retail in mind.
One notable exception to this trend is the #1 entry—electric vehicle (EV) maker Tesla's new factory in Austin, Texas, which they've dubbed the Gigafactory or Giga Texas. The property will span a reported 4 million square feet, although that estimate may increase upon its scheduled December completion. This makes the new factory the largest automotive plant in the U.S. and a close contestant for the title of the largest industrial completion of the year, competing with Amazon's new, 4-million-square-foot distribution facility in Colorado Springs, CO. Tesla hopes to begin production at Giga Texas in early 2022, with the property playing a major role in the company's efforts in the growing EV market.
As expected, Amazon is behind the four next-largest projects in the pipeline for Q4. The largest of these is expected to be a 3.8-million-square-foot distribution and logistics center in metro Austin at 2000 East Pecan St., around 23 miles from Tesla's Gigafactory. Amazon is also expecting new industrial properties in Bridgeport, CT; Albuquerque, NM; and Los Angeles to open in Q4, all of which will be larger than 2 million square feet.
However, the e-commerce giant's expansion was matched by traditional brick-and-mortar companies pushing to meet new online demand. For example, the sixth largest Q4 completion is a distribution center to be occupied by clothes retailer Ross in Houston. Two more large industrial properties (owned by Floor & Decor and Clayco) are also slated to be completed this quarter in Houston. The tech sector was also represented on the list, as chipmaker Intel expects an expansion of its facilities in Portland, OR, to be finalized in December, increasing its industrial space presence in the city by 1.5 million square feet.
All of the aforementioned properties are owner-occupied or purpose-built, single-tenant facilities. However, two properties—both of which are being built in metro Philadelphia—are among the 15 largest in this quarter's pipeline that did not have a pre-contracted tenant: The 1.3-million-square-foot 780 South DuPont Hwy. and the 1.2-million-square-foot Tristate Distribution Center.
In many ways, 2021 saw a continuation of the same trends that presented themselves at the beginning of the pandemic: The widespread popularization of online shopping meant that retailers of all types scrambled to set up the logistics necessary to fulfill the wave of orders. Simultaneously, pressure on global supply chains bled into the industrial real estate market as properties in port markets became increasingly sought after. With 500 million square feet of industrial stock under construction and a further 500 million in the planning stages, supply may pick up to meet demand. Even so, some markets may continue to see similarly low vacancy levels well into 2022, with market conditions constantly shifting.
---
With previous experience as a freelance writer, Lucian Alixandrescu has been applying his research skills as a copywriter for CommercialCafe and PropertyShark since 2019. His work has been featured in numerous publications including Bisnow and Forbes.
---