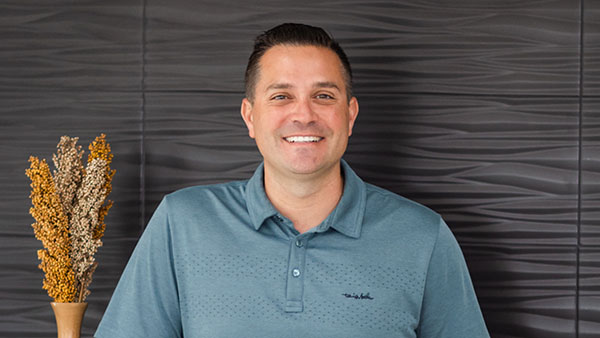 From reality television to real life, Jessie Rodriguez has found success in real estate
Cal American Homes owner and Claremont Capital founder Jessie Rodriguez didn't just play a house flipper on television, he does so in real life. Over the course of 20 years, former HGTV host Jessie Rodriguez has found success in every facet of real estate including mortgages, house flipping, investing, and fund raising.
Rodriguez and his wife Tina co-hosted "Vintage Flip" on HGTV in 2016 and 2017. The couple would find classic, vintage homes to buy, renovate and attempt to sell for a profit. The opportunity arose after the duo guest starred on an episode of HGTV's "Flip or Flop." The network liked what they brought to that show so much, it offered them the chance to film a pilot episode of their own, which turned into a two-season run.
"My wife and I live in a 1908 historic house in downtown Claremont (California) and HGTV said it liked the vintage concept and asked if I specialized in flipping vintage homes," Rodriguez said. "I said, 'No, I flip any kind of home that I could make money on. How many do you need in a year? I'll do it.'"
The homes Rodriguez purchased for the 22 episodes of "Vintage Flip" were in addition to the 20 to 30 houses a year he was flipping on his own time. It made for a lot of work; Rodriguez was more involved in the hands-on duties on the "Vintage Flip" homes for filming purposes than he typically would be for houses he flipped in the "real world."
"I don't lay tile," Rodriguez said. "I run the financial numbers and make sure it's a good deal. I know how to buy the right deal and manage a construction crew. On the TV side of it, it looks like, 'Wow, Jessie did the demo, laid the tile and installed the wood floors.' So, that part isn't true compared to what it really is like flipping. But I imagine a TV show would not be too exciting to watch if it was me reading a spreadsheet, looking at comparable listings and then saying, 'Go buy that deal.'"
His construction involvement on "Vintage Flip" might have been a byproduct of the magic of Hollywood, but every other part of the process was as real as it would be for his actual house-flipping business. He found the deals, purchased the homes featured on the show with his own money, and paid the contractors. Just like in real life, there were no guarantees that the homes would turn a profit.
"We bought real deals that either made or lost money," Rodriguez said. "They don't always make money, and that part I'll say is real life. And that is real life on every TV show. If anybody ever says, 'This is fake,' it's not. It's real. What's fake is me doing tile."
A Real, Real Estate Life
To label Rodriguez as a real estate TV personality would be to diminish the impressive real estate repertoire that he's built over the past two decades. He owns the Cal American Homes real estate agency, which buys, sells, and invests in southern California residential properties. Rodriguez also recently founded Claremont Capital, his private fund that's been created to acquire more homes to purchase, renovate, and flip.
The real estate industry experience he gained years prior was what led HGTV to offering him a TV show in the first place. His guest appearance on "Flip or Flop" alone likely wouldn't have landed him "Vintage Flip." The combination of that appearance and his house-flipping background is what made HGTV confident in rolling the dice with him.
The journey to co-hosting a TV series was a long and educational one, however. His interest in real estate goes back to his childhood. Rodriguez's parents own a few commercial buildings and some rental houses, so he's always been in the real estate world.
"My dad always talked about real estate and how you can become financially free," Rodriguez said. "He definitely put that into my head. It's interesting because now my parents are 80 years old and don't have a retirement plan or a 401k, but own a few million dollars worth of free and clear real estate that pays them a nice monthly income. It worked out really well, and I had that background knowledge."
Coming from a real estate background got Rodriguez into the industry while he was still in college, working in a loan office. At 21, Rodriguez got licensed and became a loan officer himself. He started to do loans independently in the early 2000s and ran a mortgage company until the market crash in 2007. Unfortunately, the crash led to his real estate company going under and Rodriguez saw his home foreclosed and his cars repossessed.
"It was a typical, first time, young guy making money, not saving, not being smart," Rodriguez said. "When the market crashed, I took a step back and said, 'Oh my God, what the heck am I going to do here?'"
What Rodriguez did was analyze the industry and the market, and he recognized that mortgages were difficult to do, and real estate agents didn't have much business at the time. Rodriguez also noted that banks were foreclosing a lot of homes and the only people making money in real estate in 2007 and 2008 were real estate agents who started to sell foreclosures to the banks.
"I took all of the years of mortgage experience and the relationships I had and started to call different mortgage servicers and companies," Rodriguez said. "I'd just ask around, saying I am a real estate agent specializing in the disposition of foreclosed properties. I just started marketing myself as a foreclosure agent. At that point, I had never sold a house—I was a loan guy for seven years."
Rodriguez might have lacked the knowledge at the time, but he had the real estate license, which was enough to get him started on his new path. He fully immersed himself in the foreclosure agent world, which entailed cold calling mortgage companies, searching for listings online, and attending foreclosure conferences. His hard work paid off; by the first quarter of 2009, Rodriguez had secured 50 listings with Wells Fargo and closed 100 real estate owned (REO) properties by the end of that year. That figure was closer to 500 in just two years.
"It turned into this powerhouse of a real estate disposition company on behalf of servicers and banks," Rodriguez said.
The Flipping Investor
As Rodriguez was making his mark on the foreclosure world, he was saving more of his money. Between 2009 and 2011, he noticed there were a lot of distressed property opportunities and a lot of cheap deals to be had. He had a few clients who were house flippers to whom he was often selling deals and decided it was time he got into the arena himself.
"After a couple of years of selling to them, learning the business and watching them do it, I decided to buy my first flip property in 2010," Rodriguez said. "I bought a little house for $60,000, put $20,000 to $30,000 into it and sold if for $110,000. At that point I was hooked; I realized I wanted to be an investor and buy more houses and a rental property."
That's exactly what Rodriguez did. He maintained his job as a real estate agent, selling properties for the banks. When he came across a good deal, he'd purchase it himself, fix it and sell it. Initially, Rodriguez flipped two to three properties a year before reaching five and eventually 10 annually. When the foreclosure market began to slow down between 2012 and 2014, Rodriguez decided to pivot and do more investing full-time.
"I had a full-on real estate investment brokerage at that point that grew from the amount of houses I was selling," Rodriguez's said. "The investment side of my business was also growing. That's when I jumped in with both feet into the deep end and said, 'I'm going to become a real estate flipper; I'm going to move all of my money into this.' Then I started raising capital."
Rodriguez's first few investors were people he had been selling houses to as their realtor. When he stopped doing that and did more business on his own, they decided to partner with him. While they put up the funds, Rodriguez would find the deals, fix them and re-list the properties. It began as a 50-50 partnership before Rodriguez saved enough money that he no longer needed investors for his house-flipping venture.
"I eventually said, 'Well I don't need you guys anymore because I have enough capital," he said. "It was the normal progression of (the fact that) I was giving out 50 percent of the profit but doing 100 percent of the work."
Rodriguez's increased investing led him to creating Claremont Capital. The company, which is a debt fund, was built to help raise capital. Rodriguez currently pays out his investors between six and eight percent returns. What makes Claremont Capital unique however is it's not a hard money company that just lends funds to others. Rodriguez created the fund for himself and is seeking capital, not partners.
"I have the credibility and am the one who's listed so many houses a year," he said. "I've had people reach out to say they want to partner with me, but I don't take partners anymore. I needed a partner in my younger days, but now if you want to partner with me, you can let me borrow the money and I'll pay you seven or eight percent in six- to 12-month increments. You could be a part of that journey."
Claremont Capital investors are also made aware of where their money is going. Rodriguez has worked to generate more social media content that shows his investors the exact houses in which they invested through the fund. Thanks to his enhanced production background from his HGTV days, Rodriguez can output better quality content than most. Meanwhile, investors are excited to see where their money has gone and that they're getting a nice return.
"It's a little bit different from just a normal fund that asks investors for $1 million, and then they have no idea what's being done with it," Rodriguez said. "It's about 20 years of starting from regular loans to foreclosure real estate, to investment real estate, to flipping, to now back to a mortgage division. It's a hard money, private money division that encompasses all of the investment knowledge that I have gained over the last 20 years. It's been a heck of a journey."
Lessons Learned
The two-decade real estate journey Rodriguez has been on has afforded him a number of lessons—some positive and some negative. One of the more positive lessons he's encountered is that there are benefits to having been on a TV show relevant to the industry in which you work. Since hosting "Vintage Flip," Rodriguez has seen his credibility within real estate circles increase. Admittedly not a big social media user, Rodriguez embraced it more after he gained popularity through the show. He now has more than 200,000 Instagram followers.
The enhanced following has made it easier for Rodriguez to have his emails and calls answered as well as get materials from large hardware stores in exchange for some social media posts. Being on the show has also made it easier for Rodriguez to convince others to let him buy their property as opposed to the other people trying to snag the listing.
"That part has been epic—it's taking our finding a flip business to the next level," Rodriguez said. "There are about 20 percent of people who want to listen because I was on TV and the other 20 percent who don't care. The rest say, 'Oh, I guess that's better than the other 50 people who emailed me that are just telling me they know what they're doing. I guess somebody vetted you already.'"
The tougher lessons Rodriguez learned during his real estate journey might not have been as joyful, but they helped put him on the successful path that he's on today. When he first started out at 19 years old, he admits he didn't know what he should be watching for. Now, Rodriguez watches market trends, bond markets and everything in between. He's also much more conservative when it comes to investing.
"I know that probably sounds like an oxymoron coming from a person that buys and sells homes within four months," Rodriguez said. "But it really is. My model is to get in and out so quick to try to make sure if a market adjustment happens, that I am beating that adjustment."
Rodriguez also avoids purchasing overleveraged properties. His deals are so conservative that a 30 percent market downturn would not hurt him or his fellow investors. Rodriguez also has no problem pumping his investment brakes for periods of time if he doesn't like what he sees from the market at a given time. For example, two winters ago, he decided his company would not purchase any houses during the fourth quarter. He just focused on unloading the inventory it had at the time. His instinct was wrong—the market kept increasing, but having been through the pain that comes from losing everything at one point, Rodriguez would much rather be safe than sorry going forward.
"I have no regrets that I slowed us down," he said. "It's all about living to fight another day—that's kind of my mantra now. And I think if you're buying right on day one, you'll survive. We definitely try to do that. I'm such a steward of my money—I'll lose mine before I lose yours. I'll be more aggressive with mine, but if you're investing with me, I have to play it smart."
"I think I'll be the guy that outlasts a lot of people by just being smart with my money. I don't overleverage in my personal life or the properties I flip versus the first time around. I would have survived the first time around if I had had any savings," he said.
If there were any advice Rodriguez would share with someone entering the real estate industry, it would be to be patient. He's noticed that aspiring real estate investors want their first deal so badly that they're willing to take a bad deal, just to get one under their belt.
"If you do your first deal and lose $20,000 or $30,000, that is the quickest way to never do a second one," he said. "Have the patience to say no and the wherewithal to understand you have to know what your comparables are. In my opinion, money is made at the purchase, not the sale."