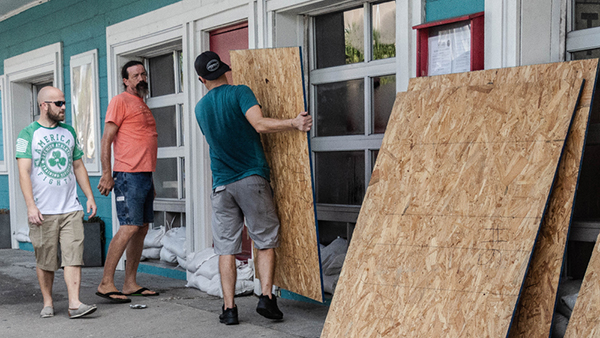 "This [estimate] does not include inland flooding that could be even costlier and more destructive." — CNBC real estate correspondent Diana Olick
Hurricane Florence just began dumping water on the Carolinas when CoreLogic released data indicating the staggering value of possible property damage in the affected regions.
The first wave alone could cause as much as $5 billion in damages to property, according to the consumer, financial and property analytics firm.
Corelogic estimates that 250,000 residential homes and 6,000 commercial properties owned by real estate investment trusts are likely to be initially affected by storm surge and wind.
Analysts warned that the total damage would likely be even larger.
"This [estimate] does not include inland flooding that could be even costlier and more destructive," said CNBC real estate correspondent Diana Olick.

By Comparison, Other Storms Have Done Worse
Hurricane Florence has been labeled a "category 5" rainstorm even though it was downgraded from category 4 to 1 hurricane when it made landfall. These downgrades may have purveyed a false sense of security for some late-acting property owners. The storm, which was slow-moving and predicted to stall over land once it arrived, brought dangerous storm surges and devastating flooding from more than 30 inches of rain.
While $5 billion in damages is no small bill, Hurricane Irma caused an estimated $65 billion in insured and uninsured losses to commercial and residential properties.
Tom Jeffery, a senior hazard scientist at CoreLogic, warned that the high volumes of water falling on affected areas could bring "mud and various debris that … can batter a residence to cause structural damage," as well as wind damage to windows and roofs.

Single-Family REITs May Take a Hit
With several real estate investment trusts owning high volumes of single-family properties in the area, Hurricane Florence could have a substantial effect on share values at least in the short term.
American Homes 4 Rent — which has nearly 20 percent of its portfolio located in areas affected by Hurricane Florence — is still recovering from Hurricane Harvey damages sustained in 2017. Invitation Homes owns about 5,000 homes in the Carolinas, but more than 90 percent of its inventory is focused on other markets.
How Hurricane Florence Could Increase Foreclosures in the Southeast
Hurricane Florence might also increase the rate of foreclosures in the affected areas. Serious mortgage delinquency rates in Houston, Texas, and Cape Coral, Florida, tripled after Hurricanes Harvey and Irma and federally mandated foreclosure moratoria expired, according to CoreLogic researchers.
Learn more about how Hurricane Florence might increase serious mortgage delinquency rates in the Carolinas here.