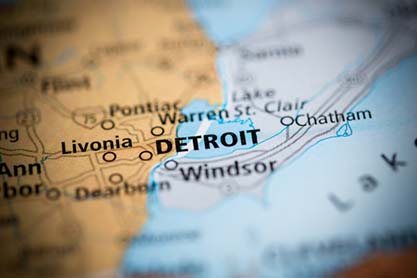 We've been investing in Detroit since 2009. Although we picked Detroit eight years ago, I believe that now is a better time to invest in the city than ever before. Here are six reasons why.
Low Purchase Price
Home prices in the Detroit area are quite low. Homes that need work can be purchased for around $10,000 and those in turn-key condition can be purchased for $15,000. Even investors with little cash can begin accruing real estate in these market conditions.
High Average Rents
When buying a property to rent, you want to be sure that rents are high enough to make your net revenue worth your while. A common rent to purchase price rule is the 2 percent rule. The monthly rent of a home should be 2 percent or greater than the total purchase price including repairs.
In Detroit, the average current rent for a 3 bedroom is about $950. With home prices around $15,000, that number for Detroit homes is 6.3 percent.
Low Taxes
For real estate investors, property taxes are usually the second biggest fixed cost next to the monthly mortgage payment. Tax rates can be the difference between a good cash flow and a property that loses money.
Mayor Mike Duggan has been busy updating Detroit's property tax assessments. In 2016, these dipped 5 to 15 percent for most residents. This year's assessments will continue the trend, with most residents paying about $1000 in taxes annually.
High Return on Investment
When you can buy low and rent high, your ROI is going to be high. Let's look at an example:
Purchase Price: $10,000
Rehab Price: $5,000
Total Invested: $15,000
Annual Gross: (Rent) $950 x 12 = $11,400 – 10% miscellaneous costs = $10,260
Taxes: $1100
Net Revenue: $9160
If you choose to manage the property yourself, your return on investment is 61 percent. If you use a property management company, you will need to deduct an additional 10 percent off the annual gross.
High Revitalization
One thing you want when buying is to find an area that is up and coming instead of one that is going down. Here are some signs of growth that Detroit is exhibiting:
Trendy Businesses are Moving In: There has been a recent wave of new specialty stores in Detroit including Whole Foods, Nike, Meijer, Bonobos and Under Armour have all recently opened in the area.
Addition of Major Employers: Microsoft, GM, Ford, Fiat Chrysler and Amazon are all expanding in the area.
Architecture That is in Style: Detroit is known for its Art Deco style from the 1920's. According to a recent article in the Washington Post, Art Deco is becoming popular again.
New Construction Projects: As you tour around Detroit, you will see new construction in terms of strip malls, apartment buildings, restaurants, entertainment facilities and more.
Money Coming In: In addition to several big investment companies pouring money into the area, two billionaires, Dan Gilbert and Mike Ilitch, are investing in the downtown area.
Increase in Home Prices
Homes we picked up for $5,000 in 2009 are now selling for as much as $30,000. The national average for appreciation on homes during this time was 3.4 percent. In Detroit, the appreciation is running as high as 25 percent.
When looking for a good market for real estate investing, finding areas with low home prices, high rents, low taxes, good ROI, high appreciation and a growing economy are crucial. Detroit has all of this and more. Be sure to look at Detroit as you make your 2017 plan for real estate investments.
About the Author
John Trautman is founder and CEO of the Real Estate Knowledge Institute (REKI). An author, entrepreneur and longtime real estate investor, he is committed to inspiring and helping other aspiring real estate investors who have an interest in everything from home flipping to buying and selling rental properties to earning passive income through various real estate investments. REKI is the fulfillment of Trautman's ambition to act as a credible and responsive expert who is available to mentor and counsel individuals about the fundamental rules of real estate investing in an intelligent and straight-forward manner.