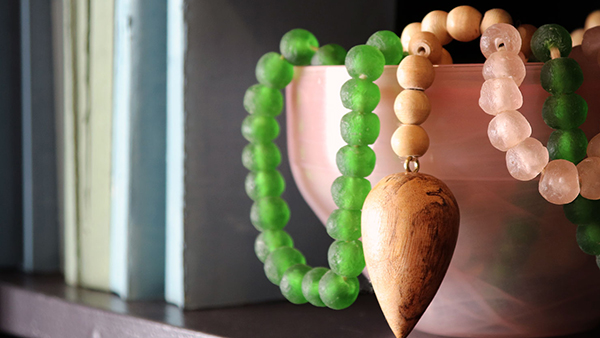 Popular décor ideas that are easy to DIY
Beads as Texture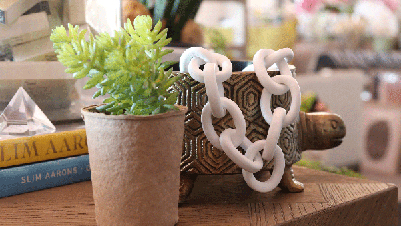 I have used beads as a texture and an accessory item for a long time. I am going to continue using them for even longer! I am starting to see them pop up in so many more creative ways. I love draping beads over a lampshade, finishing off a stack of books in a bookcase, and hanging out of a vase. I also love using beads as a filler inside vases. You can't go wrong! Beautiful beads add great color and texture to finish off your design.
Oversized Lights
One of the biggest mistakes I see in designs is undersized lighting. Light fixtures are the jewelry of a room, so go big and go bold! I also love doing a cluster of pendants for a dramatic look.
Bold Color
For a long time now, we have been seeing interior walls painted all gray or all bright white. I think people want to see more pops of happy color. I feel like saturated colors are becoming popular, like emerald, maroon, and deep browns for a cozier vibe.
Books as Art
Bookcases can easily get cluttered with tons of disorganized books, but they can also be the focal point of a room when you use them as art. There are so many fabulous books with beautiful covers that make for stunning displays. If you have a blank space on a coffee table, bookshelf, or mantle, a colorful stack of books adds just the right pop. They can also had height for displaying various decorations.
Exteriors without Trim
For so long, exteriors have been gray bodies with white trim or brown bodies with beige trim. However, I see more and more houses, including my own, with no trim at all. I went with a beautiful dark charcoal color on my house, but I think we will see a lot more all-white houses too, then adding pops of black in shutters, windows, and exterior lights to break up the crisp white. I think this trend is here to stay because it makes the house look crisp, clean, and larger.
Floor-to-Ceiling Tile
You can never have too much tile! I love going floor to ceiling with tile. It is such a statement, but also so durable and kid friendly. I think we will see a lot more spaces where the backsplash from the kitchen finishes off the entire room.
Wallpaper on Ceiling
Wallpaper on ceilings is a fun new trend. It is a small amount of square footage, but it makes a huge impact. I think we are going to see a lot more designs that are playing with that fifth wall. It completely elevates your design if you have a simple gray wall, a fabulous paper on the ceiling, and a gorgeous extra large chandelier. It also leaves you with clean walls for artwork and furniture to really pump up the drama of your space.
---
About the Designer: Bargain Mansions host, Tamara Day is a purveyor of the glam and cozy. This busy wife and mother of four styles for the spirited home, mixing glam and comfort in family-friendly spaces. Tamara's sense of style and eye for what works has created an insatiable demand for her interior design expertise, furniture, and décor. Tamara grew up on the Midwestern plains in Salina, Kansas. Her "do-it-yourself" skill set comes from growing up on a farm where she learned all of her hands-on skills from her dad.
---