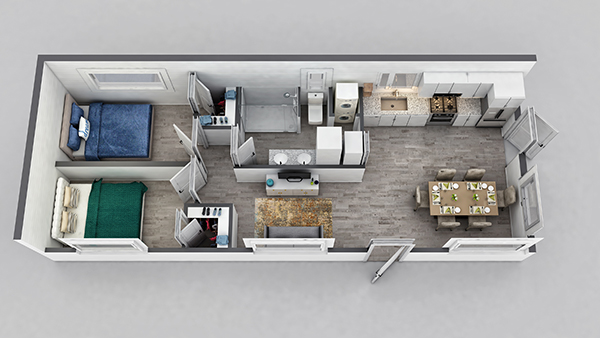 Upcycled homes offer an economic solution to the housing crisis and to the environment
Communities in Central Appalachia and the rural Midwest are quietly facing a crisis when it comes to cost-effective living. Currently, the choice that the families have in the region is to either live in substandard housing or leave the region. Furthermore, the lack of investment in the region has left a massive void in the supply of rental units and home builders are not rushing into the regions for a number of reasons, including the challenging terrain, repair costs of the existing home supply, and loan restrictions based on the condition of those existing homes.
Appalachia creates unique topography and customer demands. In a region covered mostly with trees and mountainous terrain, there is very little open and flat land to create traditional apartment homes and just about the only flat land is former coal mining sites, which bring on another challenging aspect of dealing with very wealthy landowners that have very little desire to support anything but money in their pockets. Even if there was an ability to create a robust supply of apartment buildings, individualism and love of nature runs deep in the region and there is a low desire to live in a shared-wall environment. These, among others, are the reasons most traditional multifamily development firms have passed over this region.
Is that fair to the young family who desires to live in the same town in which they were raised? The community deserves a solution that is built based on the desire, terrain, and need of the community. The solution has to be durable, energy-efficient, terrain-supported and affordable. The solution is upcycled container living, outfitted as luxury single-family rental units. While there is low desire to share walls, there is a huge desire to be a part of a community. By utilizing the upcycled luxury container homes in a village format, residents get the best of both worlds, the freedom of their own home and the camaraderie of a village.
Container homes bring innovation not yet seen on this scale. There is already wide acceptance to the size of a container home as over 20 percent of the current housing stock is manufactured homes, which are equivalent in size but not in quality. Container homes are extremely energy efficient whereby manufactured homes are anything but, resulting in energy bills as high as $600 per month for a two- bedroom trailer. When combined with solar options, the energy cost for a container home village can be brought to near $0 with a negative carbon impact. The overall monthly savings of container-based living can easily be over $800 to the hard-working families without compromising luxury.
Fully customizable with a quick build time, these homes are a developer's and investor's dream. Because of these factors, the units can be delivered generally cheaper than comparable housing options while providing superior finishes and amenities. Each home is unique as well, ranging from studio apartments to three-bedroom family living.
During times of market and economic dislocation, innovation is often the key to unlocking long-term opportunity. By bringing a new solution to a significant housing crisis, container homes can provide a true triple bottom-line return. Residents benefit from safe, sustainable, and cutting-edge housing. Investors are rewarded by lower construction costs combined with higher demand-driven rents while also opening up additional terrain that used to be unsuitable for traditional development.
We all need to get together to identify real and lasting solutions to the challenges we have today. Equity in housing is a solution everyone can support, and container homes will be a disrupter to the current housing crisis in rural (and maybe urban) environments.
Kirk P. Taylor, CPA is Co-Founder & President of Land Betterment and its housing subsidiary ekō villages. ekō villages is an ecological development company building luxury housing communities at an affordable cost of living. We bring innovative solutions to the community through energy efficient high-end homes built in a safe and reliable structure. To learn more please visit: www.landbetterment.com.