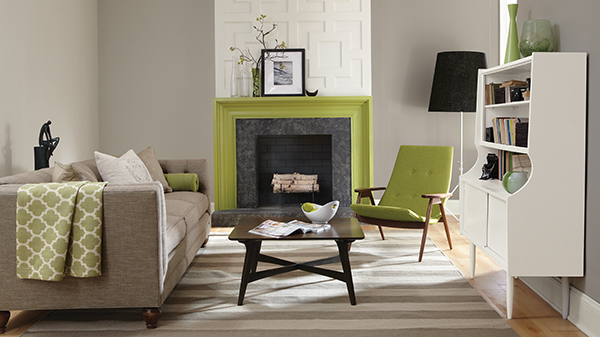 Understanding the latest in coatings technology and choosing the right products for the job can reduce the need for frequent repaints and ensure a property's aesthetic appeal for years to come. Here are some important factors to keep in mind when selecting coatings:
The Kitchen
Kitchens are often centrally located and have become the go-to hub for social gatherings. This means higher levels of traffic and increased wear on materials.
Selecting a higher-gloss finish or a technologically advanced washable flat allows for frequent cleaning while maintaining a uniform appearance. For the walls, look for coatings that resist food splatters, wash easily, and resist high moisture levels. Additionally, consider a coating that features Odor Eliminating Technology, which helps reduce lingering odors from cooking, smoke, and pets. This technology can reduce common indoor odors so rooms stay fresher longer.
The Bathroom
Water and mildew resistance are key for a bathroom. Whether occupants view the bathroom as a relaxing retreat or functional space for everyone in the family, keep it sparkling by selecting durable products that withstand the test of time.
Consider selecting a coating that provides high levels of resistance to moisture and water-spotting. Also, a paint formulated with antimicrobial agents inhibits the growth of mold and mildew on the paint surface and inhibits the growth of bacterial odors. Applying the right product in the bathroom can also mean a faster return to service and fewer repaints.
The Living Room
The living room remains a central and favorite location in the home. Today, occupants are looking for a unique, livable space that feels customized, which you can offer while still maintaining cost efficiencies.
Consider adding a custom accent wall or painting a color on the ceiling to increase property value and attract potential homeowners without adding significant costs. As for coating attributes, look for durable paints with very good washability and hide. And for fast-turn, easy maintenance, and to eliminate spot-priming, use a stain-blocking paint and primer in one.
The Bedroom
Homeowners and occupants will sleep easy with the right product specifications that can create a desired refuge.
Air quality is a factor that continues to grow in importance to people. Appeal to this preference by selecting coatings that have achieved GREENGUARD GOLD Certification for low chemical emissions into indoor air during product usage. (For more information, visit ul.com/gg.) Using a coating with zero Volatile Organic Compounds (VOCs) or one that meets the most stringent VOC requirements is a great choice. Another great innovation is Formaldehyde Reducing Technology, which helps promote better indoor air quality by reducing airborne concentrations of formaldehyde and other aldehydes. This technology helps reduce the levels of VOCs from potential sources like insulation, carpet, cabinets, fabrics, and other building materials.
For children's bedrooms, consider coatings that are highly washable with stain-blocking properties, as well as resistance to marks and burnishing.
Paint technologies have come a long way. Selecting the right products for a space can have a significant impact on satisfaction, property durability, and long-term savings in cost and labor for property owners.
Learn more about the savings available to Think Realty account holders on paint and flooring from Sherwin-Williams at ThinkRealty.com/supplier-discounts.