Television host and rehabber Tamara Day turns suburban blah into a beautiful family home.
When Tamara Day first set eyes on a drab, 1950s ranch in Leawood, Kansas, her design eye immediately kicked into high gear.
While she loved the location and the U-shaped backyard, the home was clearly a blemish to the neighborhood, said Day, a Kansas City resident and the host of the HGTV show Bargain Mansions. The beige brick exterior was forgettable, the interior lacked personality and the home, as a whole, wasn't family friendly.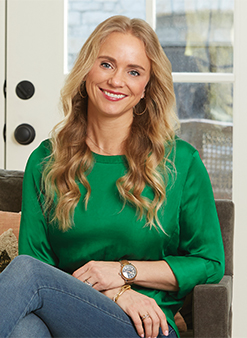 "I loved the location and the backyard, but it was the eyesore of the street," Day said. "It had so much potential and we knew we could make it something great."
Undaunted by a huge vision to revamp the home, Day rolled up her sleeves to begin what'd be an 11-month transformation led by her elbow grease and self-determination.
Day and her crew hired an architect and structural engineer to develop the plans for a second story, two more bedrooms and one-and-a-half more bathrooms, totaling an additional 1,200 square feet of space. It was imperative to Day that the space not only become beautiful but functional for a family.
In building a more dynamic space for friends and family, Day added warm, prefinished hardwood floors, durable quartz countertops, two laundry rooms and new energy-efficient windows. For the kiddos, Day added an under-the-stair cubby area for adventures in the home. She also built a backyard "oasis" with an outdoor fireplace that matched a new kitchen fireplace and the new stone exterior.
"It was my favorite footprint of a home. The U-shape creating a courtyard in the backyard was exceptional," Day said. "The stone front tying in with the kitchen fireplace and the backyard fireplace was one of my favorite features of the entire home."
Revitalizing a home and seeing her designs materialize is a fulfilling experience — and one that fuels her passion to continue making an impact for families and communities.
"Space planning is one of my favorite parts of a project and seeing the designs in my head come to life is my motivator," Day said. "It's nice to know that the biggest eyesore on the street can become the most beautiful house on the street. Having a part in that is very rewarding."