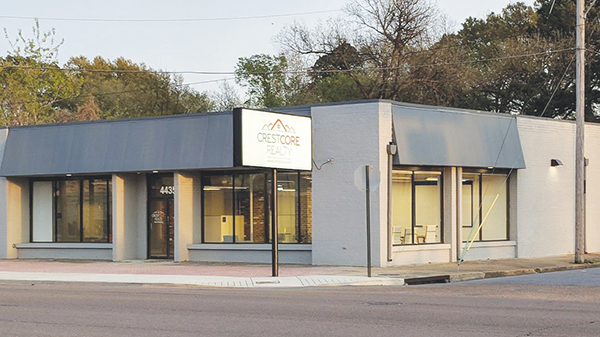 Featured investors: Douglas Skipworth and Dan Butler, CrestCore Realty LLC
This sign shows the building as it was whenCrestCore Realty purchased it.

PROJECT BREAKDOWN

Purchased: July 2015

Opening Date: January 2017

Investment: Just under $2 million

Payoff:

+ Corporate campus bringing 65 full-time jobs from ZIP code 38117 to 38122

+ Host location for small businesses, church plants, and job trainings

+ Local area beautification

Difficulties encountered:

- Upgrading all major systems

- Obtaining parking lot variances

CrestCore Realty received a 2018 Memphis Business Journal "Building Memphis" recognition for this renovation in the category of Renovation/Conversion-Medium Category.
---
Douglas Skipworth and Dan Butler had been watching Memphis, Tennessee's Summer Avenue commercial corridor with interest for some time before they decided to move their real estate investment company's campus to that location in 2015. "We put two buildings under contract in Spring 2015 and purchased both properties in July of that year to create a campus for our companies, CrestCore Realty LLC and CityLight Commercial Services LLC," recalled Skipworth. "We knew from the beginning that we wanted to renovate an existing building and bring our 65 full-time office workers to the area, which would add our support to the restoration efforts going on in an underinvested area of Memphis."
The Summer Avenue corridor hosts an eclectic mix of big-box stores, mom-and-pop eateries, and national chains, such as an assortment of fast food restaurants and a Planet Fitness. "When we bought our buildings, they were big, outdated showrooms with no real character," said Skipworth. "We knew we were headed for a total retrofit, including plumbing, electrical, HVAC, interior and exterior. We knew when we were done, we would have something that would really stand out visually from the surrounding area."
On the exterior of the building, the investors added LED lights, landscaping, and the first permanent surveillance system in the area, a SkyCop camera. "We also removed Summer Avenue parking spaces to limit potential accidents," Skipworth said. They painted both buildings, matched the signage, and created new parking lots. "Our interior is light, airy, industrial, and accented with CrestCore colors," he added. "The exterior was adjusted to create a clear campus feel."
The company opted to install LED fixtures inside the property and use motion detectors and timers to manage lighting. "We installed low-flow toilets and energy-efficient appliances, repurposed our concrete floors and exposed rafters instead of bringing in new materials, and reclaimed brick walls and columns," Skipworth said. "Remember, managing assets for others is our day job, so we have a special place in our hearts for stewarding the resources entrusted to us."
The investors and their team of architects, engineers, and contractors designed an open office floor plan with plenty of meeting space. Since CrestCore manages large portfolios of properties for investors throughout the United States in addition to hosting several international clients, it was important the building be vibrant, welcoming, and easily incorporated into the community. "We host outside groups in our meeting spaces each month, including other small businesses, industry-wide training sessions, and even a church plant! We are also active members of the Summer Avenue Merchants' Association and believe our campus both beautifies the area and promotes economic development," observed Skipworth.