As a lack of home inventory and rising prices remain a challenge for buyers, many people are opting to stay put in their homes.
And thanks to a recent study from LendingTree, we now know the cities in which people are particularly inclined to stay put for a long time.
A dearth in newly-built homes is to blame for the inventory shortfall, said Tendayi Kapfidze, LendingTree's chief economist.
"The inventory shortage is often attributed to a lack of sufficient new construction, as many home builders left the industry after the crisis, and increasingly expensive labor and materials have reduced the margins on lower-priced homes," Kapfidze wrote. "There is also a decreased supply of existing homes available for sale, which accounts for a much larger share of the total housing market than new construction. Many current homeowners are reluctant to move, as risk aversion set in after the crisis. Reduced labor market mobility has also led to less people leaving their homes and, more recently, higher mortgage rates have locked in many current homeowners, as a mortgage on a new home would mean an even higher interest rate."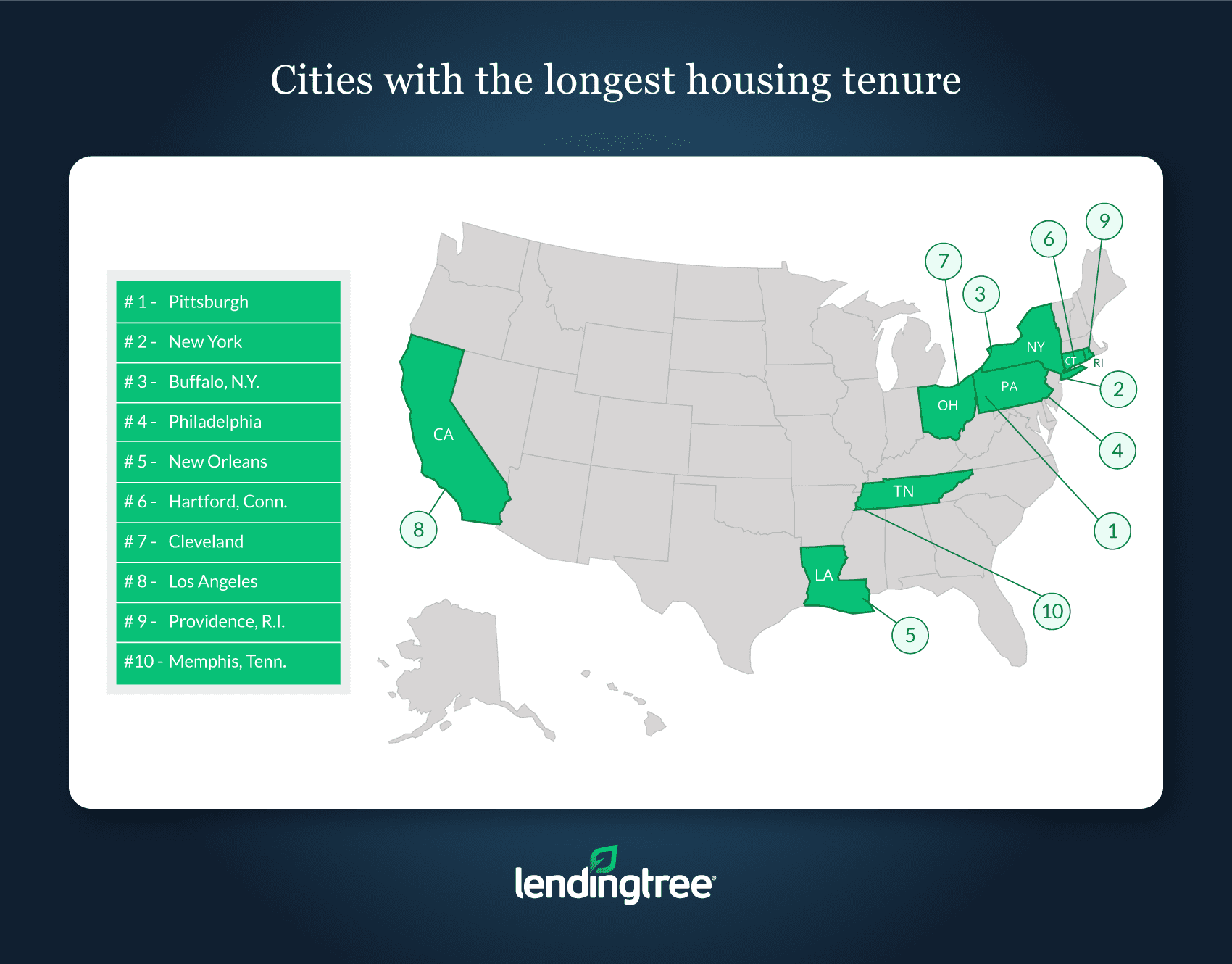 Regardless of the cause, many homeowners around the nation are staying put. In its analysis, LendingTree evaluated the 50 largest cities in America for how long on average owners are staying in their homes.
In general, homeowners stay in their homes for about seven years, according to the analysis. No. 1 Pittsburgh reported the longest home tenure with 7.54 years, while No. 50 Las Vegas netted the shortest tenure at 6.36 years on average.
While a year might seem insignificant, LendingTree's research finds a sizable difference in home price appreciation in relation to average tenure.
Typically, cities with shorter housing tenure have greater price appreciation. The top 10 cities on LendingTree's ranking had an average tenure of 7.46 years and reported an average three-year home price appreciation of 12 percent.
The bottom 10 in the ranking have an average tenure of 6.63 years and an average price appreciation of 30 percent. Kapfidze said that fact suggests higher housing turnover drives prices upwards, while quicker price appreciation of could be luring homeowners to sell.
There are several geographical trends to pull from the study as well. For instance, hot and sunny places have the shortest tenures — such as No. 44 Tampa Bay, No. 45 Jacksonville, No. 47 Orlando and No. 49 Phoenix.
The Northeast U.S. commands the list for the housing longest tenures. The top three cities respectively are, Pittsburgh, New York City and Buffalo, and three other northeastern cities — No. 4 Philadelphia, No. 6 Hartford, Conn., No. 9 Providence, Rhode Island — are in the top 10.
For the full ranking, check out the list below.