When real estate mogul and finance guru Robert Kiyosaki took a real estate course in the early 1970s, he had a feeling it was what he was destined to do — to be an entrepreneur. Known for his unconventional teachings on finance and his passion for real estate, the best-selling author knows a good deal when he sees one and he is sticking with what works. 
The real estate class cost $300, which was quite a high sum in the early 1970s for a military pilot making $800 a month. Kiyosaki, a Marine Corps and Vietnam Veteran, bought his first real estate property in 1973 when he was stationed in Hawaii. Now, he owns more than 7,000 properties — from residential and commercial to hotels — and they all bring cashflow. 
Armed with a passion for learning and sharing his views, no matter how nonconformist they might seem, Kiyosaki, author of Rich Dad Poor Dad and more than a dozen other texts on money management, investing, and financial freedom, said he was a terrible student. But for him, doing poorly in school transferred to becoming a lifelong learner in his own way. 
"I flunked out of school," he said. "But I study constantly. I love learning. I was not good at school, but I kept learning when so many others didn't."
He joked that he learned everything he knows from playing Monopoly. "I like schools where I can DO something," he said. 
So, it's no wonder why pilot school and the military worked well for him. 
One of the biggest lies we hear is you need money to make money.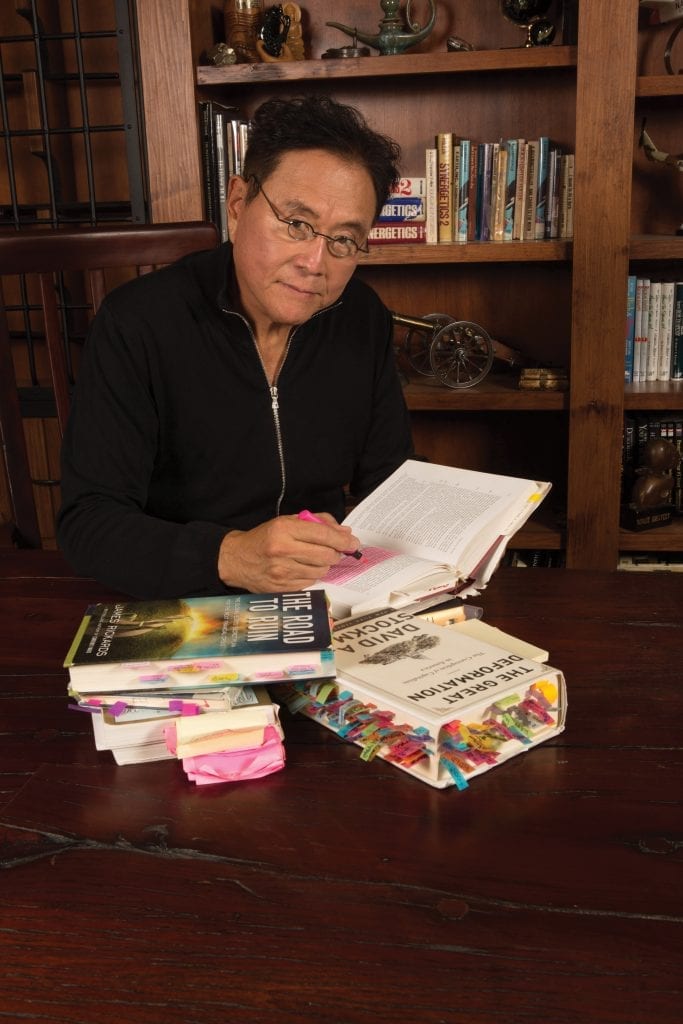 His point of view is that 'old' advice — go to college, get a good job, save money, get out of debt, invest for the long term, and diversify — has become obsolete advice in today's fast-paced Information Age. His philosophies and messages challenge the status quo and his teachings encourage people to take initiative to become financially educated and play an active role in investing for the future.
Kiyosaki's most recent book is titled FAKE — Fake Money, Fake Teachers, Fake Assets in which Kiyosaki dispels many of the societal teachings that, in his view, have not worked and are not entirely true. 
"FAKE is about how fake our money is, and you can't pass off fake money without fake teachers. There are so many people my age (Baby Boomers) who have nothing. And so many Millennials are also in serious trouble due to student loans. Banks and Wall Street are fake. To me Rich Dad, Poor Dad was high school, and FAKE is college. I'm essentially saying the same message," he said.
Kiyosaki shares his messages about financial education via his Rich Dad brand platform in books and myriad outlets including videos, radio, apps, and board games. His CASHFLOW games teach people of all ages about investing, managing assets and liabilities, and building wealth.   
The Rich Dad brand celebrated its 20th anniversary in 2017, and 2020 is proving to be a big year for Kiyosaki as he has three projects in the works. The next book scheduled to release is called The Ravens, which he co-authored with James Rickards.
"A raven is a bird of prophecy. My co-writer Rickards and I are always calling market terms. The book is about how you can see the future and predict markets," he said.
He is also working on a documentary called The Future of Money and Who Stole My Pension, a book about Baby Boomers with little or no retirement. 
"The average 401k for retiring Baby Boomers is only $75,000 total," Kiyosaki said. "As long as you're an employee with a 401k, you're toast. I was destined to be an entrepreneur and invest in real estate, and I believe the world needs more entrepreneurs who will create jobs."
The Real Deals Are in Real Estate
Kiyosaki has been heralded as having a gift for simplifying complex concepts related to money, investing, finance, and economics. His core principles and messages like "Your house is not an asset" and "savers are losers" have ignited a firestorm of criticism and ridicule, only to have played out on the world economic stage in prophetic ways.    
He said the reason he chooses to invest in real estate is because it's about debt. 
"The more debt I use, the less tax I pay and the higher returns I make. I love real estate, but you have to educate yourself. If you're not going to invest in education, you might as well stay in the stock market. One of the biggest lies we hear is you need money to make money," Kiyosaki said.
He further explained why he prefers to be an "inside investor." 
A real winner gets inspired by losing.
"With real estate, you can always locate your own deal and be in control of your properties. I don't sell — only rent. If you find a good deal, why would you sell it? I'm not the most popular person on Wall Street, but I just do what I talk about. When you invest in real estate, you're in shadow banking; you're out of sight. You operate by a different set of rules using private equity and private credit."
"Debt is tax-free money and my cashflow is tax free. Why would I invest in anything else? When I say I pay no taxes and make millions, people go crazy because they're in the stock market not shadow banking. I make the deals and control my deals because it's private investing. I can't do that with mutual funds and stocks."
With perspectives on money and investing that often contradict conventional wisdom, Kiyosaki has earned an international reputation for irreverent straight talk and has become an outspoken advocate for financial and real estate education.
He said, "Why would you want a job and pay taxes? Why would you want to save money when the government is printing money? Why would you save money when interest rates are approaching zero? Why invest in the stock market when it's rigged against you? I don't talk about things I do not do. You won't hear me talk about praying because I don't do that. I'd rather go look for a deal."
Be sure to check out the Think Realty Podcast featuring Robert Kiyosaki, which aired in October 2019.