When Jamie Wooley, founder and owner of W Streets Inc., a Dallas-Fort Worth-based real estate solutions company, started investing in late 2015, she already knew she had no plans to take things slowly. That was why four months earlier, she had turned in her notice where she worked as an office manager – right about the same time she received her real estate license and her first sign.
"I've always been a visionary, and it's all or nothing with me," she said forthrightly. "I told everyone from the day I got my license: I don't know what it looks like yet, but I'm going to do this full time."
Wooley recalled her family viewing her real estate investing goals with skepticism. "I have always been blessed to have the most amazing family who loves and supports me, but with that being said, I heard, 'We love you, but…' an awful lot at first," she admitted. "That just pushed me harder! I do my best work when my back is against the wall."
These days, Wooley is widely considered to be the largest-volume female wholesaler in the country, something she embraces. "I never look at the situation as 'I'm a woman trying to make it in this industry,' but I do think sometimes it helps open doors," she explained. "People do tell me that they're willing to take time with me that they might not otherwise take because they don't see a lot of women doing what I'm doing. I'm always going to do the best I can, which means if someone is going to give me an opportunity or talk to me about something I'm working on, whether it's because I'm a woman or not, I'm going to show up and go for it."
Going for the Passion
Wooley has been an entrepreneur from the beginning. After going to college on a golf scholarship, meeting her future husband, and starting their family, she went to work at a golf course as a cart girl. In no time, that position expanded as she started a marketing company catering to local golfers and promoting more than a dozen courses.
"The problem, though, was that it wasn't what I wanted to be doing," she recalled. "I had started the company because I knew about golf and I did not want to work for someone else, but I was not passionate about the business."
Next, Wooley started a highly successful clothing company, purchasing designer items in California and reselling them at a local market. When that did not light a fire either, however, she started managing her father's cable contracting company office while secretly studying for her real estate license.
"I admit, I was watching HGTV and I loved it!" she laughed. "I realized I would love real estate and I was already passionate about it. When my husband and I were young and broke, we bought an older home and renovated it all by ourselves, so I knew I could renovate a property. I had just never thought of real estate as something I could do as a career before – especially at 21 years old and as a new mother. Once I did, it all clicked."
Wooley did not tell anyone while she was working toward her license, but then she dropped the bombshell. "After I passed the test, we were having lunch at my parents as a family on Sunday. I got out my 'for sale' sign, put it in the yard, and had everyone come out. I just said, 'Look what I did!' and they were so shocked. It was a surprise to everybody."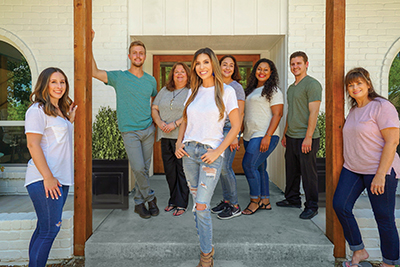 Zero to 150 in No Time
Once Wooley gave notice at her job, she wasted no time starting some organic lead generation efforts. "I told everyone in the company I was looking for a house to flip, and pretty soon two guys who had inherited a house and were about to lose it at the tax auction asked me to come look at their property," she said. Three days later, they signed the contracts at a local McDonalds and Wooley was on her way. "I made $30,000 on that house and I was completely hooked," she said. "I knew I wanted to ride that roller coaster again and again.
Wooley went to work looking for a second deal, but it cost her some serious sweat equity. "I had no idea how to find discounted houses. They don't teach you those kinds of things in your basic real estate license course!" she said. "I was door-knocking, going on Craigslist; I had a serious hustle mentality and was constantly networking."
As it turned out, her second deal would lead Wooley from flipping to wholesaling, although she was not planning for that. "My second house was a downtown, historic home that I got under contract for $80,000. About a week after I'd signed the papers with the owner, I got a call from another investor who had tracked me down as the new owner. He offered to buy the property for $120,000."
Wooley was so new to real estate, she said, that she did not believe the offer was real. "I told him I hadn't renovated the property yet, and he told me he didn't care. And that was my first wholesale deal."
As soon as the deal closed, Wooley put part of her flipping profits directly into her education, taking a wholesaling course while she searched for her second deal. "It was a step-by-step, daily program, and I did exactly what it said to do. That is how I created my wholesaling business, and now we're looking at more than 150 deals in 2018 and probably more than 200 in 2019," she said proudly.
Right in the Middle of the Action
One of the things that makes Wooley really stand out from other wholesalers (other than the huge volumes of deals, of course) is her affection for being right in the middle of the action. "When I got started, I did everything myself. I didn't want to source anything out because I wanted to know how to do it all and I also wanted to make sure I had money to spend on marketing," she explained.
Just two years later, she has a fine-tuned system in place for sourcing deals and identifying the best route to the greatest returns for each one. However, despite the systems, Wooley is still clearly right in the middle of the action, exactly where she wants to be, and she hires employees with the same type of passion for their particular purposes as well.
"My first hire had to learn the entire process just like I did, although she is my transaction coordinator now," Wooley explained. She noted "about 70 percent" of her original hires are no longer with her and said bluntly, "It wasn't their fault. I didn't know what I was doing. I was just growing and hiring constantly. I've learned so much so fast, just like you start to figure out how things are going to go if you keep riding a roller coaster."
Wooley believes strongly that the ability to enjoy a job is crucial to good performance from any employee, but the issue is particularly relevant in real estate. "Think about taking calls from homeowners. Sometimes those aren't particularly enjoyable," she said. "You have to have someone taking those calls who really values helping that homeowner out and who truly believes that is what they are doing."
Wooley's company uses multiple strategies to create returns on deals, which is one of the reasons they operate at such a high volume despite the relatively short time they've been in business. "If someone is in some form of distress, we know we can probably come in and help. Knowing that makes taking these hard phone calls and asking these hard questions a rewarding experience instead of an awful one," she said. The company does not just do wholesale deals; they also may do subject-to deals, fix-and-flips, and even convert some properties to short- or long-term rentals.
These days, her favorite leads are referrals. "I hear it all the time: 'My husband and I are divorcing, and I wouldn't trust anyone else with this sale,' or 'My friend sold their house to you last year so can you just come look at it?' I know those people are not usually even inviting my competition in, and that is so valuable to me. I am sorry they're having a hard time, but I am so proud to know they trust me to help and that I can come in and help," she said. "It confirms that we are treating people with the respect and kindness they deserve."
Swifter, Higher, Stronger in 2019
If real estate has been a roller coaster for Wooley so far, then 2019 looks like it could be the Olympic edition for the investor and her company. With an ambitious (but clearly achievable) goal of doing 200 deals in the new year and expanding the business to include additional investment strategies and vehicles, Wooley is, as usual, going full-steam ahead.
"Presently, most of our business is in Texas. We do a few deals out of state, but I don't usually market outside of Texas much. In 2019, we might expand into other areas, but the market here is still so strong I am not sure I need to spread out yet," Wooley said pragmatically. She added, "I think things in our area are definitely correcting, but there is still so much going for the DFW market. We are not dominated by one industry. We have an incredibly diverse economy. So many people are moving here from expensive markets out west. When they get here, they realize there is so much more to be had in Texas for the same amount of money [they were spending before]. We all know things are bigger here in Texas!"
To factor in changing market conditions, Wooley is doing mostly wholesale deals and "wholetail" deals at present. Wholetailing involves buying a property at a deep discount, as in wholesaling, but performing minimal upgrades or even just doing a deep clean before selling the property. Wholetail properties tend to have higher price tags (closer to retail) than wholesale properties because they are move-in-ready or rental-ready even if they are not fully upgraded or modernized the way a full flip would be, and the strategy is far faster than traditional flipping.
"We're still doing total renovations as well, but we want to keep ourselves monetized and relevant if and when the market does shift," Wooley explained. "We want the best plays across the spectrum." She also noted she plans to expand into residential assisted living, group housing for seniors, in 2019.
"We're going to hit that 200-deal mark and take this business to another level each year," she said confidently.