Daren Blomquist is senior vice president of communications at ATTOM Data Solutions (formerly RealtyTrac). He is also in charge of ATTOM Media, which produces real estate reports prepared by the company's extensive data-gathering and analysis team.
ATTOM Data provides foreclosure reports (RealtyTrac), neighborhood and city data (Homefacts) and home due diligence reports (Home Disclosure), and it has a data-licensing, B2B-focused unit.
With 15 years of service, Blomquist is the longest tenured employee at ATTOM Data Solutions. When he started as the company's first customer service representative, "It was the IT guy, a CTO, a CMO, a CEO and me," he says.
You have a manpower-intensive way of obtaining some of the foreclosure data for RealtyTrac. Please describe it.
As far as I know, we're the only national company that is aggregating or abstracting data with our own proprietary network: people who are actually, in many cases, physically going down to the courthouse and gathering these documents. We were initially doing that with foreclosures specifically, but we've expanded that now to collecting other real estate documents, sales deeds and mortgages, as part of that operation.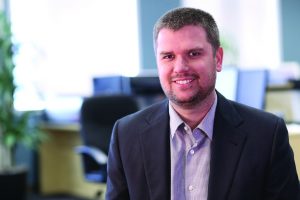 How difficult is it to provide clean, accurate data for your customers?
It's a challenge, which also means it's an opportunity. One of the reasons that you don't see a lot of other players in this space is because it's difficult and challenging to acquire this data. Acquiring is probably the easier part, as to clean it up in a way that to make sure it's understandable and it makes sense to our customers is difficult. It also needs to be as accurate as possible.
As we've acquired more and more data over the last few years, we've created what we're calling the ATTOM Data Warehouse, where we have over 400 sources of data. When you're dealing with public record data, it's a little messy. We have property data on over 150 million properties nationwide, and for each of those properties, there are hundreds of fields of information that we're collecting, and that information is being updated daily.
One of the things that's very exceptional about our data, our reports, is all of it is based on address-level data. We're not doing a survey. Every number in our reports is based on an actual record, either at a property address or a sales record, and so we have the data for virtually every local housing market, nationwide, at the metro level, at the county level, at the city level and at the ZIP code level. You can really dig in and see what's going on in your local market, which is really where it matters for the real estate investor.
Are foreclosure rates finally back to pre-Great Recession levels?
We're slightly elevated. We're at about 933,000 properties with foreclosure filings in 2016, and that's down to the lowest level since 2007. I would say once we get back to 2006 levels, we're at pre-recession levels, so we're very close to that. One interesting aspect, though, is as foreclosures become rarer, they also become more sought-after by investors. Investors get more confident about the market, and so they want to find those discounts, and foreclosures often represent discounts.
We actually see more interest in foreclosures on RealtyTrac, and when we look at the foreclosure auctions, we're showing the highest percentage of properties that we've ever tracked that go to the foreclosure auction are now being sold to third-party investors, as opposed to going back to the bank.
There's so much information available. How do real estate investors know the difference between the signal and the noise? What should they pay attention to?
Yes, there is a lot of data. When it comes to real estate investors, there is a real danger of paralysis by analysis, by waiting until you have all the information, and you're never going to have complete, 100% confidence of something with the data.
I think you start with the basics. Look at sales volume – that indicates demand. Home prices also indicate demand — how strong is demand for properties in a given area? I'll stay with the high-level trends and then I'll move down a bit to be a little bit more granular.
A key trend is affordability. Understanding if a market you're operating in is affordable for people who actually make the average wages in that market is key, and if you see it becoming unaffordable for those average-wage earners, that's a danger sign. It doesn't mean that the market is in a bubble and it's going to pop, necessarily, but it means that it is a warning flag that there may be some underlying weakness in that market.
I would throw in foreclosures as another key indicator for investors to look at because it matters both on the risk side, but also opportunity. You know when you're seeing more foreclosures, that may be an opportunity to actually buy, if you're willing to go counter to the conventional wisdom.
On the more positive side, one of our most popular reports is home flipping. One of the things we track in our home flipping report is the average discount that investors are getting when they buy. You make your money when you buy, and looking at the discounts that are available in your market is huge.
Looking into your crystal ball, what do you see for the rest of 2017 in the residential real-estate market?
I think we're in a very strong market, and the risks and challenges in this housing boom, I would much prefer to the risks and challenges that we saw in the last housing boom. The last housing boom, ultimately, was built on a house of cards, because it was based on loose lending.
This housing boom is built on low-interest rates. That is also a risk if those low-interest rates go away. In 2017, as interest rates have already started to rise, and potentially will continue to rise, it will have a cooling, chilling effect on the housing market. We will see sales volumes probably slow or flatten nationwide compared to last year, and home price appreciation also will slow down. We saw about 6 percent on average, across the country, in home price appreciation, and much higher in some areas than others, in 2016. 2017, I would expect probably to see that cut in half, down to around 3%, 3.5% appreciation, nationwide, and that's primarily on the back of interest rates, which ties into affordability.
As interest rates go up, home prices become much less affordable, and investors back out, too, as interest rates go up. It's a much harder environment to operate in for many of the investors, especially the home flippers, so that's what we're seeing. However, I wouldn't say this is like anything close to a bubble-bursting scenario in 2017 because with this housing recovery being built on the backs of low-interest rates, there's not as much of a risk. Interest rates go up, and it doesn't mean all of a sudden there's a bunch of people who own homes who can't make their payments like we saw in the last housing boom.
We have a new administration, and we have one-party government. How do you think this will affect the housing market in the years to come?
I think you will see the pendulum swinging. Already, even without this new administration, at least anecdotally, you start to see people talking more about loosening credit, about giving more access to home ownership, and then, with this new administration, you hear a lot of talk of deregulation when it comes to lending. I think all of those will have an impact on slowly moving the pendulum back toward looser lending and programs designed to try to promote home ownership again. What we saw with the last housing boom, philosophically, was somewhat created by a policy effort to increase home ownership, and we've moved away from that.
I think that's a good thing, in many ways, but we'll start to see the pendulum swing back toward promoting home ownership a little bit more, which will happen, not in 2017, but probably in the next 3 to 5 years. I know that's a long time frame. It will result in more risk in the housing market, and you'll start to see foreclosure rates creep back up. The further you get out, the harder it is to predict, but I would say around 2019, '20, '21, you could see that result in a bit of an uptick in distress in the marketplace, as we kind of reap the harvest of those policies.