Sometimes a successful real estate investor stretches himself too thin by trying to be involved in too many types of investments. This "jack of all trades, master of none" approach may work for some investors, but it can also bring stress and poor returns.
Other investors stick to one asset class and become experts. John Larson, Think Realty's May/June 2017 Master Investor, has found success by sticking to the investment classes he knows will provide solid returns for clients of his company, American Real Estate Investments (AREI).
Dallas-based AREI provides turnkey rental portfolios for investors looking to build cash flow. The company purchases houses, rehabs them, finds tenants and manages the properties. Larson is a managing partner and one of the owners of the 50-employee firm. It's in four markets now and looking to expand.
Larson's story shows that real estate investment success can be found by relentlessly focusing on doing one thing well.
Weaned on Real Estate
Sometimes it seems like someone was born to be in a certain profession. Larson may be one of those people. His late teen years were spent helping his uncles rehab houses in Detroit. He says the "cheap labor" he provided his uncles after school and during summer vacations gave him an opportunity to learn the real estate business at an age when most of his peers weren't getting a "career preview."
Diving into the industry headfirst, Larson obtained his real estate license in his early 20s and, with his father, started buying and flipping houses. "Being an agent, I would help him find the deals and write the offers," he says. "I really got to learn how a real estate transaction worked. Then he and I would go in and do the renovation for the homes, and I would list the house on the MLS to a retail buyer."
Larson quickly discovered that he enjoyed two aspects of his budding real estate career: working with investors and the fact real estate was different from other assets. "I looked at it as a better option than the traditional investments that are out there like stocks and bonds and mutual funds and things of that nature," Larson says. "I felt like with real estate you could control it more. It was an insured asset. It was tangible."
He and his family started buying houses when the market soured, reasoning that it couldn't "continue to plummet," Larson says. They'd buy the houses for $5,000 to $20,000, put $20,000 into a renovation and rent them out for between $700 and $900 month. This was how Larson became experienced with Class C inventory. The experience wasn't entirely positive.
"At the time, it made sense because we were able to buy properties so cheaply, and we were able to rent them out at a very attractive rate where we were seeing some really solid cash flow," he says. "But I learned quickly how tough it was to manage that type of inventory."
The "headaches" of dealing with the Section 8 program and managing properties in areas where he didn't feel physically safe told him it was time to exit the market. He made a nice profit on the homes when he sold them in 2011.
Well-Suited for Real Estate Investing
Larson says that several of his personality traits make him ideally suited to succeed in real estate investing. "For you to succeed in real estate, you can't just be a handyman," says Larson. "You've got to be a very good people person as well."
Being consistent and a good people person helped him break into the hot Dallas-Fort Worth real estate market in 2012. He says that those traits helped AREI get its "fair share" of available inventory in the tight DFW market.
The marketing degree with a minor in entrepreneurship that the now 30-year-old Larson obtained from Central Michigan University helps him market homes better than his competitors, he says. "I know how to make my marketing more appealing than the other turnkey providers down the road or someone else in another state trying to do the same type thing. I think that's part of what's made me successful in business," he says.
'Almost Recession-Proof'
Larson had an epiphany of sorts when he obtained his real estate license after receiving his marketing degree. The market had recovered, and although he realized it would always fluctuate, "these rental properties are almost recession-proof." He knew that real estate would be a great tool to build a successful business as people will still need a place to live as the market teeter-totters between boom and bust.
"If the market does tank again — and it probably will; I mean, everything is cyclical — you still have a rental portfolio of properties that are filled with people," Larson says.
Instead of selling million-dollar homes, Larson decided that renting out properties in good neighborhoods was a better business model. The values of the rentals might drop, but he'd still be receiving rent checks.
Investment Philosophy: Moving Up to Class A
Larson chose Dallas, as the market was very affordable and had good jobs and a growing population. "People were moving here in droves, and you know with rental properties, and everybody should know, that they don't perform unless you have somebody living in the home, right?" he says.
AREI has three investment models – Class A, Class B and Class C. Dallas was the ideal market to set up Class A investments, as the 2012 median home price was just under $200,000 versus the national median of $220,000. AREI was able to "buy properties in good neighborhoods at a very affordable value," Larson says.
AREI acquires property in many ways, including tag sales, foreclosures and short sales. Then the company does a full renovation of the property. The company saves money by doing the rehabs itself. "All of our renovations are standard," Larson says. "We use the same materials on every home. It's our own in-house employees and crews who work on all of our properties. They're trained to renovate homes to our specifications."
Once tenants have been placed, AREI's sister company, American Real Property Management (ARPM), manages the properties. ARPM thoroughly vets the tenants, according to Larson. "They have to make at least three times the monthly rent to qualify to live in one of our homes," says Larson. "They also have to have no prior evictions, and based on credit scores, we'll take additional money for security deposits to kind of protect our owners."
Average rents in Dallas are about $1,600 per month, and applicants with a 650 or higher credit score need to put down a one-month security deposit. Credit scores below 650 mean higher security deposits for the tenants.
"And then from there, once we get the property fully turnkey — and when I say turnkey, I mean renovated, tenant in place and cash flowing — we transfer ownership to our investors," Larson says.
Currently, AREI won't put forward properties for investment with rents less than $950. Larson still isn't a fan of Class C real estate as an investment, but AREI will source those properties because some clients like the high-risk, high-reward nature of that asset class.
Since he's not comfortable owning them himself, Larson won't offer an investment with low rents.
"I don't want to own that type of inventory, so I don't produce any investments that I would not invest in myself," he says.
The Personal Touch
Larson's people skills are evident in the way AREI treats its customers. The company backs each of its investments with a warranty, "so you know that you're really getting a turnkey investment from us," he says. Also, AREI assigns each investor an "after-care representative," essentially a customer service representative, to ensure investors' needs are being met. Larson calls this program a "white glove tech service."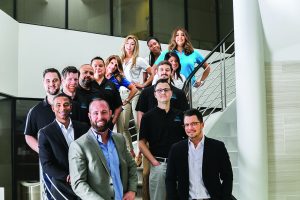 AREI believes that the management team's responsibility is to find quality investments, place good tenants and take care of maintenance issues, and that's where the focus should be. Customer service should be handled by a different group that is solely focused on after-sale support. The dedicated rep calls investors monthly to review the status of their properties, go over property management statements and answer questions or concerns.
"That one person will know what's going on with any one of your homes, no matter if you own one with us or 10, you have that kind of one-on-one connection with somebody at my company that's always in contact with you. I think if anything, that's what really sets us apart from other groups," says Larson.
Investors Usually Start Small
Larson says investors in AREI's Class A market usually start out with one property ("To see how it works"), then buy another one three or four months later. He understands, as investors want proof that AREI's investment model works. Investors in Class B markets, however, tend to buy two or three homes initially, as the homes cost less than Class A properties.
"I've had investors come to me and ask if they should buy five properties in St. Louis, a couple in Texas – 'What should I do?' I just tell them, 'Hey let's just start with one. Give me the opportunity to prove to you that this works. Let me earn your trust and then from there let's explore some more options.' But yeah, most of the time I say eight out of 10 people come back and invest with us again," Larson says.
Lesson Learned: Avoiding Headaches
One of the hallmarks for any successful person is knowing what he or she is not good at. Larson's experience with Class C homes in and around Detroit taught him to avoid that asset class as those kinds of homes provided more pain than pleasure. Even though he knows people in Detroit who are doing well owning and managing 20 or 30 rentals, he realized that hands-on management is not part of his skill set. Larson's just not cut out to be a property manager — and he's OK with that.
"So I learned at that point, if I'm going to have an investment company, a real estate investment company, I prefer to avoid those types of investments because my investors, they're not managing the properties themselves. They're relying on me to manage them. I'm going to manage the stuff that I know is going to work and the stuff that I know is going to make my investors successful," he says.
He won't invest in anything that produces less than $1,100 in rent, even though he'll provide properties with rents down to $950 if his customers ask for them. "I have those investors who understand that is the risk that is associated with those, and they want that type of inventory, so I'll still produce it," Larson says.
Larson knows he doesn't have that type of risk tolerance, so he avoids the asset class. "I've just learned in my experience that with $1,100 rents and above, you're starting to deal with a better quality of tenant. You're buying in better neighborhoods," he says.
In Class A neighborhoods, the houses are easier to lease and keep them leased, Larson says. "We just have more success down here in Dallas. It's because the median rents are at $1,600," he says.
Larson foresees a time when Dallas real estate prices will rise enough that rents won't be able to keep pace, making the math no longer pencil out for the company's Class A model. He likes many Florida markets, especially Tampa Bay. Oklahoma City is also a possibility. "Basically, we're going to chase whatever the hottest market is," he says.
John Larson has become successful by focusing his company on a class of investments that he knows will pay dividends for his investor clients. That, and a relentless focus on his clients' needs, have helped make him a Master Investor.