When Brew Johnson and Brett Crosby, co-founders of PeerStreet Lending, first joined forces, the old friends never once thought about their private lending project on a small scale. Nor do they think on a small scale today.
"We have created a technology platform to empower lenders to make loans to borrowers in their communities. It's about developing a more efficient way to provide capital to real estate industry participants," said Johnson.
He added, "Our idea was to create a platform where high-quality lenders of any size could access both cutting-edge technology and capital in a way that allows them to compete with major financial institutions and truly level the playing field. And those lenders, in turn, provide capital to real estate entrepreneurs and investors that enable them to buy, build, and fix up properties."
Crosby chimed in, "When people invest in loans on PeerStreet, they help borrowers improve communities one house at a time."
All things considered, it is a relatively modest set of goals for a high-powered real estate attorney and a former Google marketing director and software developer.
Unprecedented Transparency in a Mission that Matters
The technological platform that Johnson and Crosby created has done more than 1,000 loans for a value of hundreds of millions of dollars in just about four years. While the numbers are impressive, the pair believes that the real benchmark for the company is the opportunities it provides to every entity involved in a real estate transaction, from the lender and investor to the eventual buyer and the community at large.
"Even if you're not a direct participant in our platform, you benefit," said Crosby proudly. "We are enabling more houses to be improved, which positively impacts communities throughout the country. Our lenders fund projects that turn neglected homes into respectable residences. If that happens once in your area, well, that's great. But when someone can access the funding to make it happen 50 times in a community, then the entire community is lifted up. Local jobs are created; money goes to local stores and local businesses, and, over time, there's the potential to uplift many participants in the community. This could impact the state of the entire U.S. housing stock."
The two founders and their team believe they are providing a far greater service than just improving the nation's housing stock, however. PeerStreet believes its mission is to provide transparency to a historically opaque industry: finance.
"Let's go back 50 or 60 years. Lending was very local," explained Johnson. "Banks lent in their communities to constituents they knew. They made loans in the community that changed the community, hopefully for the better. Then, securitization came into play, which started out positively by providing more capital for banks to make more loans in their communities, but, over time, lending became totally detached from the community and lending decisions were driven by the Wall Street securitization machine, financial engineering, and crazy risk-taking with other people's money."
PeerStreet strives to take the advantages that private lenders have over "mega-banks" and institutional lenders, namely nimbleness, flexibility, and common sense according to Johnson and Crosby, and create a large-scale marketplace for lenders and loans. Inside that marketplace, everyone involved understands the risks, rewards, and collateral involved in the deals.
"We connect small local lenders to a national capital market so that together they can compete with larger institutions. We use technology and capital to empower those local lenders and sell their loans to our investors. Overall, transparency is key to serving the needs of both lenders and investors," said Johnson.
Where It All Started: Making Complex Things Easy
Johnson had the idea for PeerStreet while working at one of the top real estate firms in the country, where he practiced real estate law during both the housing boom and at the beginning stages of the subsequent bust.
Johnson left the firm in 2005 to move into other aspects of real estate law, including estate planning. While working with his brother on a new tech business, Johnson saw clearly how the inherent flaws in the pre-crash lending environment could be addressed by pairing the right technology with the right lending platform.
"I realized if you could create the right platform, you could literally create efficiencies and value for the real stakeholders in the market," said Johnson. "There are a lot of unnecessary intermediaries in the market that are really just leeches and provide no benefit to anybody or anything but themselves," he added.
When applied to private real estate financing for investors, this revelation would be groundbreaking because removing the unnecessary pieces of "the system" for private lending meant that far more investors and private lenders would be able to work together to fund and do deals.
"Taking complex things but making them easy to use, taking things that are not necessarily intuitive or obvious and making them as simple as possible, that is what we believe the real estate and lending industries need from our platform," Crosby added.
Johnson knew his college friend, Crosby, would be the perfect business partner. Crosby had spent the previous decade working at Google as a director of product marketing after his pioneering web analytics company was acquired by the search behemoth in 2005. In fact, Crosby's analytics company served as the foundation for what is today's Google Analytics. While at Google, Crosby helped launch the inaugural format for Google Mobile Ads, Google Drive, and many other products.
When Johnson explained what he was hoping to create, a lending platform based on the solid value of the real property collateral behind the loan rather than on a borrower's likelihood to repay the loan, future appreciation of the collateral, or any other intangible factor, Crosby was hooked.
"One of the beautiful things about technology is that it levels the playing field. We wanted to use technology to give a lot of people, real estate investors and private lenders in particular, opportunities to do something that previously could only be done by people or entities with access to certain information or with an extremely large amount of capital," Crosby said.
In 2013, the pair teamed up to build what would eventually become the PeerStreet platform.
Johnson and Crosby emphasized that PeerStreet is not a lender, but a marketplace for people with private money to fund real estate deals and for people with real estate deals to find funding [see graphic on pg. 21]. "Our lenders tend to know their space very well, which gives our borrowers a big advantage because not only do their loans get underwritten faster, but the lender on the project likely has knowledge of other factors that may be specific to the location of the project," said Johnson. The company secures its loans with first liens on the collateral, which means that if a loan does go into default, PeerStreet investors will have first priority when it comes to repayment on the loan.
PeerStreet loans are attractive to all types of real estate investors, whether they are borrowing to do deals and need relatively short-term loans, from six to 24 months, or are interested in making private loans with their own money. The company also offers an "automated investing" service that will automatically submit orders on loans up to a specified investment amount whenever a loan that meets a private lender's criteria enters the system.
A Magic Combination: Intense Scrutiny and Local Expertise
For lenders who want to personally evaluate risk and make loans rather than rely on PeerStreet's automated system, Johnson and Crosby believe the platform's dedication to truth and transparency on all sides of the lending equation is crucial. They are willing to ask hard questions and read a lot of fine print in order to make sure that both a borrower and lender are qualified to do the deals in which they are invested.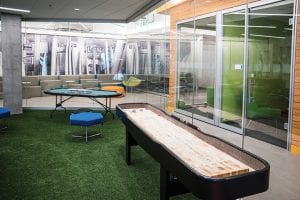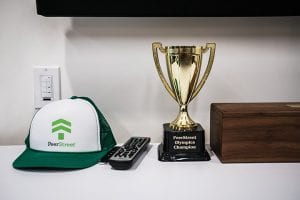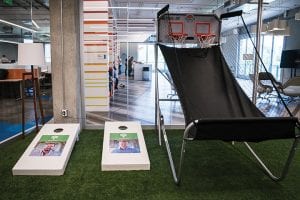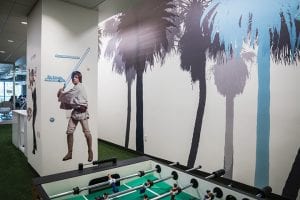 "I think a lot of real estate investors and private lenders that get into the space do not realize the number of factors involved in the real estate mortgage business, from underwriting the economics and risk to proper legal review and documentation," said Johnson. He explained the PeerStreet system hinges on a multi-layered vetting process that evaluates not just the physical real estate and the investors borrowing to fund their projects, but the lenders making loans as well.
The combination of live, breathing expertise – more than 97 years' in real estate, 52 in law, and 12 in regulatory, the co-founders pointed out proudly – and the insight provided by the technological platform maximizes PeerStreet's ability to identify loans that are a good fit for members and that are most likely to yield fruit.
All Playing on the Same Team
"We feel like PeerStreet could ultimately be one of the most important financial businesses of all time if we do things right," Crosby said. "Our team members are really the unsung heroes here (and so are our fabulous wives). There are literally dozens of examples of really incredibly talented people working with us."
"Trying to do big things with a mission results in attracting the right kind of people to your business," Johnson added. "There is this interesting network effect when the more people you bring in who are attracted to your mission and dedicated to it, the more people are interested in being involved. We want to have a profound, positive societal impact so that at the end of the day, our impact is the reward and the dividends are the cherry on top."
Johnson concluded, "One of the biggest reasons that PeerStreet is experiencing so much success is our team and our united belief in what we are doing. We want to bring transparency and the participation of the community back to the real estate and financial industries."
---
Disaster 101: What Happens When The Worst Happens
The "Meth Lab Rental" Case Study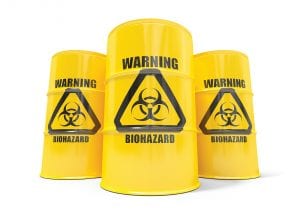 As an investor, can you imagine anything much worse than finding out the tenant to whom you rented your property had installed the latest in meth-lab technology in the basement of that rental? Once you've recovered from the cold chills you are probably now experiencing, take things one step further. Can you imagine owning the property years later and turning a healthy (non-drug-related) monthly profit on it?
If you can imagine this kind of success coming out of a potential disaster, then you are likely already working with PeerStreet. Brew Johnson and Brett Crosby cite "the meth-lab rental" as one of the worst potential disasters they have ever encountered.
"We had a client who had made a loan to a landlord so that she (the landlord) could purchase a rental property. About six months into the loan term, we received a notice that the house had been 'red-tagged' because there was a suspicion of a meth lab in the basement," recalled Johnson.
Illegal drug manufacture and distribution of any sort is bad enough news, but the installation of a methamphetamine lab is particularly nasty. Meth is manufactured using common cold remedies and a number of toxic chemicals, including battery acid, drain cleaner, lantern fuel, and antifreeze. These "labs" are generally not contained or sterile, and the substances, toxic alone and worse in combination, tend to permeate the entire living area.
"There's chemical waste, remediation, all sorts of potential issues," said Johnson. "The poor landlord did not know what to do." However, because the group spotted the problem early, as soon as the red-tag went into effect, the PeerStreet team was able to leap into action.
"We have an active internal management team for each loan," explained Crosby. "We were able to notify the insurance company, and the entire issue was covered by the insurance policy because we had the right policy in place. They remediated; the borrower kept making loan payments, and we found a new tenant. Our investors actually got more money out of the deal than they originally anticipated while our due diligence also saved the property for the landlord as well."
"I can't think of a worse scenario than finding out you loaned money on a meth lab," said Johnson. "The fact that everyone involved, including the landlord and the neighborhood that is now meth-lab free, ended up in a good place makes us really, really proud."
---
SEO Advantage: When a Search Engine Expert is on Your Side
Brett Crosby spent a decade at Google before co-founding PeerStreet with Brew Johnson, and even before that he was on the very leading edge of search technology. "I was one of the co-founders of Urchin Software Corporation, the company that was acquired to build Google Analytics. I then stayed on at Google for nearly ten years launching products and growing them," he said.
He provided Think Realty Magazine readers with some key insights on keyword marketing:
Keyword marketing involves purchasing advertising that will appear along with the results of a keyword search on the results page of a search engine or using search engine optimization (SEO) in order to achieve high page rankings for specific terms. For example, a real estate investor in Omaha, Nebraska might want their website to appear on the first page of results whenever someone searches for the phrase "Omaha real estate."
Crosby said that there is a big difference between "keywords that you show up for organically and the ones you should be paying for." He recommended going into the Google's Adwords Keyword Planner to determine how many people are actually searching for any keyword that you believe is relevant to your website. "You may find out that no one is searching for a word after all," he said, meaning that you probably should not spend time or money trying to rank for it.
Crosby also recommended that real estate investors be "hesitant to try to rank for extremely general terms like "real estate." Those terms are likely to be extremely challenging to rank for and not generate the traffic you want anyway. "Try to find something niche, but not so niche that it gets no traffic," he said. Build content on your website about your niche not just to raise search engine rankings, but to be extremely helpful to the people who visit your webpage.
There are also several things that may not feel like a big deal but that can be detrimental to your search engine rankings. "For example, 404 errors on your site, duplicate content, failing to give your images proper names, and not using H1 tags on your website to tell the search engine what is important can all hurt your rankings," Crosby said. H1 tags are headings within a webpage that stand out to search engines in a page's HTML code.
Crosby also warned that buying search traffic can be a great short term strategy, but that it may be more difficult to convert purchased leads and benefit from them over the long term. Spending time getting an organic search strategy in place can pay dividends.
"Of course, just when you think you've got it all right, Google will update their algorithm and you might not be ranking highly anymore," Crosby laughed. He said that the best way to avoid this is follow SEO best practices: keeping content fresh, relevant, and linked to other authoritative sources.