Recently released data from HomeUnion shows median prices for U.S. investment housing growing at a faster rate than owner-occupied home prices. According to the new HomeUnion Home Sales Report, prices for investment housing – both financed and all-cash–jumped 7.1 percent to $213,300, while the median price for owner-occupied homes increased 4.0 percent to $274,500 in July.
"Investor demand for single-family rentals (SFRs) remains strong, as evidenced by the overall decline in cap rates in July," said Steve Hovland, director of research for HomeUnion, an online real estate investment management firm. 
HomeUnion's figures showed cap rates for all types of investment housing dropped 50 basis points to 5.1 percent, cash cap rates retreated 60 basis points to 6.0 percent, and leveraged investment cap rates declined 20 basis points to 4.4 percent.
"Overall, the housing market remains solid, although we've started to see evidence of moderating price growth nationwide," Hovland said in a press release from HomeUnion. "This slower price growth is correlated to the seasonality of the housing market: we're coming off a frenzied spring buying season that is beginning to cool."
Although home prices are expected to decline in the fall months, the overall supply/demand imbalance will keep values elevated and many first-time buyers on the sidelines, according to HomeUnion. As a result, downward pressure on the already record-low homeownership rate will persist through the end of the year.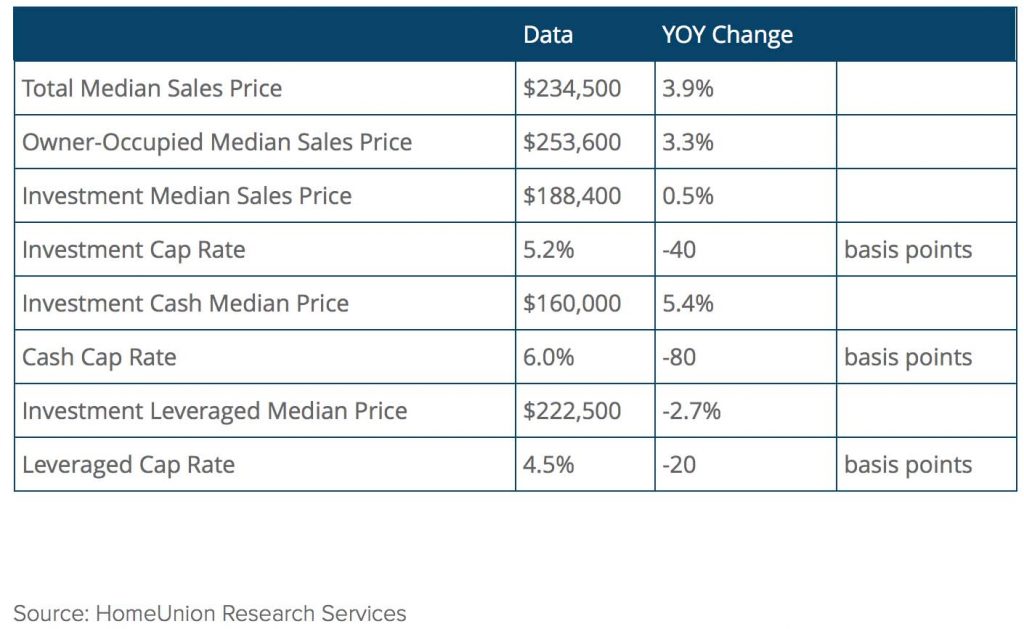 About HomeUnion
HomeUnion is an online real estate investment management firm based in Irvine, California, that provides services needed for individuals to invest remotely in single-family rental (SFR) properties. The company uses a combination of research and proprietary analytics to incorporate data on more than 110 million homes and 200,000 neighborhoods into its database, and then delivers its solutions to an on-the-ground infrastructure that currently serves 18 locations. HomeUnion's role spans the lifecycle of the investment transaction: identifying sound investments, handling all aspects of acquisition, maximizing income, protecting asset value and selling the asset when the time comes.