Habits are a loop that we create by queues and positive rewards. Real estate investors know that if they find a deal, perform their due diligence (queues) they are rewarded with a positive outcome of a profit of some form, no matter how you have your exit strategy structured (positive reward).
ATTOM Data Solutions compiled these seven habits for those who are highly effective fix-and-flippers. Habits the data shows if implemented can create the positive rewards of investing.
Share with you network by using the social share buttons below.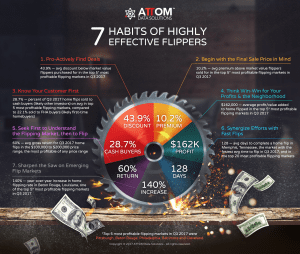 ---
Enjoyed this infographic from ATTOM Data Solutions? You can get more insider ATTOM Data content by signing up for your FREE Think Realty membership.  You will receive access to exclusive ATTOM Data content, membership only content, benefits, and stay up to date on our upcoming events.