Ten-X Residential Real Estate Nowcast indicates a slight year-over-year increase in January existing home sales. According to the Nowcast, January sales will fall between seasonally adjusted annual rates of 5.32 and 5.67 million, with a targeted number of 5.49 million – the same number of homes sold in December of 2016, and an increase of 0.03 million from a year ago.
"The good news is that it looks like 2017 is getting off to a slightly better start than 2016 did, and existing home sales are staying at a healthy level," said Ten-X Executive Vice President Rick Sharga. "But there are plenty of challenges facing the housing market this year, including incredibly low inventory of homes for sale, rising home prices and higher interest rates. Still, we're cautiously optimistic that the market will improve slightly on a year-over-year basis."
The National Association of Realtors (NAR) recently reported that December existing home sales declined slightly to a seasonally adjusted rate (SAAR) of 5.49 million units, confirming the downtick the Ten-X Nowcast had previously indicated. While this marks a 2.8 percent decline from the upwardly revised 5.65 million November estimate, December sales were up 0.7 percent from a year ago., The NAR also reported home sales finished 2016 with 5.45 million sales, gaining on the 5.25 million in 2015 and reaching their highest level since measuring 6.48 million in 2006.
The NAR also recently reported a 4 percent year-over-year increase in median existing home prices to $232,200 in December. This increase marked the 58th consecutive month of annual gains and also confirmed the Nowcast prediction made in December. The January Ten-X Residential Real Estate Nowcast predicts median existing-home sales will continue to make annual strides in January, falling between $221,272 and $244,564 with a target price point of $232,918, up 0.3 percent from December and up a substantial 8.9 percent from last year's NAR figure.
"As we predicted, U.S. home sales bounced around at a high level throughout 2016. Homebuyer demand remained elevated throughout the year driven by a healthy labor market, low mortgage rates, low unemployment and rising wages," said Ten-X Chief Economist Peter Muoio. "Though a historically low inventory of homes has dampened sales growth and fueled a surge in prices, the housing market continues to benefit from healthy underlying demand in the face of rising mortgage rates."
Existing Home Sales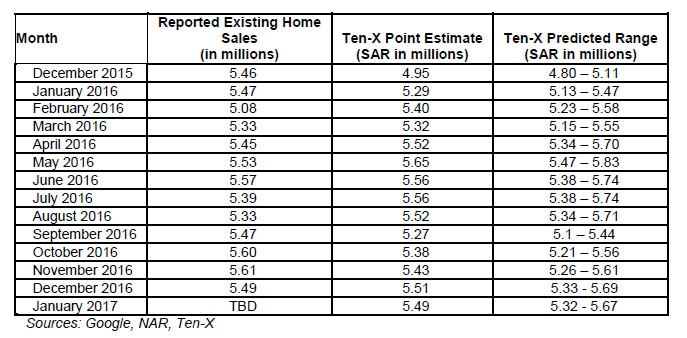 Existing Home Sales Pricing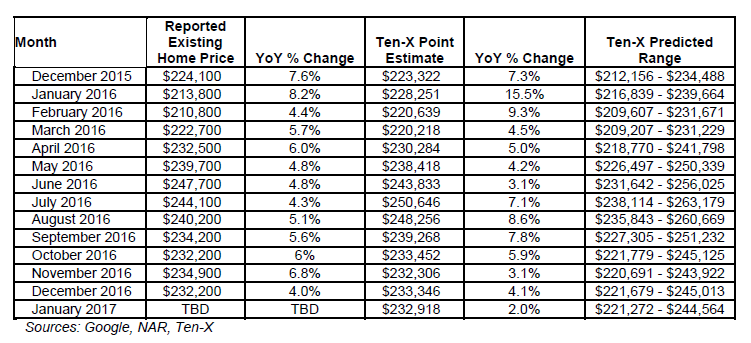 About Ten-X
Ten-X is the nation's leading online real estate transaction marketplace and the parent to Ten-X Homes, Ten-X Commercial and Auction.com. To date, the company has sold more than 260,000 residential and commercial properties totaling more than $43 billion. Leveraging desktop and mobile technology, Ten-X allows people to safely and easily complete real estate transactions online. Ten-X is headquartered in Irvine and Silicon Valley, California, and has offices in key markets nationwide. Investors in the company include CapitalG (formerly Google Capital) and Stone Point Capital. For more information, visit Ten-X.com.
About the Ten-X Residential Real Estate Nowcast Model
The Ten-X Residential Real Estate Nowcast combines industry data, proprietary company transactional data and Google search activity to predict market trends as they are occurring – weeks before the findings of other benchmark studies are released. Building upon the groundbreaking work by Google Chief Economist Hal Varian, Ten-X's Nowcast model extends a traditional autoregressive-forecasting model to incorporate contemporaneous information that provides significantly enhanced accuracy.