There's a phrase in journalism to verify reporting and find the truth: "Follow the money."
The motto also applies to venture capital funding to determine what innovations are poised to emerge and wreak havoc on stagnant industries beholden to their status quos.
So when you look at real estate, see its historical void of innovation and notice the deluge of venture capital heading to startups whose mission is disrupting business as usual, you'd be wise to pay heed.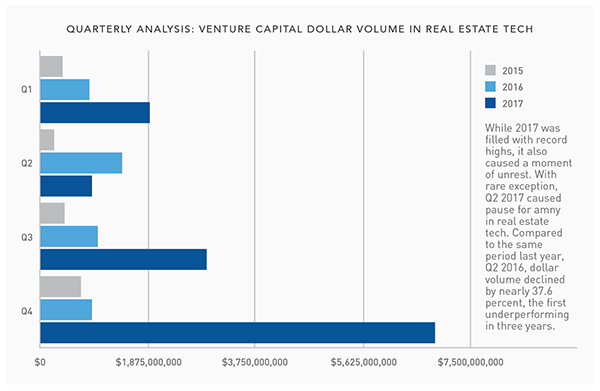 There are billions of venture capital dollars rushing toward real estate tech firms offering "proptech," short for property technology. The buzzword is a relatively new term referring to the sector of startups that create new products or business models for the real estate market. While a broad field, proptech can include products or services for homebuyers and sellers, smart-home devices, office administration, building management, marketing, construction and even city-planning.
Such venture capital activity is bringing a new level of legitimacy — and attention — to real estate investing. While it's existed for decades in different forms, real estate investing has rarely been viewed as an industry in itself, but rather lumped into a broader bucket alongside other investment channels or seen as a hobby.
With more well-heeled tech startups keen to serve an untapped market, real estate investors, funds and property management groups have more tools at their disposal than ever. But with the growing plethora of tech platforms focused on real estate also comes more sophisticated and informed competition for you to face.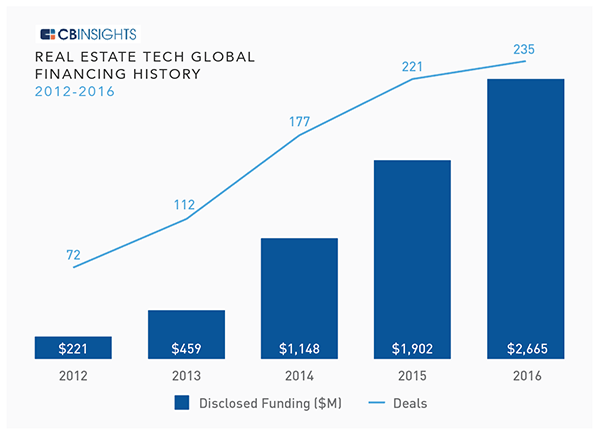 The growth of proptech
You're probably already familiar with big players in proptech, and the financial bonanzas they've enjoyed. Companies like Zillow, Compass, Homelink, SMS Assist and Opendoor have drawn multi-billion-dollar valuations as they vie to provide new software and hardware products to landlords, builders, property managers and real estate investors.
And as these proptech startups have grown more successful in developing solutions to improve the real estate market, venture capitalists have keenly taken an interest.
In 2013, proptech firms attracted $459 million in global venture capital funding, according to CB Insights. That amount of funding for proptech surged in 2016 to $2.66 billion, according to CB Insights.
And the growth trend doesn't seem to be slowing. Global venture capital investment in real estate innovation skyrocketed to $12.6 billion in 2017, according to real estate tech research and marketing agency Re:Tech.
There are many examples of proptech startups attracting significant portions of this VC funding pie, including most recently Opendoor. The San Francisco-based startup flips homes in 14 cities through its online tool that aims to remove stress from the buying and selling process. As it's gained traction, Opendoor snagged a $325 million investment in June 2018, followed by a September investment of $400 million, bringing the company's total equity raised to $1.045 billion.
New York City-based startup Compass is also among the firms hoping to flip the traditional market of real estate. Compass is a tech-fueled brokerage that employs 7,000 agents who focus on high-margin, luxury homes in mostly coastal markets. The company says it is on pace to control 20 percent of residential property sales in the United States' top 20 markets.
Founded in 2012, Compass has surged in value to $4.4 billion, having raised a total of $1.2 billion in equity to date.
The attention on proptech has also led some venture capital firms to specialize in the field. Los Angeles-based Fifth Wall Ventures raised $212 million for its first fund and is en route to raising a second, $400 million vault.
Proptech startups have a broad target
From databases for prospective homebuyers and smart-home devices to office administration and construction planning, the field of proptech is wide.
While the winners and losers may change, one thing is for sure. There's a world of change heading toward real estate as a whole, and those that aren't willing to embrace the new will be left behind.