Meet Eboni Killian
In 2017, Eboni Killian attended a Real Estate Investing Bootcamp. After the bootcamp ended, she hit the ground running and decided wholesaling would be her investment niche. She found her first deal on a FSBO list she purchased from a local list company. The seller had purchased the home at a foreclosure auction and thought he'd be able to do the repairs himself. When the repairs became too overwhelming for him, he asked $48,000 to sell it. Killian negotiated a purchase price of $37,500 then assigned the contract to an end buyer for $40,000. She made $2,500 on her first deal in less than two weeks. Killian was well on her way down the real estate investment road.
But as many investors know, the road can be bumpy. Typically successful real estate investors exhibit certain characteristics. Killian attributes her success to being consistent, honest, and persistent. As great as those qualities are, there have also been traits that have held her back. The key is recognizing them and making a change.
"When I started real estate investing, I wanted to help everyone," Killian said. "So, it was very difficult for me to say 'no' when people asked me to do things or if I could help do things. Sometimes agreeing to assist took me away from my goals, so I have learned to say 'no' and be okay with it if the ask will stretch me too thin."
With the start of a new year, Killian like many of us, is reassessing her REI business and plans to start investing more in multifamily.
"I've been researching the return of investment on duplexes, triplexes, and quads over the past year. It just makes sense to increase cashflow on one unit. I will still invest in single family as well because I want to create more affordable housing opportunities for traditional buyers. Many first-time homeowners are getting outbid on purchases by hedge funds and out-of-town investors. I want to create quality, affordable housing for that first-time home buyer who might qualify for only $250,000 or less," she said.
Killian's first wholesale deal was pretty successful, and her greatest success story also came early in her REI career. It was a home that had been left to five sisters who had been on the fence about selling their parent's home. When family matters are involved, it can bring a deal much closer to the hearts of everyone involved.
"The oldest sister was my contact person and getting a fair price was important to her. She wanted her and her sisters to get a nice, even share of the proceeds. I bought that house for $35,000 and sold it to a cash buyer who was actually going to live in the property. The buyer came from another real estate agent, and I was able to profit $7,000 as well as pay the commission for the buyer's agent while still making sure all five sisters got what they wanted. The best part though was meeting all of the sisters at closing and just hearing them talk about their life in the house they were selling."
The best advice Killian has received as a business owner has been to find a niche, become an expert in that niche, and then working in that niche.
"Don't get distracted my the shiny object syndrome," she said. "This advice has has kept me aligned with my real estate investment goals and has made me a successful business owner."
In addition to that sound advice, here are three strategies or tools within the real estate investing industry that have helped Killian the most:
Being able to leverage administrative duties has helped me scale my business tremendously. Initially I was doing all of the work — locating the properties, negotiating the contracts, and selling the property. Delegating some of these tasks has been golden.
I intentionally talk about what I do to everyone that I meet. If I can't help them, maybe they know someone I can help.
Being honest and transparent in this business goes a long way. I am honest and transparent about my intentions for each and every property I buy or put under contract. I am honest about the true value of the property and make the best offer that is a win-win for all parties. This has helped me create life-long relationships with all of my sellers. Then they refer me business in the future.
Eboni Killian is proving she is a woman to watch in the real estate investment industry. She leads by example and is passionate about helping other women become successful in this business.
"It is a male-dominated industry where very few women are afforded a seat at the table. I think women can collaborate more, as well as uplift other great amazing women real estate investors. There are quite a few of us out here doing an amazing job. I seek out women general contractors, architects, etc. and my entire team is comprised of female real estate investors," Killian said.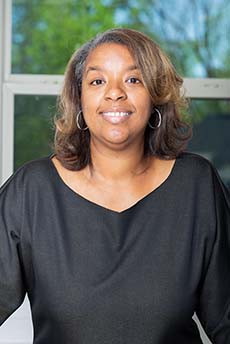 Contact info
Email: Eboni@thepeachofpeachtree.com
IG: @thepeachofpeachtree
Contact number: 678-860-9408
Linked In: Eboni Killian
Facebook: Eboni Killian
---
Look for more women to watch in future editions of Think Realty magazine.
---