Real estate investing continues to change as modern technology evolves. I personally have seen real estate education evolve from cassette tapes to CDs to flash drives to now being purely online. The wise real estate and note investor will take advantage of technology to improve their business processes and systems.
Email-List Management Solution
Compiling an email list of contacts to streamline your marketing and lead generation is a common practice. Darin Adams, spokesperson for InfusionSoft, advocates transforming your general email list into a segmented list. Why? It's more effective in building relationships.
"All business is done through relationships. You can't do it randomly." – Darin Adams, Infusionsoft
In establishing effective relationships, Adams noted the importance of timely, relevant follow-up. "If you can follow up with someone within hours of meeting, your chances of having a successful relationship increase exponentially," he said. However, if you follow up with the wrong message, you could lose the relationship entirely.
For example, say an investor meets someone who is interested in buying a home in a certain area. Entering the new contact into an automated outreach program starts a follow-up email series to maintain contact and strengthen the relationship. Some programs permit contact "tagging" for customized marketing campaigns as well in order to help avoid being "tuned out" for providing content and contacts that are too general or not of interest to your lead.
Pro Tip: Use your automated email system to periodically build up your base of testimonials. Ask existing clients to provide testimonials about the experience of working with you.
The right email-list management system will fall within your budget, be scaled to the size of your email list, and perform, in real time, the routine contact actions you do not wish to handle in person.
Integrated Text-Message Marketing
Emails may go unread, but nearly all text messages get opened. Hence, text messaging may be a superior way to reach your customers. Like email, however, texting can be time-consuming. Integrated text-message marketing systems connect you to your customers, leads, and clients while following up in a way that is easy to use and can be fully automated.
Consider inserting images or video into text messages to make your message more compelling and increase the likelihood that a reader will click on the image. For example, in my business, I might be a guest on a podcast about note investing. I could use that "marketing event" to tell listeners to text a short message to a five-digit number. You probably have heard this type of call-to-action (CTA) before. Once they text in the requisite information, they receive an incentive for their trouble and are entered into a "drip" campaign to help them stay in touch with me in case we can do business together in the future.
Sector-Specific Automated Due Diligence
Depending on your personal real estate strategies, you may find that due diligence tasks dominate your time. Fortunately, there are several systems out there that find deals, automate the purchase process, and even do your due diligence for you. Unfortunately, everyone's definition of due diligence is a little different, so you will have to do some due diligence on your automated due diligence system! However, once you find a good fit, it can save you hours and hours of time.
There are several different facets of due diligence that can be, to a great degree, automated. They include:
Property Specifications

, such as number of bedrooms and bathrooms, square footage, and year of construction

Important Financial Information

, including high- and low-ball estimated values, last sold date and price, last tax assessment date and amount, estimated rental value

Crime Data
Maps and Street Views
Local Real Estate Agents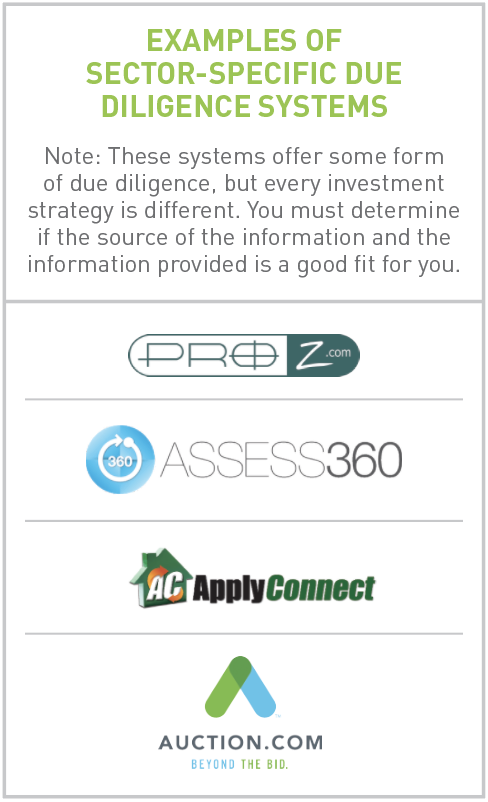 Before you begin relying on any system to obtain this information for you, do multiple test runs and investigate the source of the information that the program is "scraping" for you. For example, one note-investor resource known as NoteProz creates spreadsheets of relevant information on properties specifically for note investors. The spreadsheets are sourced from the company's database of banks and assets and focus on the 13 states that are of the most interest to note investors. This information is important because it indicates the source of the information and the likelihood (high) that the information will be accurate.
Many of these systems also provide internal project-management systems to help investors keep track of their notes, leads, and even ongoing transactions.
*Many turnkey providers offer due diligence packages that are "automated" for investors buying through their systems. Check with each provider to determine the source of the information and decide.