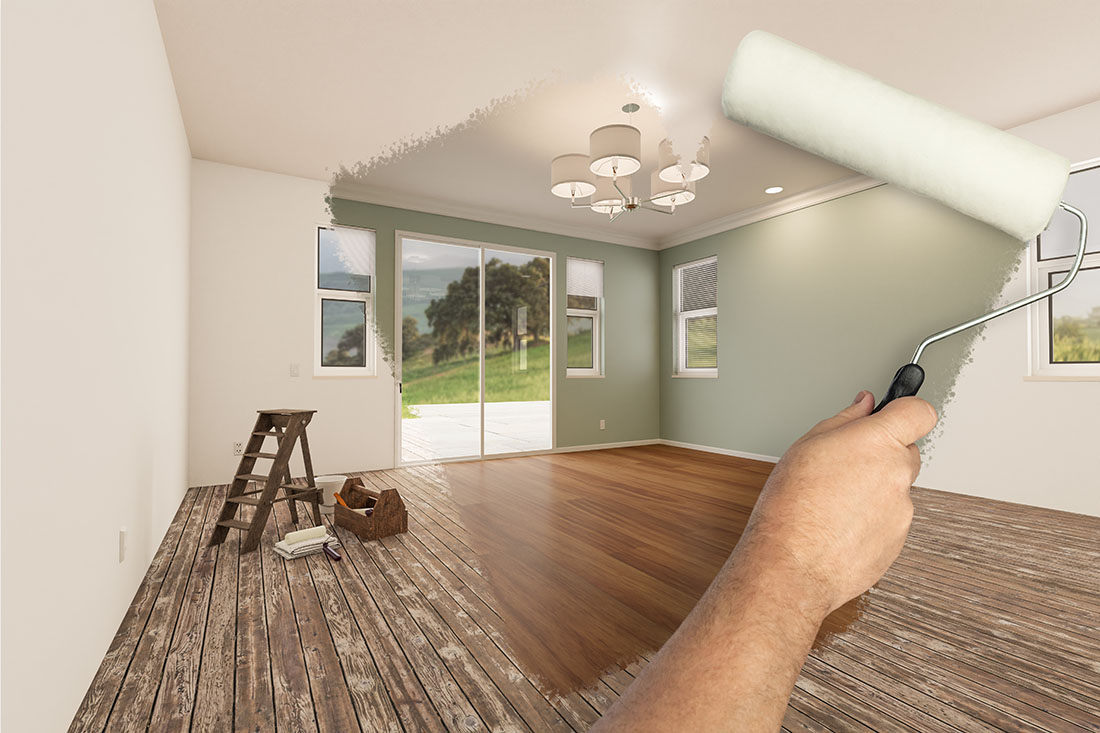 Your goal should be to maximize the amount of value you create in your property while minimizing the amount of capital needed to achieve that value.
Flipping houses involves buying a below-market house and renovating it to increase its value. Generally, the goal is to increase the value by a dollar amount greater than the costs associated with purchasing and renovating the project. In a sense, the investor's goal is to make 1+1 = 3.
For example, if nearby houses have recently sold for $200,000, the goal of the house flipper would be to purchase a property with an after-repair value (ARV) of $200,000 for $125,000. The flipper would then renovate the house for less than $75,000 to ensure a nice profit when the property is eventually sold for $200,000.
However, not all house renovation projects are the same. Different states, neighborhoods, and market conditions can play a large factor in the investor's ability to profit off the investment. Regardless, despite some of the uncontrollable challenges associated with flipping houses, there are a number of actions a flipper can take to add value to the house on a consistent basis.
This article will address five renovations that add value to your house flip.
1. Landscaping (Curb Appeal)
In many cases, landscaping is a homebuyer's first impression of a home. A house with a nice walkway, maturing trees, and pleasantly situated bushes and flowers has strong curb appeal. The goal of a house flipper is to make the home appealing to a potential buyer. Nothing is less inviting than a home that has a disheveled and disoriented front and backyard.
A simple but effective renovation project you can focus on is ensuring your house has an inviting façade. This can be achieved by mowing and edging the lawn, replacing any weeds or dead shrubs, planting flowers and trees, removing debris and other eyesores, and painting the front door and window trims. These types of renovations are not particularly costly; however, they are tremendously valuable and effective in increasing the home's value.
2. Kitchen Upgrades
The No. 1 driver of a home's value is its kitchen. The kitchen is where families spend most of their time and, thus, is the main driver of a house's appeal. Though at times it can be expensive to upgrade a kitchen's cabinetry, add state-of-the-art appliances, and install backsplashes and granite countertops, it is well worth it. The value you'll create will bring tremendous joy to your buyer and, of course, tremendous profit to you.
3. Bathroom Upgrades
Like the kitchen, bathrooms show the home's age, value, and vulnerability. A delightful kitchen could be easily diminished if coupled with a less-than-ideal bathroom. An outdated sink, antiquated vanity set, broken mirrors, and out-of-style shower could all be tremendous drags on the home's desirability. If you'd really like to increase the value of your flip, consider updating the bathroom. New paint, fresh tiles, and a more modern shower and vanity set could make your house far more desirable than others on the market.
4. Lighting Upgrades
As you can imagine, fixing up a kitchen or updating a bathroom's configuration could increase a house's value, but those types of major renovations require a substantial investment. Adding top-notch appliances and state-of-the-art vanity sets could cost as much as $20,000 or more. So, what can you do if you'd like to increase the value of a home without necessarily breaking the bank? The answer is lighting updates.
Lighting might be the most effective way to increase your home's value with minimal investment. By setting the mood and emphasizing the house's appeal, strong lighting can help a homebuyer better envision how he or she would like to live in the space. Such renovations could simply involve changing the light fixtures or light bulbs throughout the rooms to ensure they aren't outdated. Or they could involve increasing the home's natural light by installing a handful of windows in the dining or living area to bring in more sunlight.
Once you change the lighting, you'll notice its potential to shift a buyer's perspective of your home almost immediately.
5. Interior Paint
Another relatively low-cost alternative you should consider when designing your house flip is an interior paint job. Generally, whether the house was occupied by a previous tenant or just a different owner, occupied homes undergo traditional wear and tear. A fresh coat of paint or a new color with defining trims and a strong contrast can really tidy up the home's appearance and give it some extra life.
Taking the time to ensure all scratches, cracks, and chipped paint are taken care of can spruce up the space and brighten rooms considerably. Depending on the square footage of the home, you'd likely only need to spend a few thousand dollars painting the interior.
Flipping houses is no simple task. Depending on your location, the house's condition, and your desired after-repair value, one investor's budget and vision of a property's potential could be drastically different from another's. Your goal, as a keen investor, is to maximize the amount of value creation while minimizing the amount of capital needed to achieve that value.
If your budget is a bit more flexible, consider updating the bathrooms, kitchens, and interior of the home. Modernizing the property with newer appliances and a fresh new look could really boost your overall profit potential. However, if your budget is a bit tight, consider, at the very least, painting the rooms, landscaping the yard, and updating the house's lighting. You'd be shocked to see what kind of curb appeal you can create with just a few minor touch ups across the property.
---
Ryan Zomorodi is the co-founder and COO of www.RealEstateSkills.com, a real estate investing education platform that has trained thousands of students across the nation to start and grow real estate investing businesses.
Zomorodi is the managing editor of the Real Estate Skills blog, which has been ranked as the #1 real estate wholesaling blog on the web. Zomorodi has more than 10 years of real estate investment and management experience, including acquiring over 100 homes for flip, wholesale, and rental across a dozen states.